It seems that each year the end of the year brings tons of stress on the teacher (end of year benchmarking, paperwork, etc). At the same time, the students are getting antsy and ready for summer. Today, I wanted to share a quick behavior incentive that my team does each year to reward good behavior and give the kids something to look forward to.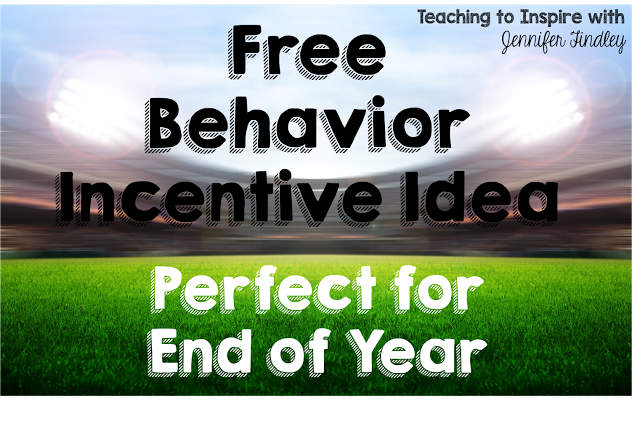 Each year, we have a 5th Grade Tournament with all the 5th grade teachers. We play as classes against the other classes for 30 minute blocks of time. We play soccer and kickball because we have a large field with soccer goals and room for kickball. The classes rotate so that all the classes have the opportunity to play each other. For example, my class would play soccer against Mrs. A while Mrs. B and Mrs. C's classes play kickball. Then we would switch and my class would play soccer against Mrs. B, while Mrs. C's class  play kickball against Mrs. B's class and so forth. Having the constant switch up between the games and classes keeps it fun and fresh.
We do give the students an option of playing the game or cheering. This works perfectly as some prefer to cheer and some prefer to play.  The kids love it every year and look forward to playing against their friends in other classes. The best part about this incentive: it doesn't cost a dime!
How do the students earn this incentive? It varies from year to year. This year, I used this incentive for finishing a math project. Last year, I used it to keep my students behaving in specials and lunch. The best part is that you can tailor the incentive to what you need. If your kids are not completing class work or homework, that will be what they need to do to participate in the tournament. This works great for behavior incentives, too. The students can "earn" the right to play through tickets or points, or the students can work to maintain it (like three strikes, your out thinking).
What sort of incentives do you offer to keep the students behaving at the end of the year?