Academic vocabulary is definitely important in instruction. The vocabulary of the skills and standards we teach is SO important for students to understand and use. If students can't tell you what compound sentences are, they may struggle with intentionally adding them into their stories to vary sentence lengths and improve their writing. In this post, I will share free grammar posters to help you teach, review, and reinforce grammar vocabulary in your classroom.
📚Want reading posters? Click here to grab free reading vocabulary posters.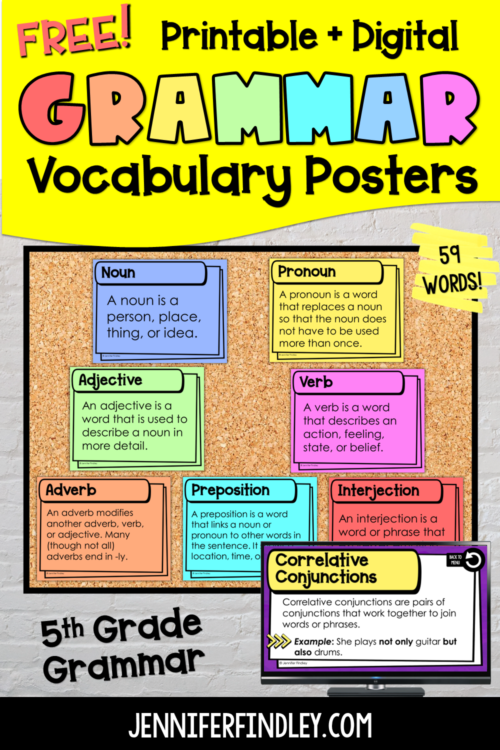 Why Teach Grammar Vocabulary?
Teaching grammar vocabulary is important because it helps students understand and use proper grammar in their writing. By teaching the vocabulary related to grammar concepts, students will be better able to identify and correct errors in their own writing.
Using grammar vocabulary explicitly in instruction can also help make difficult concepts more accessible to students. For example, explaining that conjunctions are words that join two ideas together (e.g., and, but, or) can make it easier for students to understand conjunctions, identify them, and use them in their own writing.
About the Grammar Vocabulary Posters
This set of free grammar posters includes 59 grammar vocabulary terms covering both 5th grade grammar concepts and review words from previous years.
Printable Grammar Posters
The printable version of these posters are available two versions.
Version 1: vocabulary word and definition on each poster
Version 2: vocabulary word, definition, AND example on each poster
Digital Grammar Posters
The grammar vocabulary posters are also available in digital version using Google Slides. Each poster has the vocabulary word, definition and example on it (identical to version 2 of the printable set).
The digital posters have an interactive menu to easily jump to each word. Each poster also has a "back to menu" button to easily navigate back to the menu of all of the vocabulary words.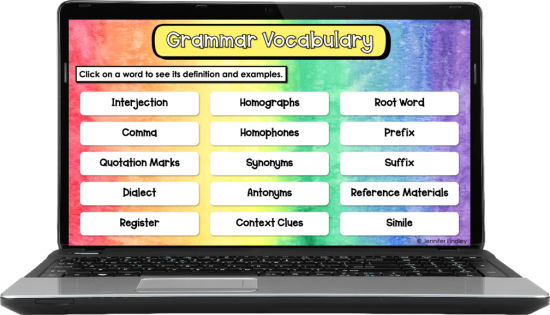 Ways to Use the Grammar Posters
Display the posters in your classroom (on a vocabulary wall, your white board, or a dedicated bulletin board) and refer to them when introducing new grammar concepts.
Use in Anchor Charts – Use the grammar posters to enhance your anchor charts. One idea is to tape the poster to the chart and then add examples of the term under or around the poster. You could even have students add the examples.
Use in a Reference Dictionary – Place copies of the grammar posters in a binder for students to use as a reference tool while working on independent or small group grammar activities.
Create a Grammar Reference Rings– Print multiple posters to a single page to create reference rings for students to reference as needed. If your students sit or work in groups during grammar practice, I suggest having a set for each group to use.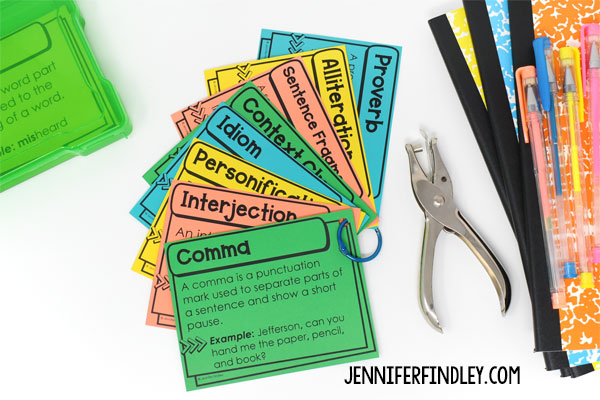 Use in Students' Grammar Interactive Notebooks – Print multiple posters to a single page and scale them to about 75-80% for students to glue into their notebooks.
Grammar scavenger hunt. Tape specific vocabulary posters around the room and have students move "around the room" to find vocabulary terms. As they find a term, they can write an example of it in a unique sentence. You can do this as a test prep activity or at the end of a unit to review a specific set of grammar vocabulary skills.
Assess your students' understanding of the grammar skills by having them create their own posters modeled after the free ones. Students can illustrate and define the skill, or they can create sentences that use examples correctly. You can even have them explain the grammar skill to the class or group the students and have them teach the concept to their group members.
Project the Digital Posters during Whole Group Lessons – Project each poster on the board to introduce each word and/or as a review tool at the end of a lesson.
Use as a Digital Reference Tool – Assign the digital posters on Google Classroom so students can each have their own copy to use as a resource whenever they need it.
Get the FREE Grammar Posters!
To get these free grammar vocabulary posters, simply put your email in the box below and they will be sent straight to your inbox. You will receive via email a PDF containing the printable version. Digital access links are on pages #6-8 of the PDF.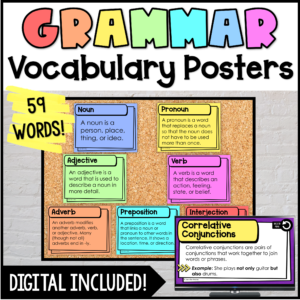 Looking for MORE grammar activities and resources?