When learning new math skills and concepts, it is important for students to develop a strong understanding of the math vocabulary. This blog post will share free 4th grade math vocabulary posters to help your math instruction include the necessary academic vocabulary. These math posters will help your students learn and remember key terms related to fourth grade math skills AND help you teach and introduce the terms.
Want 5th grade math vocabulary posters? Click here!
📚Want reading posters? Click here to grab free reading vocabulary posters.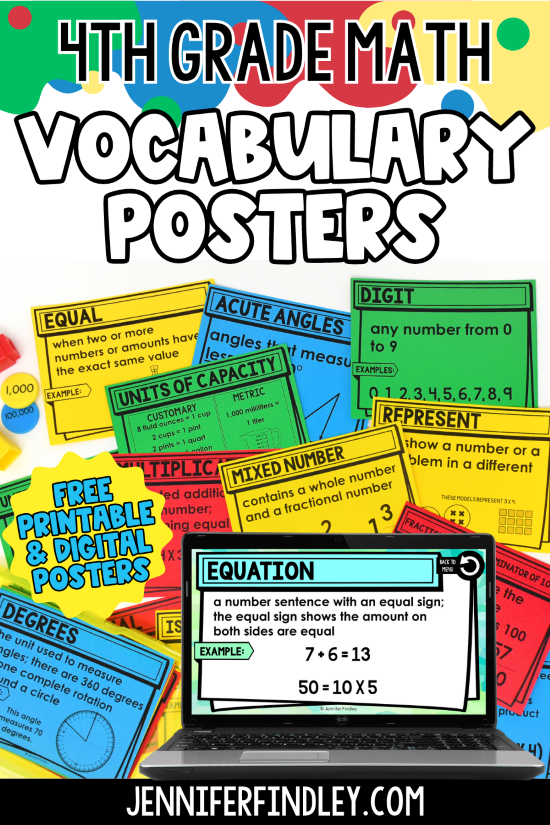 Why Teach Math Vocabulary?
There are several reasons why math vocabulary is important for students to know and use. Here are a few:
1. A strong understanding of math vocabulary is important for students to be able to understand math skills and concepts. If students do not know the meaning of important terms, they may struggle with understanding and mastering new math skills.
2. Math vocabulary can help students discuss and write about math. The more students are exposed to and use math vocabulary, the better they will become at using it themselves. This will also help them score higher and feel more confident on constructed response math tasks and assessments.
3. Math vocabulary instruction can help students show what they know on standardized math assessments and tests. Knowing the important math terms will help ensure they understand questions that include those terms.
The following are some ideas for how you can incorporate math vocabulary instruction into your classroom:
1. Use math vocabulary posters to help explicitly teach vocabulary and review continually throughout the year.
2. Play math vocabulary games.
3. Include math vocabulary in your daily routines and activities.
4. Have students create their own math vocabulary books.
5. Give students opportunities to use math vocabulary in writing and in math discussions.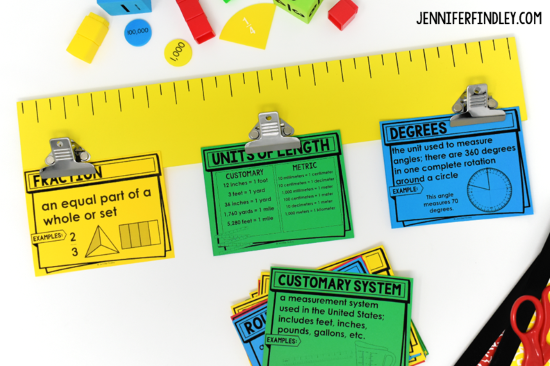 About the Math Vocabulary Posters
This set of 4th grade math vocabulary posters includes 109 posters to cover all of your math vocabulary terms for the entire year.
The vocabulary is separated into the following sections to help you find the terms you need when you need them:
Operations and Algebraic Thinking (12 words)
Numbers and Operations: Base Ten (19 words)
Fractions (17 words)
Measurement and Data (18 words)
Geometry (43 words)
Printable Math Posters
Each math vocabulary word is on a one-page poster containing the word, definition and an example or examples.
The printable posters are black and white, so they can easily be printed. You can color by printing them on colored paper or cardstock.
Digital Math Posters
Digital math vocabulary posters are also included. The digital posters are designed in Google Slides. You can post or assign the vocabulary words through Google classroom or project them on your board during your math lessons.
In the digital set, the words are divided into 5 menus by category. Each word on the menu is linked to the matching poster and each poster has a "back to menu" button so you and your students can easily navigate through the posters.
Need help assigning Google Slides resources through Google Classroom? Click here for a step-by-step guide.
Ways to Use the 4th Grade Math Vocabulary Posters
Pot the math vocabulary posters (on a vocabulary wall, a bulletin board, or markerboard) and refer to them when introducing new math skills and concepts.
Use in Anchor Charts – Use the math vocabulary posters to create anchor charts. You can tape the poster to the chart and then add examples of the term under or around the poster. You could even have students add the examples.
Use in a Reference Dictionary – Place copies of the math vocabulary posters in binders for students to use as a reference tool while working on independent or during math centers.
Create a Math Reference Rings– Print multiple posters to a single page to create reference rings for students to reference as needed. Want more resources for math reference rings? Click here to grab more free math tools.
Use in Students' Math Notebooks – Print multiple posters to a single page and scale them to about 75-80% for students to glue into their notebooks as they are learning about a math skill or concept.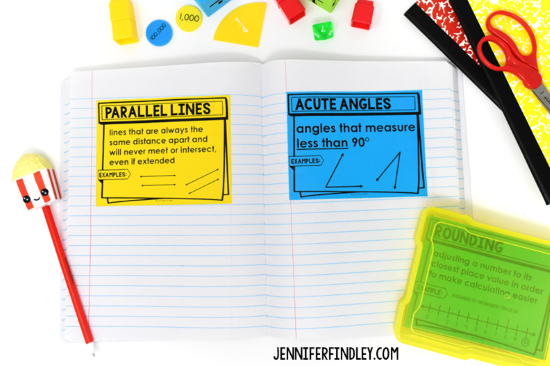 Math Scavenger Hunt – Tape specific posters around the room and have students move "around the room" to find vocabulary words. As they find words, they can create examples of the word or create problems that use the word.
Use as a Digital Reference Tool – Assign the digital posters on Google Classroom so students can each have their own copy to use as a math reference whenever they need it.
Get the FREE Math Vocabulary Posters!
To get these free 4th grade math vocabulary posters, click the box below to enter your email and they will be sent straight to your inbox. You will receive via email a PDF containing the printable version. Digital access links are on page 8 of the PDF.

Need MORE 4th Grade Math Activities and Resources?