I don't know about you guys, but I am beginning to feel the pressure of standardized tests! We have been working hard all year on comprehension strategies that really make the students think about a story. You can read about that here and here. Now, I am trying to be much more deliberate about teaching the students some specific strategies and test taking tips  to help them succeed on a reading test.
I have always done test taking strategies in the past. However, this year I am trying some a little different. Recently, I have noticed that my current students and my past students don't always use those strategies that we work so hard practicing all year. For most of my students, they have had years of practice with "guessing" or "half trying" on a test. They will work really hard for me all year, but unfortunately, some of them revrrt back to this method on the test.
After having a ton of success with our writing code (read about that here), I tweaked my strategies a little this year to create a 3, 3, 3 code of tips. 3 strategies to use Before reading the story, 3 strategies During their reading, and 3 strategies After they read. Take a look at my test taking tips: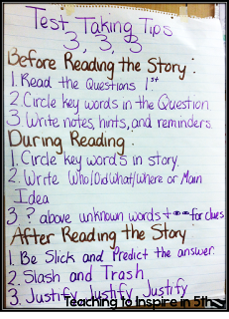 I am hoping this grouping of strategies will really make the difference in getting those struggling test takers to apply their strategies on the test.
Before Reading:
Read the Questions 1st: I have the students do this for several reasons. First, because some of our standards have stories with them but the questions can be answered without reading the story. Also, the questions help the students focus while they are reading. Finally, I always tell my kids that reading the questions is getting a sneak peek of the story.
 Circle key words in the Question: This always helps them hone in on the important parts of the question.
Write notes, hints, and reminders: I really like this one. It goes hand in hand with circle the key words. I teach the students to write themselves tips about the content words in the question. For example: Which of the following is a metaphor? The students would write hints above the word metaphor to help them remember what a metaphor was and to ensure they applied what they knew when answering the question.
During Reading:
Circle key words in the story: I teach my students to circle key words in each large chunk of text in a story. They circle words that are repeated, bolded, from the heading, or connected to the heading/title.
Write Who/Did What/Where or Main Idea: The students use their circled key words to create summary statements. This really helps them to understand the story by monitoring for meaning. It also helps when they have to confirm or find an answer and can easily find the paragraph needed by reading their summary statements.
? above unknown words and look for clues: I added this tip this year because I have some kids that seriously need to attend to words and their meaning and use that to help them monitor their comprehension.
After Reading:
Be Slick and Predict the Answer: This one has the students answer the question in their own words before looking at the answer choices.
Slash the Trash: Fun phrase for process of elimination.
Justify, Justify, Justify: I will be posting soon about specific ways I teach my students to justify on multiple choice tests. That's a whole other anchor chart!
I will be excited to see how my students do with this new strategy of grouping the test tips. I would love to hear your tricks for getting the students to apply those much needed strategies on high states tests.