Homework can be one of the most frustrating parts of being a teacher. I have learned a lot over the years about how to manage homework and make it less of a burden on myself and the students. I have compiled five of the best things I ever did to help with the homework insanity. Some of these may not be possible for you to implement, depending on your class or students. Hopefully you can find at least one tip that will work for you.
Note: I go back and forth on the amount of homework each year. I want to prepare my students for middle school homework and projects, but I also want them to be children and have to time to play and spend with their families. I try to find a healthy balance by giving one reading passage a week (with daily reading and different tasks each day that take only about 5-10 minutes) and 1 math problem each day (four total for the week).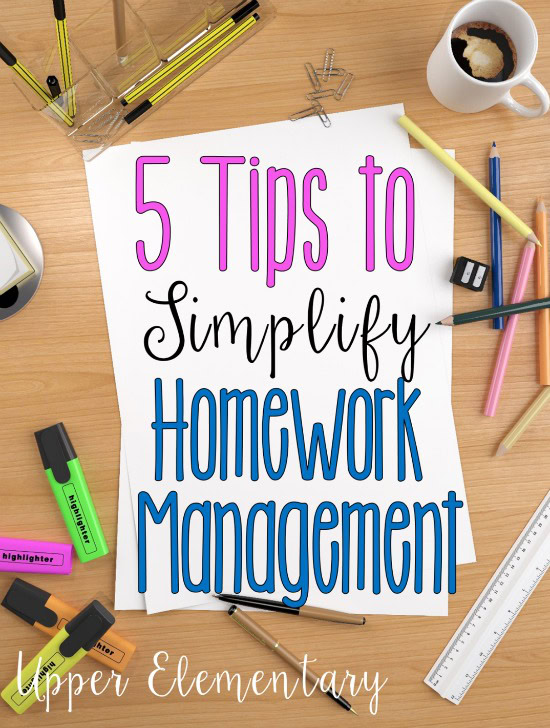 Homework Management Tip #1: Create homework packets for the week.
As a teacher and a mom, I love weekly homework packets. On Thursday of the week before, I print and copy their homework packets for the week. I clearly label each page or section with the day it should be completed and voila, I am DONE! No scrambling to make homework copies the day of, no making up random assignments at the spur of the moment to assign homework, no taking up class time passing out new homework each day.
Homework Management Tip #2: Use a consistent format for homework.
Another way to simplify homework is to keep the homework format consistent. Keep the format as close as you can and even keep the directions similar if possible. This saves class time having to teach the students how to complete the homework and it saves the students' time trying to figure out what to do.
For example, the reading homework that I use is super consistent from day to day, and week to week.  Each week for reading, my students a weekly passage to read, Monday through Wednesday written responses tasks to use with the passage, and a text-dependent comprehension question page for Thursday.
This reading homework is from my Common Core Aligned Reading Homework Review. I have individual sets and bundles available for 4th/5th grade and 3rd grade. Click HERE to see them in my store. These have been nothing short of a lifesaver in improving my students' reading levels and comprehension, while also saving my sanity when it comes to finding, assigning, and managing reading homework.
Homework Management Tip #3: Assign review work only (differentiating as needed).
One of the most important lessons I had to learn as a teacher was to make sure the homework was truly a review. The homework had to be a skill the students could do 100% independently (or with the help of their math notebooks).
One quick way to have your students not complete the homework is by making it too difficult. I usually only give computation problems for math homework or very few word problems that are not too complex. I save the complex work for at school when I am there to provide scaffolding and support.
If you have one or two students that are seriously struggling with even the review content, you may need  to differentiate your homework. You want all your students to be successful with homework so sometimes you have to take that extra step. I spent the last year creating differentiated math skill sheets for cases just like that. Click HERE or on the image shown below to check them out.
These skill sheets are perfect for differentiating homework for ALL of my students because they come in three levels: below grade level, at grade level, and above grade level. I have them for all standards so I can use these all year long to keep the homework consistent.
Homework Management Tip #4: Use homework checkers to help check for completion.
This. I have no words to explain how amazing my life was after implementing homework checkers.
We review homework daily, but I still needed some accountability piece otherwise some of my students would never try it on their own. Insert: Homework Checkers.
I usually have three large groups of 10 students (because of space), so I use 2 homework checkers per group. They have a list of the students they check. While the students are completing their morning work, my homework checkers quickly check the homework for the week. They highlight any blanks or any that were not answered completely. The students know they are to fix any highlighted problems while we are reviewing the homework for the day. When I review the homework on Friday, I can easily see who is struggling or not completing their work by how many problems were highlighted by the homework checkers.
Homework Management Tip #5: Have a clear homework policy, but don't be afraid to change it.
Below you will find an example of a rather strict homework policy that I had to implement one year because I had some students who were really pushing the homework button. 😀 This is about as strict as I get, but it did the trick.
Two weeks of this and I had no more homework issues for the rest of the year! You can also add in some incentives in your homework policy as well. For some reason, I have never been a huge homework incentive teacher. By 5th grade, I am trying to instill a need for them to do their homework without extrinsic rewards. This will prepare them for middle school.
That's it! Those are my five top tips that have helped me simplify my homework management over the years. Do you have any tips that you use? Let me know in the comments! I am always looking for more ways.