I will have to admit it that I was a bit on the fence when I first heard about teachers using Bean Boozled
in the classroom. If you are not familiar with this "game", the players spin a spinner to determine which color jelly bean they will eat. The color could be one of two different flavors: a yummy flavor (peach or berry for example) or a disgusting flavor (barf or moldy cheese for example). I was worried about some students getting sick after eating a yucky flavor.
However, I decided to give it a try. I am glad I did (and so are my students). This is one of their favorite test prep review games and is requested by them often. I want to share with you two options for reviewing with Bean Boozled
in the classroom.

This post contains affiliate links if you wish to purchase the Bean Boozled mentioned in this post.
The great part about these options is they work perfectly with any subject and any skill. We used task cards when we played them; however even test prep worksheets would work just as well. We have played this game whole class and in a station so I will share both options with you.
Bean Boozled Review: Whole Class Option
This option works perfectly if you are limited to only one Bean Boozled
game. Here are the directions for this option:
Group your students in groups of 4-6 (the smaller the better).
Have each student in the group number themselves or you number them- 1, 2, 3 etc. The numbers will be used to determine whose turn it is to hold up the group answer and to spin the spinner for a chance to be bean boozled.
Project a problem, read a problem aloud, have the students solve a specific problem on a handout, or write a problem on the board.
Each member of the group solves the problem on their own and then the group discusses the answers to come up with a group answer. The students will take turns (using their assigned numbers) recording the answer on a marker board to hold up at your signal.
Groups with correct answers send the student whose "turn" it was up to spin for a chance to be bean boozled.
Groups who missed the problem can go to the next person or allow the person another chance – your choice.
Tip: If you have a student that is really hesitant to be Bean Boozled
, they can be given the blue jelly bean. These flavor choices for this color are toothpaste or berry and neither of those are gross.
Bean Boozled Review: Station/Center/Small Group Option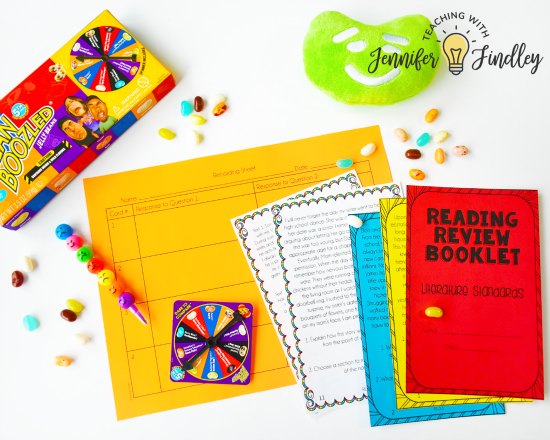 These Reading Task Cards are a great option for a rigorous review that will not have the students spinning and eating as many beans. Click here to see these in my TPT store.
This game works well if you have multiple sets of the game. I actually purchased 5 sets and then several refill bags so we could "play" this multiple times. Here are the directions for playing this in a small group or center:
Group your students in groups of 4-6 (the smaller the better).
Number your students or have them number themselves in their group (1, 2, 3, etc(.
Each member of the group must answer the first question.
When all members have answered the question and discussed it, group member #1 spins the spinner and eats the jelly bean.
The group members move on to question 2 and then group member #2 would spin. This is continued until all questions are answered.
Tip: Make sure you explicitly tell them that each member of the group must answer all the questions and not just the one whose turn it is to spin. This way all students are actively engaged in the work at all times.

These Language Task Cards are a great option for a quick review. Click here to see these in my TPT store.
Ultimately, you have to know your students (and their parents) to decide if this game is right for you. One option that I did give my students was to play the Jenga instead of Bean Boozled. You can read more about this test prep activity involving Jenga by clicking here. Even though I give students the option, they all choose to play Bean Boozled both times we have played it.
Click here or on the image below for the printable directions for each option. The directions for the whole class option are teacher directions and the directions for the small group option are student directions.
What do you think about playing Bean Boozled
in the classroom? Is this something you could see yourself doing with your students? Have you played it before? I would love to know your thoughts or experience.
Do you want even more test prep tips and strategies for grades 4-5? Then, sign up for my FREE 6-Day Email Course to help you plan, organize, and execute engaging (and effective) test prep review! Click here on the image below to read more and sign up today.