Candy canes are a staple for the month of December and in Christmas decorations. I love incorporating candy cane activities into my classroom. I wanted to share my favorite candy cane activities for upper elementary in this post. There is a little bit of everything, so hopefully you can find something to use no matter what subject or grade you teach. These activities would work great as centers on a fun candy cane day or inserted here and there into regular classroom activities.
Candy Cane Math
First up are a few math printables with a candy cane theme. I am always trying to sneak word problems in whenever I can so I had to create a printable with candy cane word problems.  I also included a version of this printable with blanks for numbers, so if you are not a fifth grade teacher, you can make the numbers grade-level friendly for your kiddos. You will be able to download this activity and all the other ones at the end of this post.
Does anyone else's students love to color? Every now and then, you get those students that loathe coloring, but for the most part, my students love it. This fun candy cane printable has the students solving multiplication and division problems, checking their answers in the box, and then coloring the candy cane section. I included three versions of this file (one for fifth grade, one for fourth grade, and a blank version).
This activity is one of my favorites! Give the students a box (it can definitely be empty) of candy canes and this printable. They will use the information on the box of candy canes to answer the questions. I kept the questions very general so these will work with any brand of candy canes.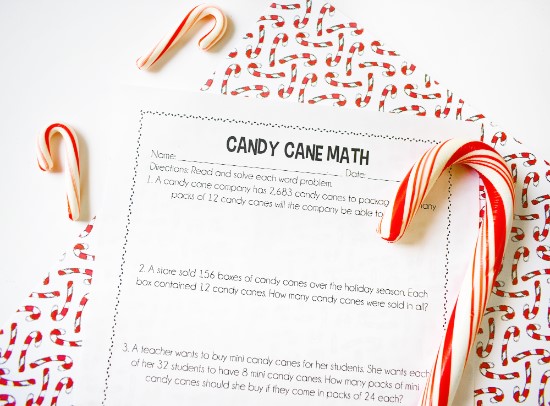 Candy Cane History and Printable Questions
Now, let's dive into a little history of candy canes. In this activity, the students watch a quick 3 minute video from the History Channel about the history of candy canes and answer 9 questions while they are viewing the video. The video is linked on the printable, but you can also find it here.
Candy Cane Science
Finally, a little bit of science. Give the students mini candy canes and have them see which type of liquid dissolves the candy canes the most. This is similar to my dissolving pumpkins science activity which you can read about here. This is a great science activity to walk the students through the scientific method. For more information about this experiment, click here to read a very detailed post by Gift of Curiosity.
Download the Candy Cane Activities and Printables for FREE!
Click on the image below to download all the printables from this post.
I would love to know if you plan to use these resources! If you need more Christmas themed resources, click here or on the image below to see a roundup of my favorite Christmas activities for upper elementary students.