When you think about planning classroom holiday activities for your students, you may not automatically think of science experiments. Before winter break, it can be challenging to get your students to focus on much due to the excitement of the impending holidays. I find that working holiday-themed activities into the curriculum keep students interested and learning. Try this fun science experiment with gingerbread cookies this month!
Want to see more Christmas activities and resources for other subject areas?
Christmas Science Materials Needed:
Materials Needed for Six Liquids:
6 clear bowls large enough for one gingerbread cookie each
Water (enough to cover 4 cookies)
Vinegar (enough to cover 1 cookie)
Milk (enough to cover 1 cookie)
1-2 tablespoons baking soda
1-2 tablespoons salt
1-2 tablespoons sugar
Gingerbread cookies
A timer
Freebie download of printable table cards and prediction sheet
Christmas Science Directions
1. Pour or mix your liquids into 6 bowls.
Baking soda water
Milk
Plain water
Salt water
Sugar water
Vinegar
2. Label each liquid with its printable card.
3. Make your predictions. What will happen to the gingerbread cookies in each liquid?
4. Submerge one gingerbread man cookie into each liquid.
5. Set your timer for 10 minutes and check on the cookies.
A note about gingerbread cookies: store-bought cookies are crunchier and may hold up longer in the liquid. If you must bake your own cookies, be sure to bake them at least a day before so that they have time to harden to the consistency of store-bought cookies.
The Science Behind the Christmas Science Experiment
Like most cookies or crackers, a gingerbread cookie will break apart when it's submerged in certain liquids. This is known as dissolving. Dissolving happens when a solute (such as a cookie) is placed in a solvent (such as water). The solute eventually breaks up and is absorbed into the solvent. The result is known as a solution.
But not every liquid is a solvent. And not every solvent will dissolve the same solute at the same speed. The speed at which a solvent is broken down can depend on many things.
After the Experiment Reading Activity
I like to incorporate reading and writing into every science experiment, activity, or demonstration that we do and this is no exception.
For this activity, the students will read a short text that describes the science behind it (similar to what is explained above for the teacher reference). Then the students will use the details they learned in the text to explain what happened during the science experiment. They will also answer three comprehension questions using details from the text.
The questions your students will answer include:
What science made the legendary gingerbread man afraid of crossing the river?
What are examples of a solute? What are examples of a solvent?
What factors affect the speed at which a solvent breaks down solute?
After reading the passage and answering the questions, you can invite your students to share their responses and have a classroom discussion about solutes, solvents, and solutions.
How Can I Get the Free Printable?
Click here or on the image below to download the free reading activity and printables that accompany this Christmas science activity.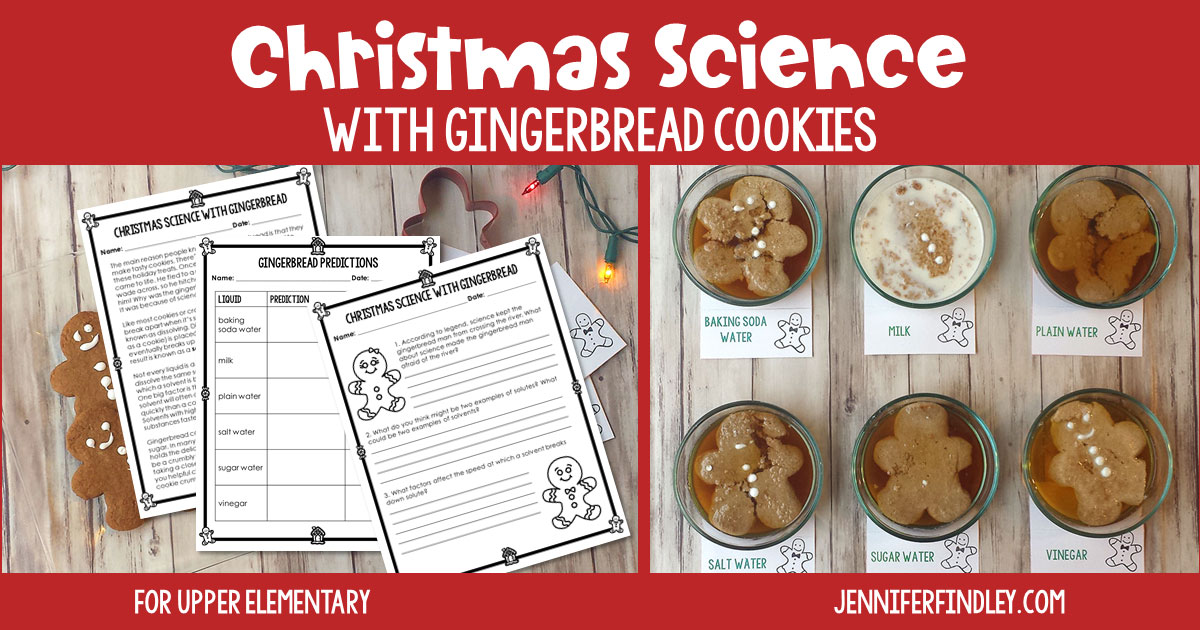 What are your favorite Christmas science activities or STEM activities? Let me know in the comments! I am always looking for new science experiments that my students will love.
If you want more resources and even freebies for Christmas, click here to check out my recommended Christmas activities , such as a holiday-themed random acts of kindness bingo, a gumdrop Christmas tree engineering challenge, Christmas read-aloud printables, a fun Christmas mystery bag activity (great for parties!) and much more.