Close reading is all the rage in ELA classrooms, but it can definitely work in math, too. Students often struggle with word problems because they don't fully understand what the problem is telling them or asking them to do. By using close reading in math, you can help eliminate some of this struggle. Keep reading to read how I implement close reading with tricky word problems and grab the free printables to implement this in your classroom.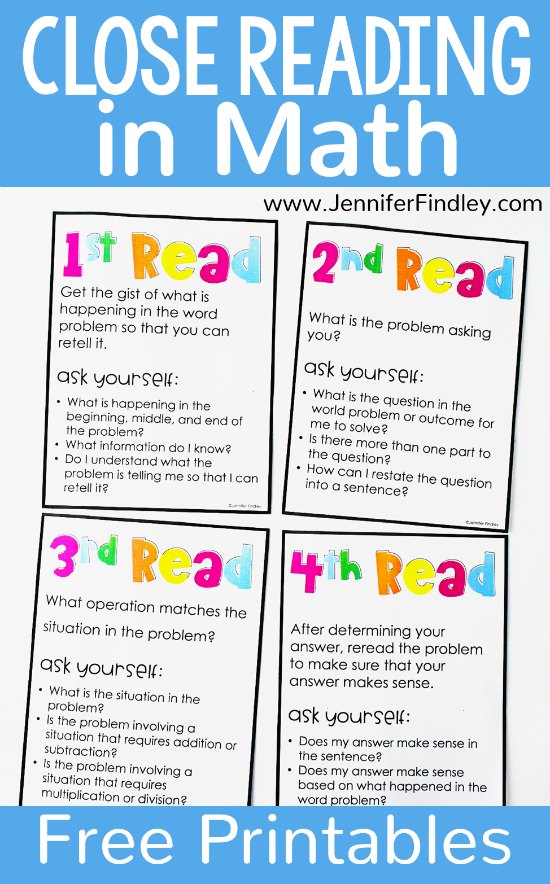 Close Reading in Math Steps
Here are the steps I use:
1st Read – Get the gist of what is happening so that you can retell it.
2nd Read – What is the problem asking you?
3rd Read – What operation matches the situation in the problem?
4th Read – After determining your answer, reread the problem to make sure that your answer makes sense.
I definitely don't require my students to do this for every word problem, just like we don't close read every text. Here is how I use close reading in math:
In the beginning of the year, I tell them which word problems to close read. I choose multi-step ones or ones that I know they will not have strong background knowledge of.
After a few months of successful close reading of problems I choose, most students are ready to self-select the problems they need to close read based on their initial read of the word problem.
Close Reading in Math Free Printables
The FREE download includes:
All steps on one page poster
Each step on a separate page (two versions: one with guiding questions and one without)
Bookmarks with all the steps
An interactive notebook template to have the students record the steps for each close read — use this if you want to edit the steps and have the students write it themselves in their math notebook.
Each printable is available in color and black and white.
Click here or on the image below to grab the free printables to implement close reading in your math instruction.


The word problems featured on this post are from my Word Problem of the Day resource. To grab some FREE Word Problem of the Day printables and to read more about this routine, click here.
What do you think about close reading in math? Is this something you use or will use in your classroom? Let me know in the comments!