With the new teacher evaluations in my state becoming more and more rigorous, I knew I needed to create some very specific data tracking forms to show how I was tracking my data and what I was doing with the data in my instruction. I created these forms last year and used them in some form or another throughout the year. Some I used more than others, but I definitely liked having the variety to use.
I wanted to share these forms with you in the hopes that these may help you track data and your students' progress.
To be completely transparent, I fabricated the forms shown on this post to protect my students' data.
Whole Class Data
This form was one I used regularly after a larger unit assessment, domain assessment, or quarterly assessment. I also had a form that said Test Data that I could use for other assessments that were not quarterly tests. Basically, you record the students names down the side. To save time, I would print their names on this form once and make several copies for future use. Then you record their pre-assessment score, post assessment score, and growth. This is great for having a quick "at a glance" at how your class performed on an assessment.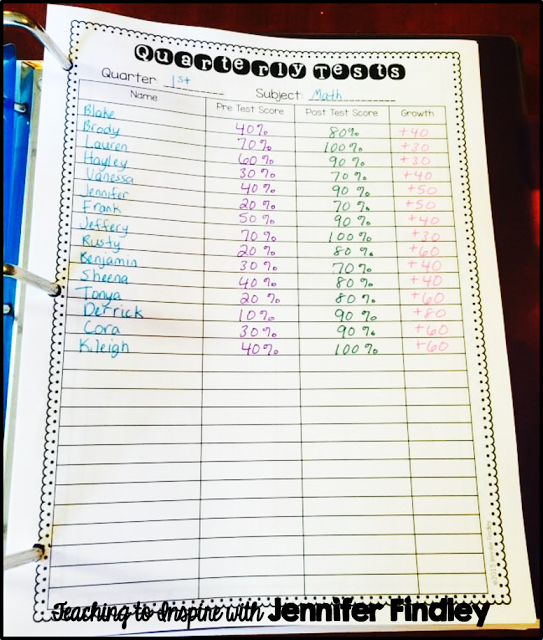 Remember this is not my actual student data. I definitely had more than 15 students in my class. 🙂
Student Breakdown
This next form is for focusing on one student and analyzing their results on the assessment: the standards they mastered and the standards they did not master. I only completed this form for students who scored below the satisfactory passing score, or students in after school tutoring. I would also complete this form for any students who received extra instruction. I would make a copy for any teacher needing it. This way they could see what to work on to help the child succeed in the regular classroom.
These forms were organized in each specific student's divider along with other data on the student.
Standards Breakdown
This next form gives you a breakdown of how your class perform on the standards. After giving a major assessment, I would break the standards down into three groups based on the results: standards to be retaught in small groups, standards to be retaught whole group, and standards to be reviewed for maintenance. Here you can see how I completed the forms and the notes I would take next to the standards.
Documenting Reteaching
The next forms are huge in teacher evaluations. It is not enough to have data, you have to show what you are doing with the data. These forms documented the standards as I retaught them in small group, whole group, or spiraled them through homework and daily math review.
This is the form used for small group re-teaching. I would quickly jot down the standard, the students, the method of re-teaching, and the results of my quick assessment after re-teaching (usually an exit slip).
Here is a close up of the same form.
This form is for documenting the dates when a standard would be retaught whole group, the percentage of mastery after this whole group re-teaching lesson, and any students still requiring re-teaching.
The next form I didn't use as much. This form was for documenting standards that the class mastered on the assessment. I would document the standard, the date it was reviewed, and the manner it was reviewed (homework or daily math review).
That is a lot of data tracking! As I mentioned above, don't feel like you need to use every form to be successfully tracking your data. Pick and choose which forms work best for you and the subjects you teach.
Click here to download the files featured in this post.
To read more about how I track data from exit slips, click here!
To grab the ONE form I use for my weekly (smaller) assessments, click here.
How do you track data in your classroom? I would love to hear your strategies and ideas.

Save
Save