Earth Day is one of my favorite days to celebrate in the classroom, and I wish I could spend a little time each week talking about how to take care of our planet. However, since time is limited and standards are plenty, I like to spend the day of Earth Day (or before, if it falls on a weekend) doing some engaging Earth Day activities to help my students reflect and learn new ways they can help care for the Earth. This post shares my favorite Earth Day activities for 4th and 5th graders.
Earth Day Activity #1: Teaching Students to Be More Earth-Friendly at Home
Materials:
• Printable house outline and printable flaps —-> Download them by clicking here!
• Scissors
• Glue or tape
• Pencil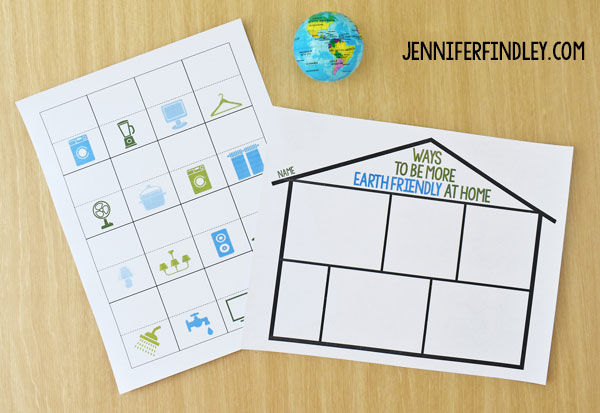 Directions:
1. Print a house outline and a set of flaps for each student.
2. Have the students cut out the flaps and fold them in half.
3. The pictures on the front of the flaps will help them brainstorm ways to be more Earth-friendly at home.
4. The students should write their idea on the inside of the flap and tape it into a room of the house.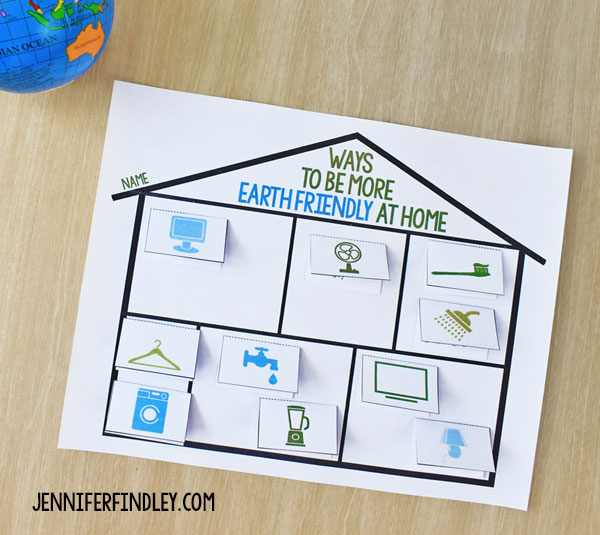 Here are some ideas that correspond with the photos on the flaps:
Bathroom
• Take short showers.
• Make sure toilet water isn't running.
• Make sure the faucets are turned off.
• Don't leave the water running when brushing your teeth.
Bedroom
• Turn off lights when you leave the room.
• Turn off fans and heaters when not in use.
Living Room
• Use energy-efficient light bulbs.
• Don't leave the TV on unless you are watching something.
• Use dark shades or curtains. This will help keep the heat out on hot days and the heat in on cold days.
Kitchen
• Only run the dishwasher when it is full.
• Unplug small appliances that are not in use.
• Use small appliances, like a crockpot or a toaster oven, instead of the oven.
Laundry Room
• Wash clothes in cold water.
• Hang up your clothes to dry them, instead of using the dryer.
• Only wash full loads of clothes.
Office or playroom
• Turn off your computer when not in use.
• Unplug all electronic devices when not in use. It's been proven that most electronic devices will still use power even when powered off.
Earth Day Activity #2: Clean Up the Playground
Materials:
Two trash bags per student or per group of students
Gloves – one pair per student
Directions:
Review what can and cannot be recycled with the students. Then give each student, pair of students, or group of students (however you decide to organize your students) two bags – one bag for trash that cannot be recycled and one bag for items that can be recycled. Have them go around the playground or school yard collecting trash and recyclable items. I have my students wear gloves because you never know how yucky some of the trash is.
Another option is to give them one bag and have them sort the trash once they return to the classroom, but I like the handling of the trash to be kept to a minimum. 😉
Earth Day Activity #3: Earth Day Read Alouds
By the time my students get to 4th and 5th grade, a lot of the common Earth Day read-alouds have been done over and over. So, I like to choose books that are perfect for Earth Day but are not often chosen in their primary classrooms. Here are my go-to Earth Day read-alouds (these are Amazon affiliate links if you wish to purchase through the links provided):
One Plastic Bag: Isatou Ceesay and the Recycling Women of the Gambia by Miranda Paul
The Tree Lady by Hopkins and McElmurry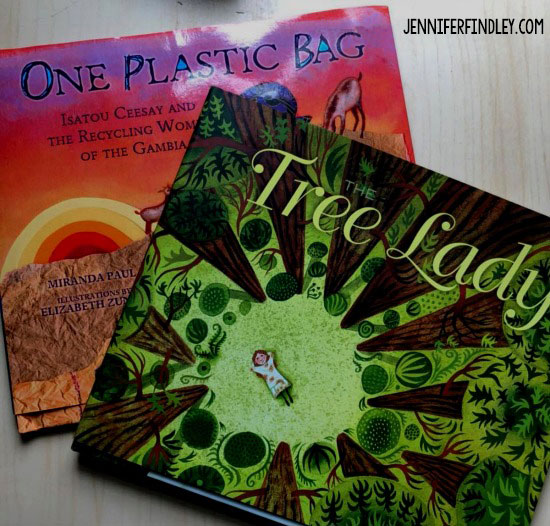 Both of these read-alouds focus on one person and the impact that person had on the environment. These are great read-alouds for getting the students thinking about what impact they can have in their own community.
Along with the read-alouds, I like to review a few reading skills. We review theme, character traits, and the character's response to a challenge, as well as comparing the themes and characters of the two books.
We also focus a lot on the power that one individual has to make a change, as shown in both books. The students then choose a problem or a concern in their community and make a plan to address it.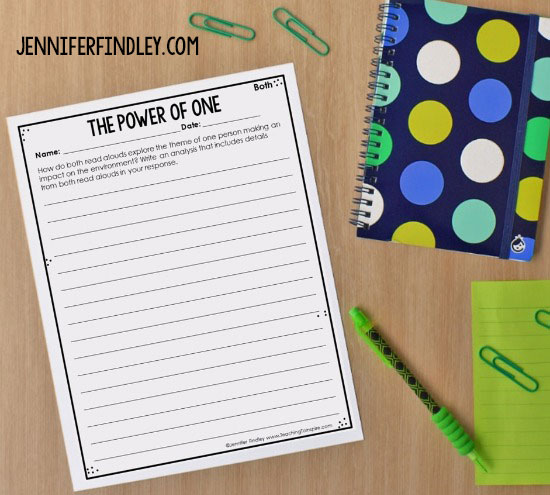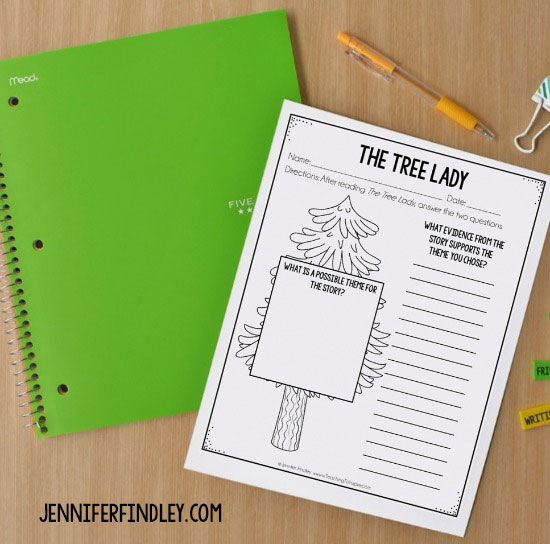 Click here to download the printables I use both of these Earth Day read-alouds for free.
Earth Day Activity #4: Earth Day-Themed Math Centers
To continue the Earth Day theme in math class (while also reviewing important math skills), I created Earth Day-themed math centers for my students to complete.
Shop This Post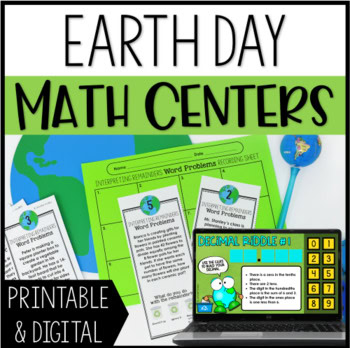 Earth Day Math Centers with Digital Activities
Looking for engaging activities and resources for Earth Day that still align with your grade level skills? This resource includes 16 Earth Day-themed math activities and centers for 5th grade students.
The math centers review skills such as adding and subtracting fractions, multiplying and dividing fractions, word problems with fractions, and more!
Earth Day Activity #5: Recycling Scavenger Hunt for the Classroom
Materials:
• Printable scavenger hunt sheets —> Download them by clicking here!
• Common classroom items that are recyclable and non-recyclable
Directions:
1. Decide which of the three scavenger hunt sheets you'd like to use.
• Version #1 asks the students to DRAW pictures of recyclable items in one column and non-recyclable items in the other column.
• Version #2 asks the students to WRITE recyclable items in one column and non-recyclable items in the other column.
• Version #3 builds on version #2 and asks the students to explain why the non-recyclable items cannot be recycled.
2. Send the students around the classroom to find and record five items for each column.
Earth Day Activity #6: Earth Day Videos
If you have a 20-minute block of time to dedicate to Earth Day, then I highly recommend this first video from SciShow Kids:
"Happy Earth Day" – Video running time: 17:52
This all-encompassing video covers lots of things you can do to make our planet a better place. We learn about animal habitats and what leads to the endangerment of animals, the effects of pollution on our environment and living creatures, what happens to our trash, composting, landfills, recycling, and much more. There is also a bird feeder craft kids can make.
But if you only have time to show a quick video, then I recommend one of these two:
"Climate Change: Earth's Giant Game of Tetris" – Video running time: 2:48
There's a game of Tetris happening on a global scale: The playing space is planet Earth, and all those pesky, stacking blocks represent carbon dioxide — a greenhouse gas that is piling up ever more rapidly as we burn the fossil fuels that run our cars, factories, and power plants. This TED-Ed video outlines how this overload of CO2 leads to climate change and reminds us that, unlike Tetris, we won't get an opportunity to start over and try again.
"What Really Happens to the Plastic You Throw Away?" – Video running time: 4:06
We've all been told that we should recycle plastic bottles and containers. But what actually happens to the plastic if we just throw it away? This TED-Ed video traces the life cycles of three different plastic bottles, shedding light on the dangers these disposables present to our world.
Earth Day Activity #7: Earth Day Coloring Page
Next, we have an earth day coloring page that I like for my students to complete. To reuse paper, we write our promises or pledges to the Earth on the back of the paper.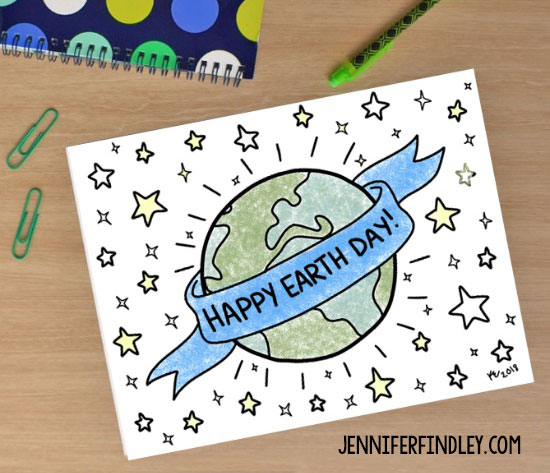 Click here to download the FREE Earth Day Coloring Page (designed for my followers by Kelsi Eldredge).
Earth Day Activity #8: Free Earth Day Reading Activities

Lastly, we have a set of Earth Day reading activity resources. The pdf includes two Earth Day-related reading passages (1 fiction and 1 nonfiction) and related activities for each – comprehension questions, activities, and a writing prompt. A digital version is also included! Read more about it and download it here on this post.
I hope you can use some of these Earth Day activities in your classroom! Do you have another favorite Earth Day activity that you do with your students? Let us know in the comments! 
This post was created in collaboration with A. Stults.