End-of-year time is always such a busy time. Teachers are packing up classrooms, finishing up paperwork, and still teaching and engaging their students.
Because of all of this on our plates, the end of the year really sneaks up on me. In this post, I want to share some simple, affordable, student-approved ideas for end-of-year gifts for students.
These end-of-year gift ideas have been carefully chosen for upper elementary students, and many are gifts I have personally given my own students over the years. However, only you know your students and their interests, so let that (and your budget) guide you as you choose end-of-year gifts for your students.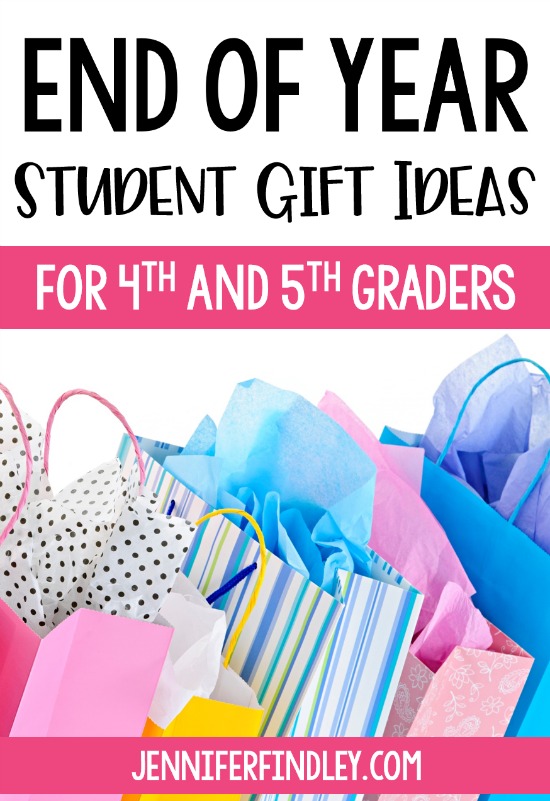 1. Class Picture
This gift is one of my favorites. Since I have always taught in Title 1 schools, a lot of my students can't afford to purchase the class picture. I take my students outside, and we take two class pictures, a silly one and a serious one. I then take the pictures to Walmart or Walgreens and have 5 x 8s of each picture made for all my students. This is my favorite kind of gift to give because it will last a lifetime. My hope is that my students will look back on this picture when they are older and have great memories of our time together.
If you have extra time, you could even write a special note to each student on the back of the picture.
2. Beach Ball Signatures
One gift I give every year is a beach ball. This gift doubles as an end-of-year activity because we spend about 20 minutes going around signing classmates' beach balls. I play calming music while the students go around the room and get signatures and notes of well wishes from their classmates.
3. Book with Personalized Note
This is another go-to gift each year. All year long, I keep an eye out for a Scholastic $1 book that will be engaging to my students (bonus points if the book is a sequel to a class read-aloud or a historical fiction book about a time frame we have studied in social studies). I sometimes just give the students the book with a note in the front cover. Other years, I have actually started the book as a class read-aloud the last two weeks of school, gotten them hooked and invested in the book, and then given them their own copies to finish other the summer.
4. Deck of Cards for Math Games
Each year, my students leave me with a love of math and a specific love of math games. I love giving them decks of cards so that they can continue some of the games we play with cards.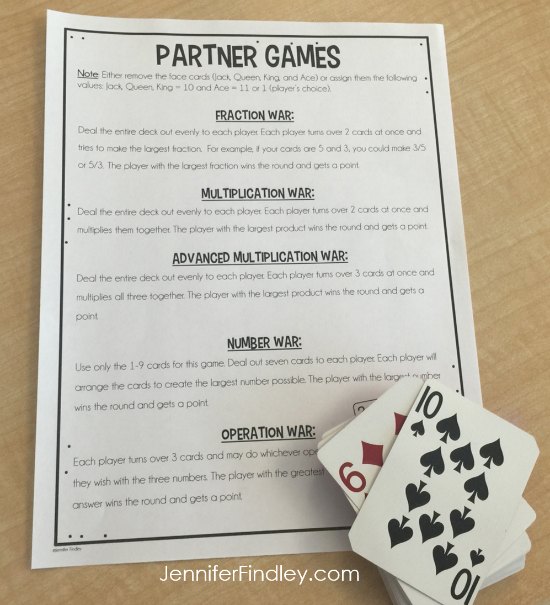 You can grab the printable of games and review activities to go with the deck of cards for free on this post.
5. Class Movie Day
This is a great option if you are on a tight budget (which is probably most of us after spending lots of money all year on supplies). Use Netflix or rent a movie from Redbox for a fun class movie day. I usually pair up with another teacher and have two movies going on. The students vote from a list I give them, and then the top two movies are shown. The students can choose which movie/room they want to go to.
6. Class Party
Another affordable option is to have a class party. Tell the students you will supply one type of treat (I usually bring cupcakes or a special homemade treat) and have them bring in the rest.
7. Popsicle Party
Another option similar to a class party is to have a popsicle party. My students always love popsicles, and when you add that to extra time outside, you have a great (and cheap) end-of-year student gift that your students will love.
8. Write a Personal Letter to Each Student
This is an extremely meaningful (and absolutely free) idea for a student gift. Write each student a personal letter about what you will remember most about him or her, what his or her strengths are as a student and person, what you hope for his or her future, and any other personal anecdotes you want to include. The students will love reading their individual letters, and this will be something they treasure forever!
9. Dollar Store "Toys" With Catchy End of Year Phrases
I would definitely be remiss if I didn't include inexpensive dollar store toys in an end-of-year gift idea. As much as I love giving my students meaningful gifts (books and class pictures, for example), my students are still kids, and kids love toys. Here are some of my favorites.
1.) Bubbles
2.) Chalk
3.) Sunglasses
4.) Jump Ropes
5.) Popsicles
Final Tips for Choosing End of Year Gifts for Students
Let your students and their interests guide you as you choose gifts. As much as I love the cute gifts I see on Pinterest and Instagram, I try to always keep my students' interests in mind when I pick gifts. A few years back, my entire class was obsessed with Minecraft, so I bought them inexpensive Minecraft bracelets from Amazon. You would have thought I had given them gaming systems. They were so excited and thrilled by the gift because it was specifically purchased based on their interests.
Also, don't feel obligated to use the cute tags you see on the Internet (though absolutely no judgment if you do). Printing, cutting, and taping or tying the tags can be difficult for teachers with multiple classes and may not be the best use of your time at this busy time of the year. Your students will love the gifts just as much with or without the catchy tags.
Alternatively, you can type up (or handwrite) more personalized notes to explain why you chose the gifts(s) for them. That will make it much more meaningful, and your students will notice and probably have a better chance of saving the notes. Here is an example of how I did this for my students a couple of years ago.
Read more about this particular set of end-of-year gifts that I gave my students a few years ago by clicking here. As you will see in the post, I gave them a hodgepodge of small gifts based on their interests and then typed up a simple note to accompany the gifts. What you can't see (for privacy reasons), is the personal note I penned on the back of each note. This took no color ink, little prep time cutting, and the notes were simply placed in the gift bags.
Need End of the Year Math and Literacy Activities?
Are you still needing academic resources to engage your students until the end of the year? Check out these end-of-the-year activities (with digital activities) for math and literacy.
Pin End of Year Student Gift Ideas for Later!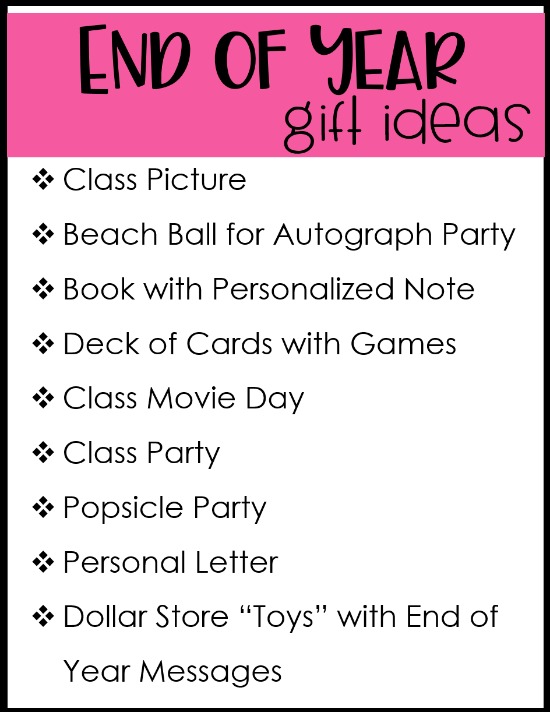 What are some end of year gifts that you have given your students that they loved? Let us know in the comments so we can have even more ideas for end of year gifts for students!