Have you ever given exit slips to your students only to leave them on your desk while you quickly escort your students to lunch or transition to another subject? Before you know it, they are buried under other paperwork. By the time you have a chance to look them over, it has been a few days and you have moved on from that skill. If this has ever even remotely happened to you (raises hand), this post will hopefully help you keep that from happening in the future.
Exit slips are a pretty powerful means of getting quick, in-the-moment data on your students. On this post, I will share some tips for maximizing their use and really use them to drive your instruction.
Have students self-assess after completion.
Student self-assessment is a great way to get your students using metacognition to evaluate their own learning. Embedding self-assessment with your exit slips is a great way for you to get a glimpse into what your students are thinking.
My self-assessments are embedded on the math exit slips themselves. Here is an example from my 5th grade math exit slips, which you can see here.
Another option I have seen is to have the students place their exit slips in folders or pockets labeled with their level of understanding.
No matter which you choose, this is a great way to see what your students know about the skill and what their thinking is about that skill.
Assess embedded or pre-requisite skills, as needed.
If your students are struggling with a skill, you may want to use an exit slip (or entrance slip) to assess any pre-requisite skills. For example, if your students are struggling to multiply 3-digit by 2-digit, assess them on 3-digit by 1-digit and see if they are able to do that.
Use a variety of question types.
In order for your exit slips to be a true representation of your students' understanding of a skill, you need to use a variety of question types to assess them.
Here are some examples:
Math: Use exit slips with a variety of computation, word problems, and exit slips that require the students to explain or justify their thinking. If you need math exit slips, click on your grade level to see the ones I have available in my TeachersPayTeachers store.
Reading: Use exit slips with provided texts and exit slips that require the student to apply the skill to their independent reading. This isn't feasible for every skill, but the ultimate goal is definitely to see if the students can generalize and apply the skill to their own reading.
Immediately (or as soon as possible) sort exit slips into re-teaching/extension groups.
Here are the steps I follow each week when using exit slips so I can use them for my small groups:
1.) Copy exit slips for the week and complete one of the exit slips myself the day before or of.
2.) Give the exit slip to the students.
3.) Provide support as needed to a small group of students (This is one of the ways I am able to differentiate without using leveled exit slips-more ways shared later in this post.)
4.) Teach my students to turn in the exit slips to my table (where I am with a group of students) as they complete them.
5.) As the exit slips come in, immediately glance over them and sort them into three piles. I keep my initial piles pretty simple. (All correct, Missed 1-2 (depending on number of questions), and Missed More than Correct)
6.) Paperclip your exit slips by the sorted piles, fill out the data form (more about that in a minute), and slide the exit slips in a page protector if you wish to save them for your teaching groups. Your piles are now your teaching groups for that skill, if you choose to use the data in small groups.
Save exit slips or record data for re-teaching.
I touched on this already but I wanted to include another section showing you how and why I save my exit slips and/or record my data.
How: This is pretty simple. After sorting them into groups, I slide them into a page protector in my exit slip analysis binder.
Why: This allows me to analyze them further if needed. Also, I can use them to plan re-teaching groups.
If you don't plan to use your exit slips and just want to record the data, you can use a form like this: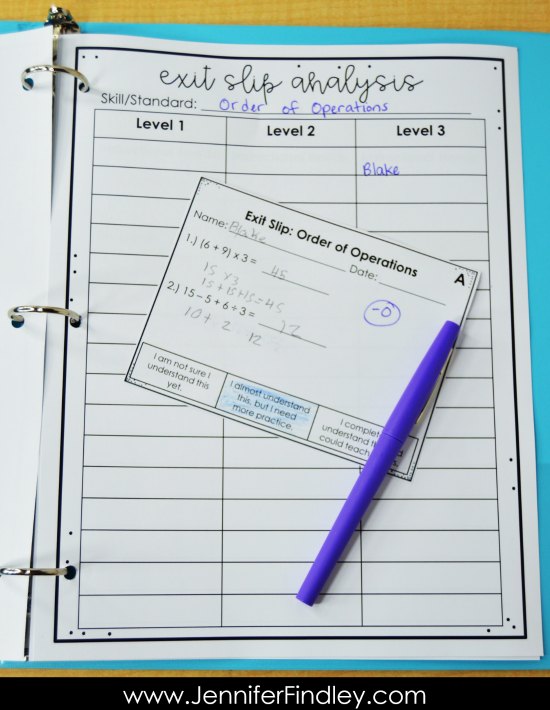 Grab all of the exit slip data tracking forms shown on this post for free here.
Use data from exit slips to guide instruction.
Data from exit slips are powerful for guiding your instruction. Here are some ways that exit slips can guide instruction:
1.) Extend a whole group lesson (if the majority of your students struggle or if there is a clear misconception you need to clear up).
2.) Enrich a whole group lesson or move ahead with pacing (if your students have mastered a skill earlier than your pacing expected).
4.) Spiral review the skill (if the skill is pretty well mastered but you want to build fluency or ensure the students don't lose the skill as the year progresses).
5.) Use the data to form small groups for reteaching or enrichment.
If I give an exit slip and realize some small group reteaching is needed, I fill out this form and group my students based on their needs: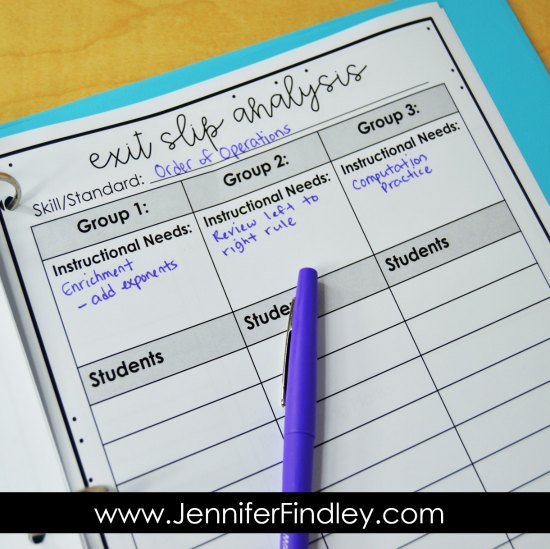 Once my data is organized and I know what each group of students needs, instructionally, I then quickly plan groups using this form.
Grab all of the exit slip data tracking forms shown on this post for free here.
Organize exit slip analysis and data forms for future reference.
I keep all of the forms I shared above in one binder. You could separate it for math and reading, but so far one binder works for me.
To create your own Exit Slip Binder, click here to download all of the data analysis forms shared on this post.
Differentiate exit slips, as needed.
Here are some quick and easy ways to differentiate with your exit slips (without actually needing leveled exit slips):
1.) Require students to solve fewer problems.
2.) Write in notes or cues for the students who need them after you make your copies.
3.) Allow students to use their interactive math notebooks for support.
4.) Pull a small group to give the exit slip to and provide support if they need it. This is usually what I do if I already know which students will struggle. This allows me to use the exit slip time as an opportunity for a mini re-teaching lesson as well.
Provide student feedback.
When I give exit slips, my students are always very eager to know how they did. If I am able to quickly score them and have time, I will occasionally call the students over to my table to show them. If not, I either pass the exit slips out the next day or give them to them after re-teaching/enrichment groups. Whatever way works for you, try and always give them back to the students and let them know how they did.
Want FREE Reading Exit Slips?
Want to try out some free exit slips for reading? Note: These do not have the self-assessment piece embedded in them. Click on the links below.
FREE Reading Exit Slips for 4th and 5th Grade
FREE Nonfiction and Fiction Comprehension Exit Slips
********
Do you use exit slips in your classroom? Have any tips for us to maximize their use? Let us know in the comments!