I have been a teacher for seven years now, and I would have to say without a doubt that my favorite grade to teach is 5th grade. To me, 5th graders are the perfect age to make teaching enjoyable and make it challenging enough to keep it from getting boring.
Teaching 5th graders does have its downsides (middle school attitudes at the end of the year is my least favorite), but the great parts far outweigh the negatives.
If you are new to teaching 5th grade or thinking about teaching 5th grade, here are my top ten things that I think every teacher should know about 5th graders. This list is, of course, from my own experiences and you will always find that there are students who don't fit in with the normal expectations or behavior.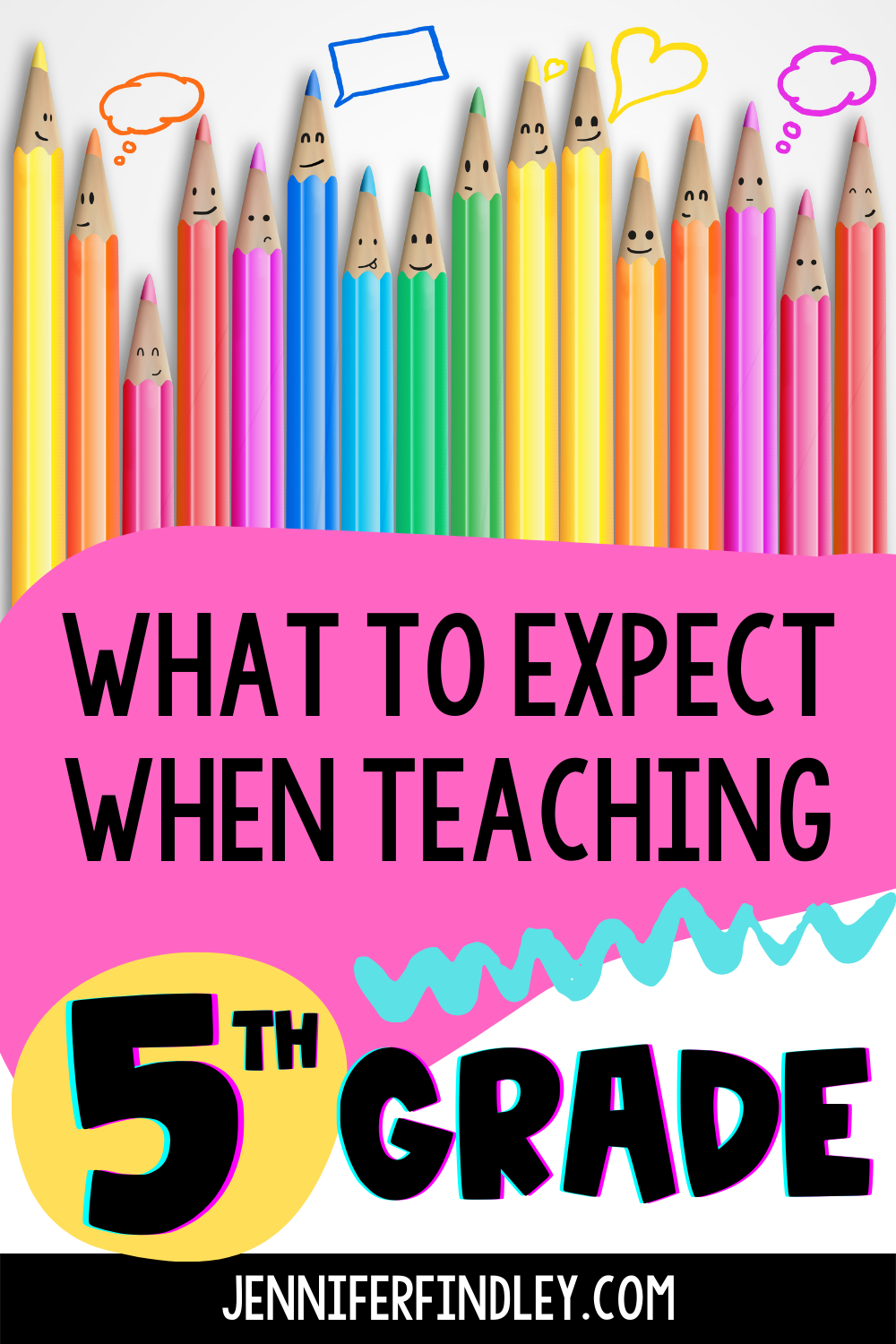 5th graders have a great sense of humor.
One of the best parts about teaching fifth grade is the students have a great sense of humor. They get jokes easier and are just genuinely funny at this age. This sense of humor will show up in classroom discussions (sometimes appropriate to the conversation, sometimes not- usually always school appropriate) and in their writing (which makes grading those long stories a little more interesting!).
5th graders still get excited about learning.
This one is HUGE for me. I spent a year teaching middle school and was shocked at how much more difficult it was to get the students excited. Fifth graders are easy to get excited about learning. For the most part, if I act excited about what we are doing, then they are, too. I love how I can hold up a book and tell them all about how this book was my favorite book growing up. By the end of my book introduction, I will have the majority of the students begging to read that book.
5th graders are the perfect blend of independent and dependent.
I actually spent my first year of teaching in 3rd grade. When I found out I was teaching 5th grade, I will admit I was a bit scared. However, after the first day of school I was hooked. I gave my students directions on a getting-to-know-you activity, had them repeat the directions to a partner, and then they got to work. I watched and waited for a few minutes for the questions to begin. They never did. The students were able to complete the work independently. This was a huge change from 3rd grade!
Even though they can be quite independent, 5th graders (for the most part) still want to please their teacher, even though some may not show it. They are still dependent in enough ways to make you feel needed and wanted as their teacher.
5th graders are capable of deep discussion and thoughtful conversations.
One of my favorite parts about teaching 5th graders is their ability to have deep discussions about virtually any topic. I love sitting on the carpet (yes, my 5th graders still sit on and around a carpet) and reading a book to them and then having a deep discussion about character motivation. The history topics we teach in my state (Civil War to Present Day) really evoke some great thoughtful, compassionate conversations as well. I will say that these deep and thoughtful conversations don't always happen, but when they do, it makes teaching 5th grade so worth it.
5th graders are very talkative.
With the ability to have deep discussions comes the talkativeness. They do like to talk and socialize. As a teacher, I always try to channel that talking into more productive talk (turn and talk, repeat to a partner, share what you learned, etc) and set high expectations for when they can and cannot talk freely.
5th graders are very helpful (and capable of actually helping).
Have you ever asked a 2nd grade to do something and found that you had to repeat yourself sixty-five times and then just wound up doing it with them? 5th graders are not like that at all! I always say that 5th grade is the best year to teach if you have to rearrange, organize, or pack up your classroom at the end of the year. Many of them are still so willing to help out and most of them (not all of them – fair warning) are extremely efficient when they do help. I have found that when I have an organizational issue in my room, I can discuss it with my students and we can come up with a solution together, and then they can even execute it.
5th graders
will

push boundaries.

This is probably one of the most important things to know about teaching 5th graders. I have firsthand seen the same students be respectful and well-behaved for one teacher and the complete opposite for others. At this age, many 5th graders are testing boundaries and they will push them as far as you let them. Expect arguments and some back-talking and have a plan in place for when these do occur. Having high expectations and a well thought out classroom management plan is key with 5th graders.
Some 5th graders may have HUGE gaps in their understanding.
This part is one of the most difficult aspects of teaching 5th grade. The curriculum is so much more advanced than the students are used to. When students have large gaps, this can really hinder their understanding of 5th grade skills. It is important to quickly target students who you think have gaps and then figure out the gaps so you can fill them in. This is not always easy as many students have learned coping strategies by this point that hide their lack of understanding. One thing I always tell new 5th grade teachers is to never assume they all understand a concept or skill after instruction. I always recommend giving an exit slip or some type of individual quick check because they can (and will) fool you.
5th graders can be cooperative
and

competitive.

Because fifth graders love to socialize, working in groups is one of their favorite activities. You do have to set expectations and rules for group work, but they will most often flourish when working with others. Their engagement level instantly sky rockets when working with groups, too. With that being said, this is also the year when students become competitive. I always keep any "competition" light and fun and teach expectations for winning and losing. This is the perfect age to teach them how to handle healthy competition.
The curriculum is much more difficult, but 5th graders can (and do) rise to the challenge.
Fifth grade curriculum can be pretty difficult. The math skills move from concrete skills easy to understand, draw, and manipulate to abstract skills that require reasoning and logic. The reading levels increase and the rigor of the reading tasks can seem very daunting at the beginning of the year. However, by January, 5th graders really start showing huge growth in those difficult skills. By the end of the year, you will be shocked at how far they have come since the beginning. One year I had students go from leaving constructed response reading questions blank because they didn't understand them to writing developed five paragraph essays that even they were proud of by the end of the year. If you are new to 5th grade, don't let the curriculum worry you. The students will rise to the challenge with rigorous work and high expectations from you in regards to their learning.
Teaching 5th graders can definitely be a challenge and your classroom management game has to be strong, but it is so very rewarding! What would you add to this list?
P.S. If you are new to 5th grade and looking for curriculum resources, I highly recommend you check out these resources from my TpT Store:
And one more thing. I have this AWESOME collection of blog posts just for you! Click right here to see the Collection of 5th Grade Teaching Articles and Posts from my blog.