I have a love/hate relationship with field trips. Some years they are great, and some I just want to sleep for twelve hours after the field trip and never speak of it again (surely I am not the only one, right?).
Field trips can fun and super educational, though. It is nice to take the students out into the "real world," to expose them to new experiences, and teach them how to be respectful and show manners in a variety of settings. To be honest, I sometimes find it difficult to use a field trip experience to its full potential before and after the field trip (that pacing guide gets me every year). I recently put together some free field trip activities that can be used before and after a field trip and I wanted to share them with you today.
I always like to do a KWL activity about the topic or location of the field trip. A few years ago, we went to a Civil War Battlefield and completed a KWL before the trip. It was a great way to review what we had learned about the Civil War before the trip. The students also brainstormed specific things they wanted to learn about this specific battlefield location. This really helped with the participation during that part of the field trip.
Going over manners and expectation is so important for any field trip. Usually, I find myself giving a quick reminder speech before we get on the bus. However, I think this printable list of things for the students to remember is more efficient than that. Print it out the day before and go over it as a class. Then review it on the day of the field trip.
I also included a Field Trip Reminders printable because I have a hard time remembering to always tell my students to wear comfortable shoes, bring sunscreen, etc. Having this printable helps keep me organized as well.
This next field trip activity is perfect if you are going to a location with an updated website. Using this field trip research printable, have your students go on the website and do some research. This gets them excited about the field trip but also gives them knowledge to really get the most out of the trip.
After a field trip is over, I like to have my students take some time to reflect in writing about the trip. In this set of free field trip printables, I included a narrative prompt for them to describe their day and then a persuasive prompt for them to write about their opinion of the trip.
I also give my students some guidelines with this prompt, such as you must include 3 facts you learned about the topic, or you must describe 2 learning experiences you had. This keeps them from writing only about the "fun" part of the field trips, such as hanging out with their friends on the bus or eating at a park.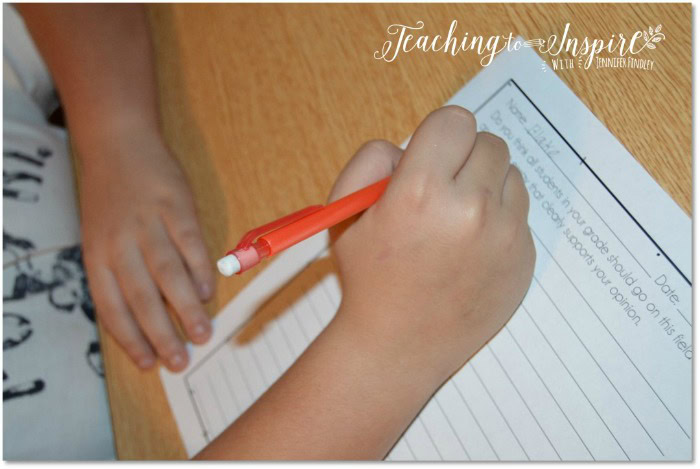 This is another pretty simple printable, but it gets the students reflecting on the trip and what they learned. This type of printable is perfect for homework the day of a field trip or to fill that 30 minutes to an hour you have left in the day if you took an almost all day trip. In fact, all these printable could probably fill up a day before and an after a field trip to really maximize on the learning that happened on the trip.
In addition to the printables shown, there is also a tri-fold printable and some templates for a class ABC book that could be completed after a field trip. Click on the image below to download these resources.
I hope these free field trip activities help you and your students get the most out of your field trips. Do you have any go-to activities you do before or after field trips? Let me know in the comments!