The week or days before Christmas break can be hectic in the classroom. Between school events and the students' excitement, it is difficult to teach new skills during this time. For this reason, I choose to use this week to review all (or most) of the skills that we have learned so far in the year. To make things more interesting, the review has a holiday theme. This post will share the printables I use for one of my math review activities: a Christmas math review for 5th grade.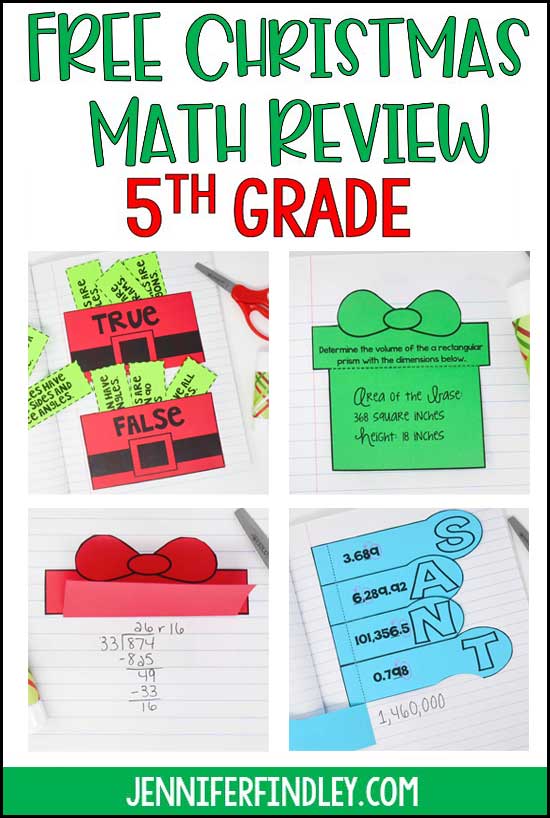 About the Christmas Math Review:
To be honest, we don't always have a lot of time for cute interactive notebook templates and we definitely don't have time to color them in. But the days leading up to Christmas break is a great excuse to slow down and let the students have a little break.
For this Christmas math review, I have interactive notebook templates with problems for the students to solve. After they have solved the problems and gotten them checked off (by me or using the included answer key), they can have a few minutes to color them in.
Here are some of the Christmas math review templates included:
This is a great review activity while you pull a small group of students to work through the same problems. This also makes a good activity to leave a substitute because it is a bit more time-consuming with the cutting and gluing.
What To Do With the Christmas Math Review Templates:
The students can glue the templates into their notebooks OR you can mix it up a bit more and have them glue them on to construction paper like the example shown from a previous review lesson. These make great interactive hallway displays!
5th Grade Math Skills Included:
Below is a list of the 5th grade math skills reviewed in this freebie. Pick and choose the ones that work for you and your students.
Multiplying and Dividing Whole Numbers
Word Problems: Multiplying and Dividing Whole Numbers
Word Problems: Adding and Subtracting Decimals
Division
Creating Hierarchies Using 2-D Shapes
Determining Volume
Rounding Numbers
Order of Operations
True or False Statements about 2- D Statements.
Get the FREE Christmas Math Review Here!
Click here to grab the free Christmas math interactive notebook template to review with your 5th graders!
Happy Holidays!
Want More Christmas Ideas and Activities for 4th and 5th Grade?
Click here to check out my blog post that compiles all of my favorite Christmas activities and ideas for math, literacy, and more in ONE post!