Fractions…otherwise known as the trickiest math concept known to man.
Well, I may be exaggerating, but fractions certainly are not your average 5th grader's favorite math concept. Nor are they typically a teacher's favorite unit to teach.
However, armed with some activities, tools, and tricks, fractions really don't have to be all that bad.
This post will share one of my go-to tools when the students struggle with all of the steps they have to take when adding and subtracting fractions and mixed numbers with unlike denominators.
The simple resources that I use to help my students while making it slightly more engaging are fraction mats. Keep reading to learn more and grab the free printables to make your own fraction mats and hopefully alleviate some of the stress involved with fractions.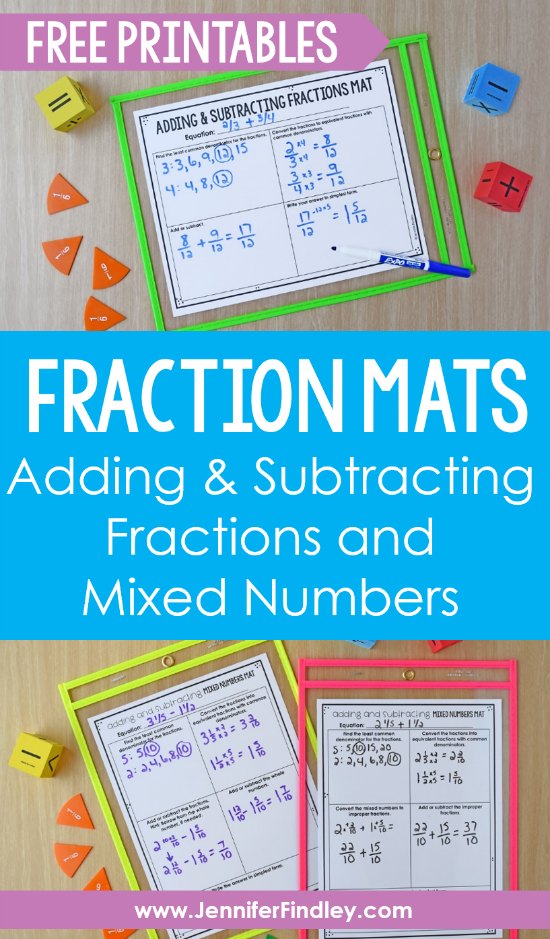 *Affiliate links are provided for the Amazon materials recommended on this post.
Materials Needed
Fraction Mats —> download them at the end of this post.
Dry erase sleeves or page protectors (as an alternative, you can laminate the mats)
Dry-erase markers (I recommend the skinny ones).
About the Fraction Mats
The fraction mats I am sharing on this post are for adding and subtracting fractions and adding and subtracting mixed numbers using the traditional algorithm.
I have included several versions of each mat because I know teachers have preferences about the steps they teach. And also some formats or steps seem to resonate with students more than others and I prefer to have options.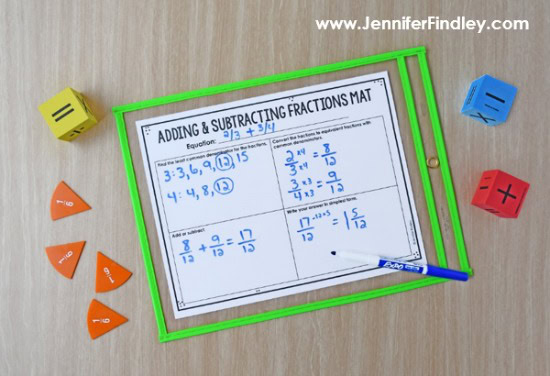 How the Fraction Mats Help the Students
These fraction mats are helpful to the students in three main ways:
1. The fraction mats help the students organize their work. They also help to make sure the students don't forget any important steps.
2. The fraction mats are an "engaging format" especially if the students can use dry erase markers.
3. If used with dry erase markers, the students can easily correct mistakes. Erasing and correcting work done with dry erase markers is not quite as frustrating for students as paper and pencil corrections.
Options for Using Fraction Mats in the Classroom
Here are some ways you can use these fraction mats to help your students:
1. Small group teacher time for re-teaching or practice with the teacher's guidance.
2. The mats also work well with math centers. You can place task cards or even a math worksheet in a center and have the students use the mats to solve their equations.
3. Independent work for students who need the format to help them organize their work and remember the steps
Where Can I Download the Fraction Mats for FREE?
Click here or on the image below to download the fraction mats to help your students practice adding and subtracting fractions and mixed numbers.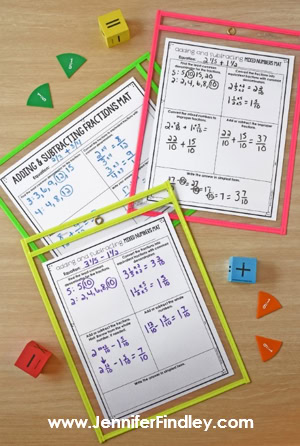 Do you need more fraction resources for your classroom? Click on the links below to check out a few recommended resources or articles for fractions.
4th Grade Fraction Review Mini-Booklet: I use this before I begin teaching 5th grade fraction skills. It allows me to make sure my students have the foundation needed.
FREE Fraction Pacing Guide: Check out this post to grab a checklist and see how I pace my 5th grade fraction skills.
Chocolate Themed Fraction Math Tasks: These are perfect for engaging application of fraction skills with a yummy chocolate theme.
Subtracting Mixed Numbers with Regrouping Resource: This resource has an engaging pizza theme and really helps my students conceptually understanding regrouping with mixed numbers.
Subtracting Mixed Numbers with Regrouping Using Manipulatives: This blog post shares three ways you have help your students subtract mixed numbers in a more concrete way.
Multiplying and Dividing Fractions: When you get ready to move on from adding and subtracting fractions, this is the perfect one stop resource for multiplying and dividing with fractions.