One of my favorite parts of being a reader is sharing books that I love with others and reading book recommendations and book reviews online. And I love bringing this type of activity into the classroom with my own students. On this post, I will share some of my new favorite book recommendation templates that get students excited to recommend books and read recommendations.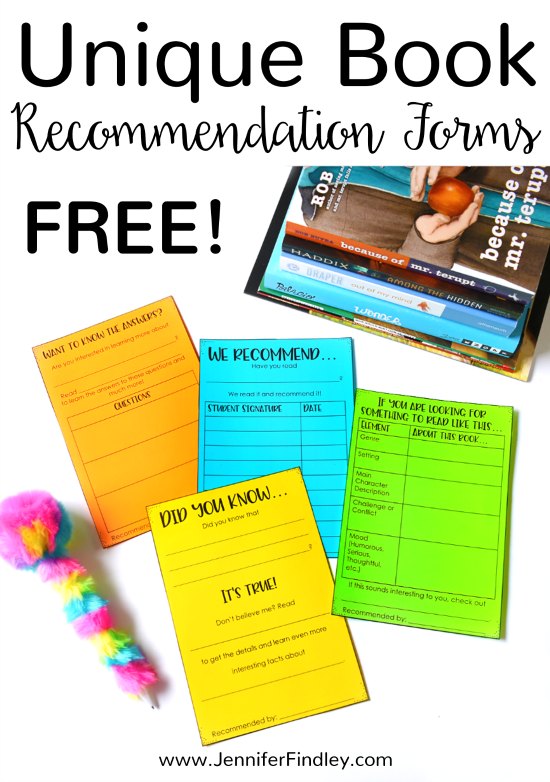 Collaborative Book Recommendation
This type of book recommendation works perfectly if you have a popular book that is making the rounds with many students. Purchase or check out a few copies of the book and then display it with this form. As students finish the book and want to recommend the book, they can sign and date the form.
Interesting/Unusual Fact Book Recommendation
This book recommendation template is specifically designed for nonfiction books. The students hook their peers and get them interested in the book they are recommending by sharing an unusual fact or interesting fact in the form of a question.
Questions About…Book Recommendation
This is another form for nonfiction books. To complete the form, the student writes three compelling questions that can be answered after reading the book.
If You Are Looking for…Book Recommendation
This form is for fiction books. So many times, students write reviews that don't provide enough details about the story for other students to decide if they want to read it. This template has the students writing brief details about the genre, the setting, the main character, the challenge/conflict, and the mood of the story. This will serve two purposes: help students learn about new books AND review key literature terms in the process.
Using the Book Recommendation Templates
Here are some general tips for using these book recommendation forms with your students:
Model how to complete each form by recommending a book of your choice to the students. This will demonstrate how to properly fill out the form and offer some good book recommendations that your students will want to read.
Have a place for students to post the forms and if you have space, display the book they are recommending as well. Another option is to have the students place the forms in the actual book itself. When students are searching for a book, they can read recommendations as well as the back blurb.
Use two different colors of paper to quickly differentiate between fiction forms and nonfiction forms.
Use these forms in conjunction with book talks to get students even more excited about sharing, recommending, and reading books. Click here to read more about book talks and other ways to have students share their reading.
Get the Book Recommendation Templates for FREE!
Click here or on the image below to grab the book recommendation templates featured on this post.
Want more ways to get your students excited to read? Click here to read how a blog post full of strategies and tips for getting students interested and excited to read.
Want to Read More about How I Teach Reading?
Here are some helpful posts that you may be interested in if you want more details and information about my reading instruction:
How I Teach Reading in 5th Grade
Reading Centers in Upper Elementary
Guided Reading Binder (Free Forms)
5 Ways to Hold Readers Accountable for Independent Reading