I always love having quick no-prep activities on hand during those final two weeks of school for those random minutes in between all.the.things going on. I've already shared my go-to end of year math activities and end of year literacy activities, but this post will also share some freebies that are not subject-specific (and one that is math, but is a new freebie).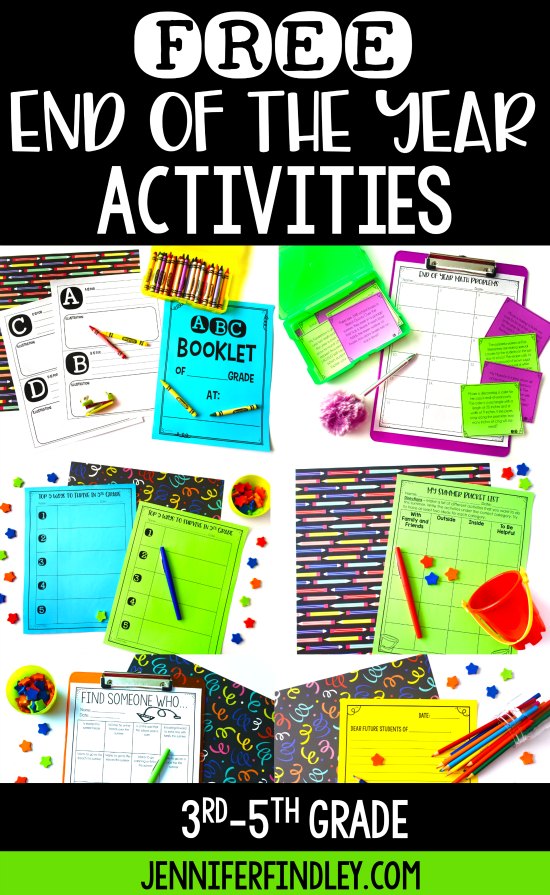 A to Z Booklets
This A to Z booklet is a favorite for sure! The students love creating it and it serves as a great reflection of the year. It is also pretty flexible in that it can be a collaborative class project or an individual project.
You can also have it focus on different aspects (or a combination of aspects). Your students could write about:
Memories and Events
Facts, Details, and Skills Learned
Subject Specific Skills
Summer Bucket Lists
Students are excited about summer break and I love channeling that excitement by making summer bucket lists. We start off this end of the year activity with a brainstorming session as a class. As a class, we make a list of different things that can go on our bucket lists.
I have my students brainstorm activities in these categories (which really pushes their thinking and keeps their lists well-rounded):
With Family and Friends
Outside
Inside
To Be Helpful
After our class discussion, the students use the printable to create their own bucket lists.
How to Survive/Thrive
This is a popular end of the year activity that has the students writing their top 5 pieces of advice to survive/thrive (both versions included) the grade they are finishing. These are always fun to read as a teacher and the students enjoy completing them. We make it even more engaging by choosing a class in the grade level below to give the advice to.
Find Someone Who End of Year Activity
Find Someone Who is a popular beginning of the year activity, but it works great for the end of the year, too! Channel your students' energy by letting them get up and talk while they find classmates who can sign their paper.
End of the Year Themed Math Word Problems
Word problems written with a relevant theme always make the task of reading and solving them a little more engaging for students. These end of the year themed word problems can be used for so many purposes and will keep your students working and learning.
Here are some ways to use these free end of the year word problems:
Around the Room – tape them around the room, pair up your students, and have them solve them.
One a Day – project one problem a day, have the students discuss with partners, and then solve. For an extra engagement factor, let the students solve them on dry-erase boards. Then choose a few students to come up and share their work with the class.
Math Center – I will love using centers and stations the final month of school. These word problems work well in a center.
Letter to Next Year's Students
Another popular end of the year activity lets the students write letters to next year's students. As a class, brainstorm ideas or set expectations for the letters. Then use to have students write their letters. Depending on your timeframe, you could use the letter template as a polished final draft.
Here are some ideas for what the students can include in the letters (this can help you guide the brainstorming session):
Annual events or field trips that they can look forward to
Skills they will learn in specific subjects; the students could share a favorite skill from each subject area.
Details about you (the teacher)
Tips and advice for doing well in the grade level
How to get your freebies
Enter your email address into the form below to receive your bundle of freebies and activities
Want more end of the year activities that are no-prep/low prep and ready to engage your students for the remainder of the year?
More End of the Year Freebies and Blog Posts
Click on the links below to see more end of the year activities and printables, including more freebies!
End of the Year Literacy Activities and Ideas
End of the Year Math Activities and Ideas
FREE End of the Year Writing Prompts
FREE End of the Year Reflection Questions
End of Year Activities to Prepare Students for the Next Grade Level