Are your students graduating or being promoted to another school? Engage your students with this free end of year reading activity that pairs interesting graduation ceremonies and traditions with reading comprehension. In other words, keep your students engaged and reading the last week(s) of school with this free end of year activity with a graduation theme.
About this Free End of Year Reading Activity:
The end of the year is always a bit rough. The paperwork and to-do lists for teachers are sky-high, and students are often a bit more difficult to keep engaged in their work and behaving.
For this reason, I like to use end of the year activities that engage them and get them moving and working together.
This free graduation-themed reading activity is perfect for that.
This resource includes these 6 nonfiction passages (2-3 paragraphs) on different graduation reading topics. Each text comes with 4 comprehension questions that can be answered using the passage.
The topics are:
The History of the Graduation Cap and Gown
Tips for Writing a Graduation Speech
"Trashing" Graduates in Italy
Swedish Graduations Sound Like Endless Fun
The Smith College Diploma Circle
The Liberty University Nursing School Scrub Fire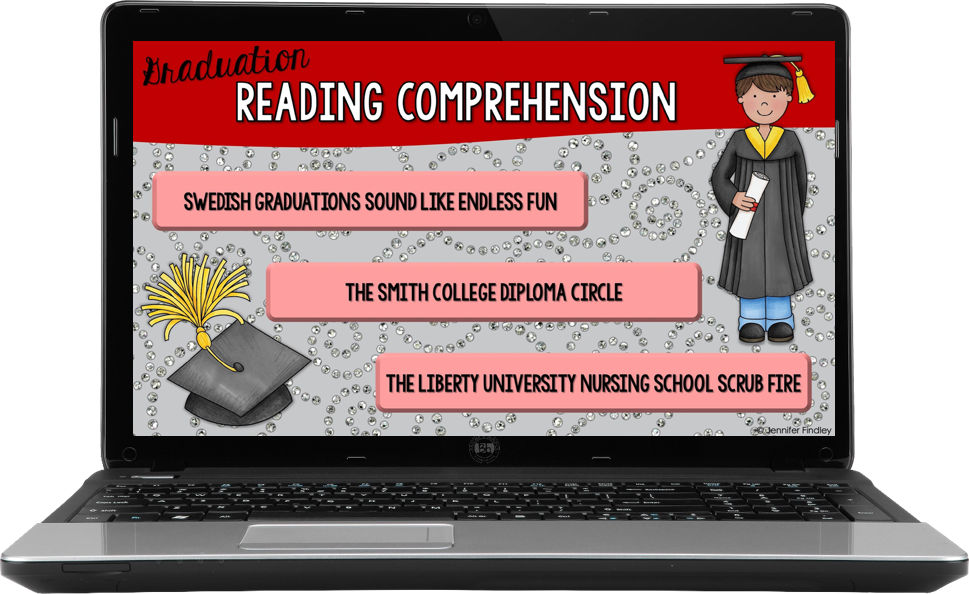 Ways to Use the End of Year Activity
There are a few different ways to use this activity. Here are some ideas:
Printable Activity
Option 1: Around the Room Activity
Get your students up and moving around the room by taping the passages and questions together around the room. For this option I would suggest having students can work in triads or small groups. If you have students work in groups of three, print double copies so you can have 12 "stations" set up with texts and questions.
Either at their own pace or on your signal have the groups rotate around the room reading each text with their group. After they have read the passages, they should answer the comprehension questions.
Option 2: Regular Printable Version
Use the regular printable version and have students work in partners or independently to read the texts and complete the questions.
Digital Activity
Option 1: Choice Board of Topics
Use the digital option with a menu of topics to allow students to choose which topics they want to read and then answer the matching comprehension questions. You can have them choose to do only some of the topics of have them do all of them but in a novel format.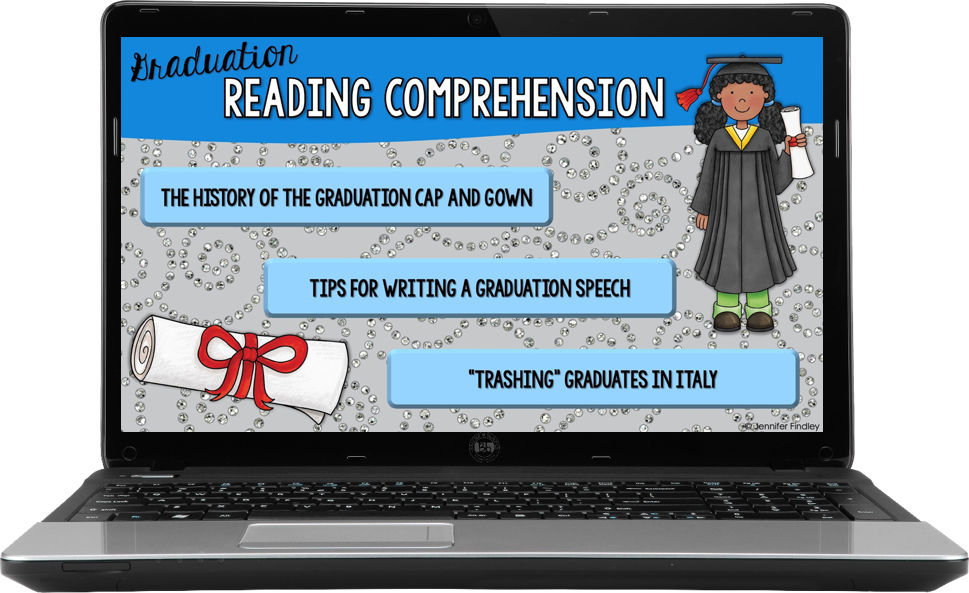 Option 2: Single Text Version
Using this version, you can assign the texts and questions you want each student to complete.
Get the FREE End of Year Activities: Graduation Reading Activity!
To get these free graduation-themed reading activities, simply click here or on the image below to go to the free download in my TPT store.
In the download, you will find a PDF containing the printable version. Digital access links are on pages 5-8 of the PDF.
Want more graduation activities and resources? Check out this post for more free ideas.
Looking for MORE end of year activities for 4th and 5th graders?
Want more reading activities like this?