As a teacher, you know how important it is for your students to have a strong grasp of math vocabulary. Without a solid understanding of the language and terms used in math, students can struggle with problem-solving, understanding instructions, and communicating and explaining their math ideas and answers. To help you (and your students), this post will share free math vocabulary test prep task cards…one set for 4th grade math vocabulary and one for 5th grade vocabulary.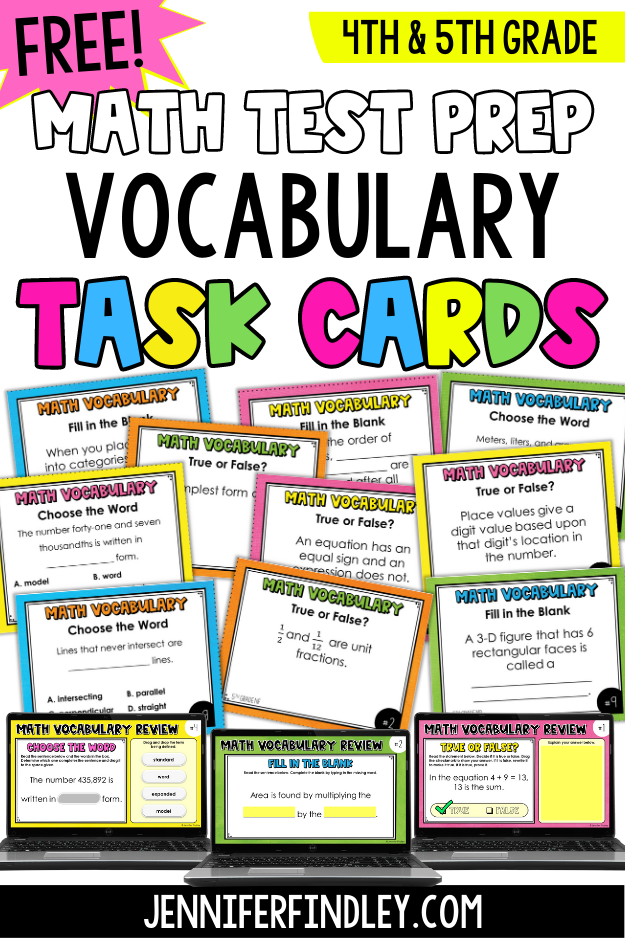 Why is math vocabulary so important? As I mentioned earlier, having a strong understanding of math language is crucial for success in math class. When students know what terms mean and how to use them, they can more easily solve problems and communicate their thinking. Additionally, being comfortable with math vocabulary can help students feel more confident and engaged in class, as they'll be able to participate in discussions and activities without feeling lost or confused.
About the Math Vocabulary Task Cards
Task cards are small cards that include a question or prompt for students to respond to. Task cards can be printable or digital and are a versatile teaching tool that can be used in a variety of ways, from independent practice to group work to review activities.
For these math vocabulary task cards, each card focuses on a specific math term or concept. There are three types of task cards:
True or False
Fill-in-the-Blank
Choose the Word – Multiple Choice
True or False – For these task cards, the student will read a statement about a math vocabulary concept or term and determine if it is true or false. They will also write to explain or prove their thinking.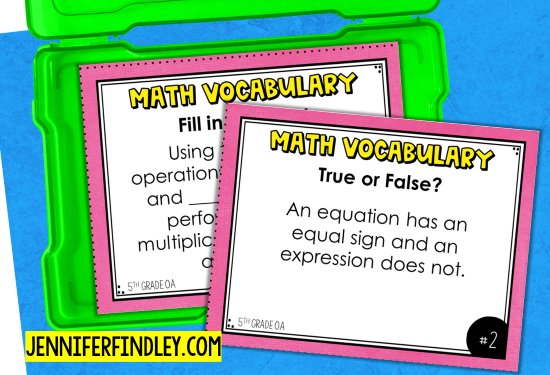 Fill-in-the-Blank – For these task cards, the students will complete a sentence with the correct math vocabulary term or terms.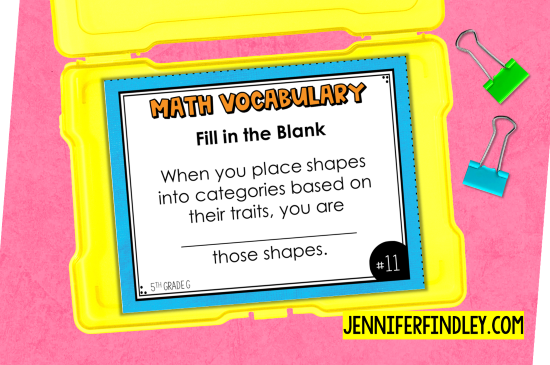 Choose the Word – Multiple Choice – For these, students will read a sentence and determine the missing word from four choices.
For each grade level, the vocabulary words are broken down by domains. Each domain has 10-22 task cards that review a variety of math terms and vocabulary words for that grade level.
The task cards are also available in multiple versions: black and white and colored versions for the printable and full-color digital versions. Print the black and white version on colorful paper to make them pop or keep domains easily recognizable!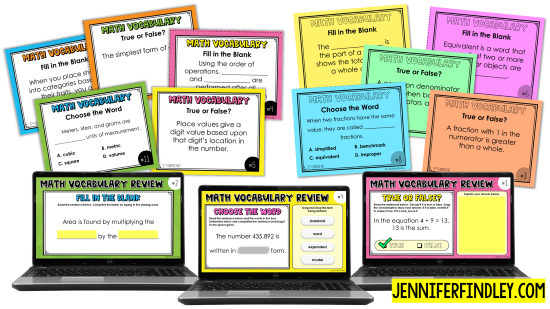 Using the Free Math Test Prep Task Cards
Here are a few ideas for using these test prep vocabulary task cards:
1. Independent practice: Print out a set of cards or assign a few of the digital slides. Have students work through them individually. These could make a great a warm-up activity.
2. Group work: Divide students into small groups and have them work together to answer and discuss the terms on each card. This can be a great way to encourage collaboration and peer teaching.
3. Whole-class review: Project the digital slides and work through a few each day together as a class.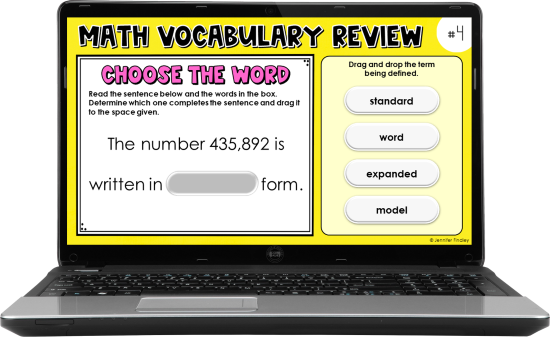 4. Games: Turn the task cards into a game by having students play "Math Vocabulary Bingo" or "Math Vocabulary Jeopardy," using the terms on the cards as the answers.
5. Test Prep Stations or Centers – Use the task cards in a test prep station or center that focuses specifically on math vocabulary.
Get the FREE

Math Vocabulary Test Prep Task Cards HERE

To get the free math vocabulary task cards sent to your inbox, enter the email for the grade level you want. You can also sign up for both!
Need MORE

Math Test Prep Resources?

If you need math test prep resources, check out these from my TPT store. Each resource is also sold separately, and many include digital versions as well as printable.