Paired passages are possibly one of the trickiest reading skills for students (second only to text dependent essays). And for good reason. Some students struggle with reading and analyzing one grade-level passage and throwing in two doesn't make it any easier. From my experience, the best way to help students is to provide regular paired passage practice. Along with that regular practice, allow the students to share their thoughts and ideas about the passages (in addition to answering comprehension questions). This post will share free paired passages graphic organizers that I use to help my students analyze paired passages as well as share and record their thoughts.
Why Include Paired Passages in Your Instruction?
Simply put, paired passages are two passages that are connected in some way. They can have similar themes, similar settings, or similar plots. They can also have similar overall topics but different focuses or text structure. And even more! Basically, there are lots of ways that passages can be paired.
I include paired passages in my instruction on a regular basis for a few reasons:
It meets the needs of the standards that require comparing and contrasting skills across two stories (skills such as point of view, for example)
It takes the rigor to the next level when students can connect and analyze two passages to apply a reading skill.
It helps students connect to and relate to different stories, including pairing stories that may be difficult for students with stories that are easier for them to grasp and understand.
Paired nonfiction with a related fiction story helps make nonfiction comprehensible.
About the Paired Passages Graphic Organizers
I use these free paired passage graphic organizers to help my students analyze, as well as compare and contrast passages.
They can be used for:
Whole group reading instruction after read-alouds
Small group reading instuction
Reading centers and stations
As extensions during test prep or question practice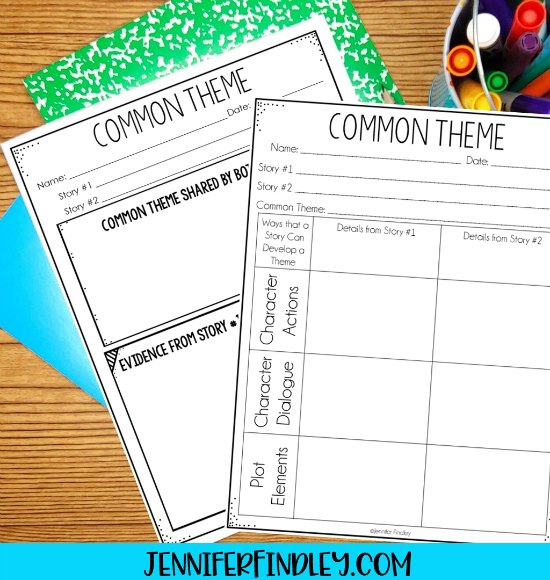 Here are the different types of paired passages graphic organizers included in this free download:
Comparing Story Elements
Common or Similar Themes
Comparing Point of View
Comparing Different Accounts of the Same Topic/Event
Comparing Text Structure
Comparing Author's Purpose
Generic Comparing and Contrasting Organizers
Download the Paired Passages Graphic Organizers Here
Click here or on the image below to download the graphic organizers to use with any paired passages.
Need Paired Passages To Use?
These free graphic organizers can be used with paired read alouds, paired articles, novels paired with passages, etc.  However, if you want ready-to-go paired passages to use in your classroom, click here to see all of my paired passages or on the indiviudal links to go right to different sets.
Paired Passages – Comparing Story Elements
Paired Passages – Common Themes
Paired Passages – Point of View
Paired Passages – Fiction/Nonfiction
Paired Passages – Multiple Accounts of the Same Event
Paired Passages – Comparing Text Structure
More Paired Passages Resources and Freebies
Introducing Paired Passages and Texts
Tips for Teaching Paired Passages 
Step by Step Rigorous Paired Passage Instruction