Giving students feedback is powerful to drive instruction and student learning. However, giving detailed feedback that both addresses mistakes or misconceptions AND helps move students to the next level can be time-consuming for teachers. This post will share a huge bank of ready-to-use feedback statements for the key reading skills taught in grades 4-5.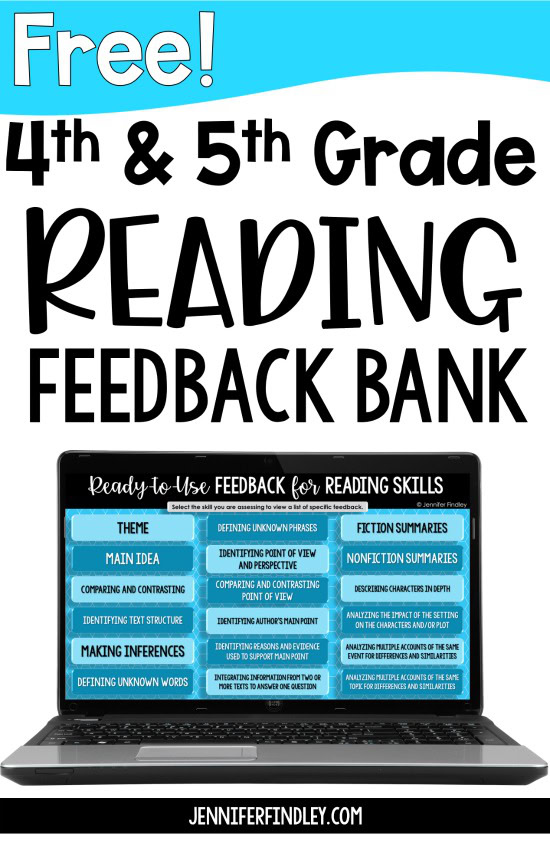 Let's be honest, grading reading work and reading responses is not always the easiest or quickest for teachers to do. However, it is so important to have the students be able to write their thoughts down so you can see their thinking about a text and help get them to the next level in their learning.
But again, it's not easy.
To help, I've created a free bank of feedback for major reading skills in 4th & 5th grade that you can use when you are assessing or assigning practice.
This feedback bank includes several different pieces of feedback categorized by skill that you can give students to both assess their learning and elevate it. Depending on the feedback you choose, it can:
moves students to the next level of understanding with the skill

redirect students and point them in the direction they need to correct work or to get on the right track

let students know what they did well and their strengths
Free Ready-To-Use Reading Skills Feedback Bank
To use this ready-to-use feedback bank, first decide what skill you are assessing.
Click on the skill to see the different types of feedback that you can use to help you assess your students, give them feedback, or help them with their mastery of a skill.
For example, if you click on the skill Theme, you're going to see several different feedback options for you to choose from.
The feedback options depend on what the student did incorrectly. Depending on the skill, there are 2-4 different examples of things that students may do incorrectly, with specific feedback to help them with that skill or help them correct that error.
Each feedback bank also comes with at least 1 example of positive feedback that you can give students who meet the standards or don't need constructive feedback.
The feedback text on the slide is editable and able to be copied and pasted. All you have to do is find the feedback that you want to give your students and copy the text (make sure you are in edit mode). Then paste the feedback into the comment section of whatever platform you are using to give feedback.
From there, make any changes as needed to the feedback. You can add the student's name, personalize the feedback, or add more specific details that relate to the text.
Most of the feedback is ready to go as is. However, for some of the feedback, you will need to add in a few specific details to personalize it or provide students with more assistance.
For example, on the Main Idea bank, there is a suggested feedback for a student giving an incorrect main idea. The feedback requires you to either insert the name of the text or to insert a section of the text to guide the students in their corrections.
A few of the skills include two different options for feedback when the student makes the same error.
Here is an example. If the student does not use context clues to define an unknown word, you have two options for feedback that you can offer the student.
Tech Tips
This is designed in Google Slides and works most effectively on a computer for copying/pasting purposes and navigating between applications (the slide and your learning platform).
Use the feedback bank in EDIT mode and not in PRESENT mode. If you are in PRESENT mode, you will not be able to copy and paste the feedback.
Grab the FREE Reading Skills Feedback for Grades 4-5 Here!
FREE Reading Skills Feedback Bank (4th/5th Grade)
Join my email list to get the FREE reading skills feedback bank for 4th and 5th grade sent straight to your inbox! If you are already on my email list, you can sign up again for this freebie without getting duplicate emails. 🙂

Need Engaging + Rigorous Resources for Reading Skill Instruction?
If you need reading skill resources to help with engaging and rigorous reading instruction in grades 4-5, I recommend this resource.  Each skill includes (or will include by the end of 2020) BOTH printable and digital versions for digital reading instruction, face-to-face instruction, or hybrid reading instruction.
Each skill comes up with:
Teaching Posters
Graphic Organizers
Multiple Sets of Passages (For Varying Purposes)
Task Cards and Other Reading Activities
Shop This Post
4th and 5th Grade Reading Resources
Everything you need to teach key reading skills for 4th and 5th grade! This is a bundle of 16 of my reading resources for 4th and 5th grade reading and literacy skills.