Working with new words in a variety of ways helps build vocabulary knowledge. One strategy for working with words is to use vocabulary graphic organizers. Vocabulary graphic organizers are visual tools that help students organize and explore the relationships between words, their meanings, related concepts, and much more. These organizers provide a structured framework for students to analyze and understand new vocabulary in a more visual format. This post shares 13 free vocabulary organizers that are a great way to get your students working with new vocabulary words in a visual way.
About the Free Vocabulary Graphic Organizers
#1 Part of Speech, Definition, and Use in a Sentence
This organizer focuses on the word's function in a sentence and helps improve grammar skills.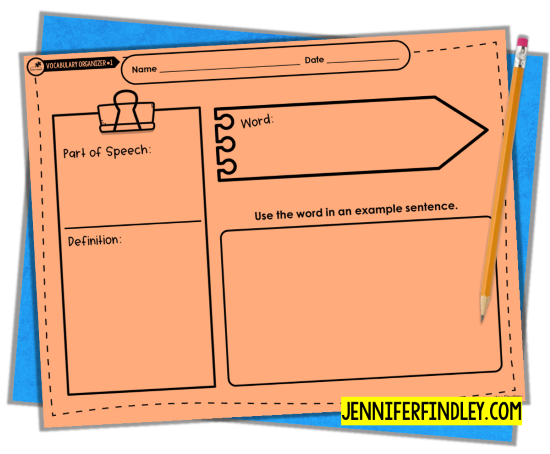 #2 Definition and Use in Three Sentences
This organizer is useful for getting students to use a new word in a variety of contexts.
#3 Definition, Synonyms, and Antonyms
This organizer helps students understand not only the word's meaning but also its relationship to other words.
#4 Definition, Use in a Sentence, Synonyms, and Antonyms
This vocabulary graphic organizer helps students understand not only the word's meaning but also its context in a sentence and its relationship to other words.
#5 Synonyms and Antonyms
This organizer is great for exploring words with multiple synonyms and antonyms.
#6 Definition, Example, and Non-Examples
This organizer helps students explore words by listing examples that fit the meaning and ones that don't.
#7 Definition, Characteristics/Features, Examples, and Non-Examples
This organizer helps students distinguish the word from others based on its unique characteristics.
#8 Multiple Meaning Word
To complete this vocabulary organizer, students will write up to three meanings of a word and use each in sentences. This is especially useful for understanding other words with multiple meanings.
#9 Definition and Visual
By drawing a picture or symbol that represents the word, students create a visual memory aid.
#10 Definition, Sentence, Illustration, and Personal Connection
This organizer aids memory retention by connecting the new word to a visual and a student's personal experiences.
#11 Definition, Word Origin, and Etymology
This deepens students' understanding of language history and how words evolve over time.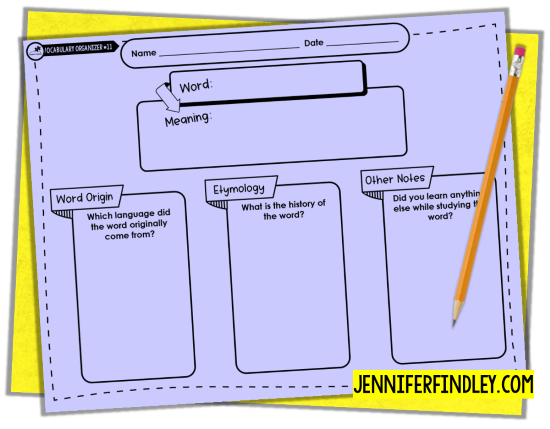 #12 Word Concept Map
This graphic organizer helps visualize the word's connections to other words and concepts.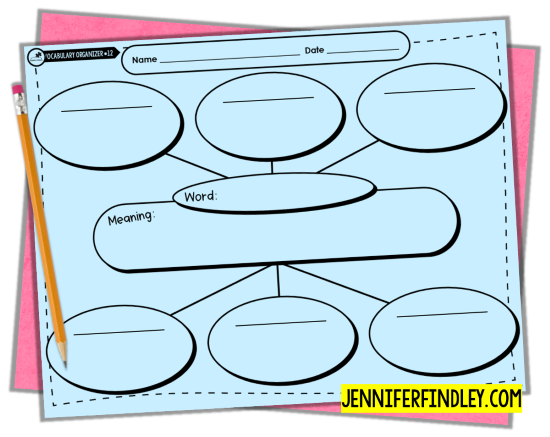 #13 Shades of Meaning Gradient
This gradient-style graphic organizer helps students understand word meaning nuances and improves their descriptive abilities.
Multiple Versions Included
There are multiple versions of the vocabulary graphic organizers included.
Full-Page Landscape Version – Great for going in a binder or vocabulary folder. *Cover included if you want to create a stapled booklet!
Half-Page Version – Perfect for interactive notebooks. *Cover included to paste on the front of a composition book!
Digital Version – Ready to assign in Google Slides!
Example completed graphic organizers are also included to help you introduce and explicitly model and teach your expectations for each organizer.
Using the Vocabulary Organizers
Incorporate Into Existing Vocabulary Instruction
These vocabulary organizers can be used with your existing vocabulary instruction. Have students select (or you select) a word from their vocabulary words for the week to complete with the organizer. The organizer then becomes a tool for deep exploration of that word. The students can research the word, discuss their findings, and fill in the organizer individually or in groups.
Use in a Vocabulary Notebook
A vocabulary notebook, an essential tool in vocabulary development, can be significantly enhanced by incorporating these vocabulary graphic organizers.
Use with Vocabulary Warmups
After completing the daily vocabulary warmup, students can use one of the graphic organizers to reinforce their understanding of the word. This enables students to explore new vocabulary in multiple ways, providing a richer understanding of each word.
Get the Free Vocabulary Graphic Organizers Here!
To get the free vocabulary graphic organizers sent straight to your inbox, click the button below and enter your email in the form that pops up. Using a personal email address is better for deliverability reasons.

Need Vocabulary Resources?
If you need engaging vocabulary resources, check out these Vocabulary Warmups (Printable + Digital)! These can be paired with the organizers to enhance vocabulary instruction. The bundle includes 6 different warmups and 205 different words. There's more than enough for every day of the school year!