As promised I am back with another test prep activity that we have been doing lately to get ready for our state tests. This specific test prep activity may be my favorite and I can definitely see myself doing this all year long. It is a spin off a traditional gallery walk and gets the kids moving, reviewing, and critiquing each other's work.
I prepared the activity by writing 6 practice problems (math for this lesson, but keep reading for ideas of how to implement this in any subject area) on 6 different chart papers. I chose these skills because they were the most missed skills on our last common assessment. After writing them on chart paper, I taped them around the room. I left enough space between each chart so the groups of students would not be crowded together.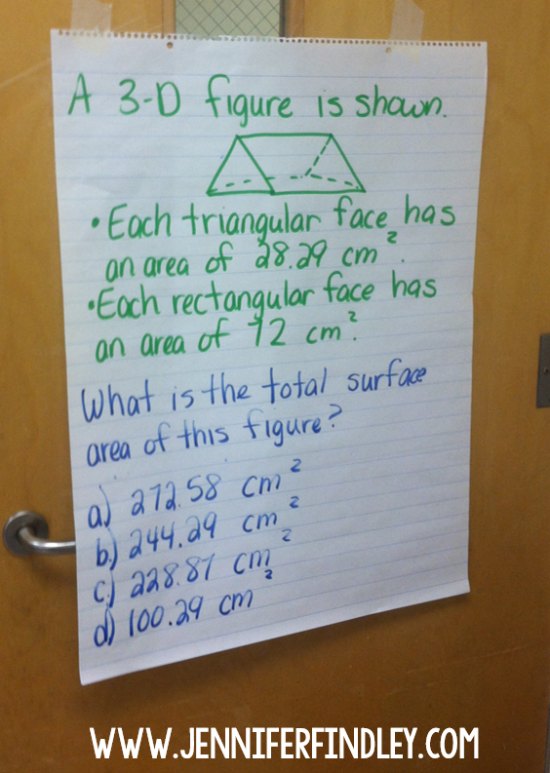 My students formed 6 groups, which have been their loyal test prep buddies for the past week. They prepared their paper to work out the problems by folding the paper twice to create 4 rectangles on the front and 4 on the back. 6 of the rectangles was used to work out the problems and the last two were used for reflection:
Here were the reflection questions we did after completing the test prep activity:
Which problem was the easiest, and why?
Which problem was the most difficult, and why?
The students then walked around to each problem (at my cue) and solved each problem on their paper and not on the chart (that part came later). They had to justify their answer with written explanations, pictures, or equations.
After each group had solved all 6 problems, I strategically assigned each group to a problem for them to show their work on the chart. I chose it so each group was given a problem that they had solved correctly. Each group was sent back to their assigned problem and they were given about 5 minutes to show all their work on the chart.
Then, we did one last "gallery walk" when the other groups moved to the completed problems and compared it to their own and critiqued the other groups' work. They were instructed to clear up misconceptions and add any element that the other group left off (equation/model). They were also to add further justification or justification using more precise language.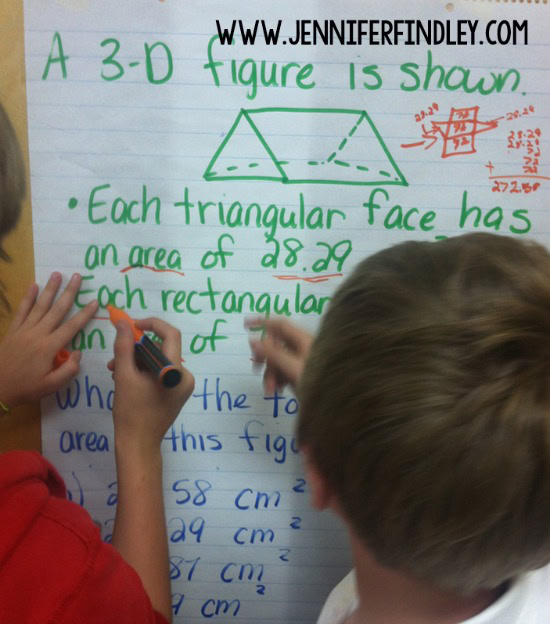 This has to be my favorite test prep activity yet! Here is why I loved it:
The students were working together to solve each problem.
The students were pushed to provide further explanation when they had to show their work on the chart that they knew would be critiqued by their peers.
Each student got a chance to see each problem worked out by another group of students and read and critique their thinking.
What about the other subject areas?
We did it with math this week, but this activity works with all subject areas.
Math: Since this post is about math, you already have some ideas. You can easily use computation or word problems (I prefer word problems) for this activity. My interactive notebook word problem resource is perfect for this activity. You can either copy the word problem onto the chart paper or just tape the problem to the chart. Click here to see the 4th grade set and here to see the 5th grade set.
Literacy: This works well for language questions and reading questions. For reading comprehension questions, the questions can be about a read aloud or a passage that all the students have read before the activity. Want some ready made passages with constructed response questions that are perfect for this activity?  Click here to see my Constructed Response Reading Bundle.  All you have to do is copy the passages and write the questions onto anchor charts.
Science and Social Studies: Use this to review for a unit test with constructed response tasks or multiple choice questions that have to be proven.
Doing fun activities are making test prep so much more engaging and interesting (for me AND the kids)!
Do you want even more test prep tips and strategies for grades 4-5? Then, sign up for my FREE 6-Day Email Course to help you plan, organize, and execute engaging (and effective) test prep review! Click on the image below to read more and sign up today.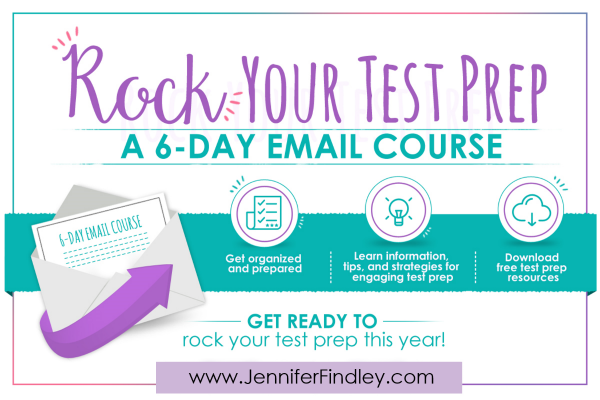 Save
Save
Save