Graduation season is upon us and with it comes the quest for graduation song ideas. From the sentimental to the upbeat, graduation songs for kids can cement memories and remind students of how much they've accomplished. Here are 20 popular graduation songs for elementary school ceremonies!
For more ideas for graduation ceremonies for 5th graders, click here to see our ceremony from a few years ago.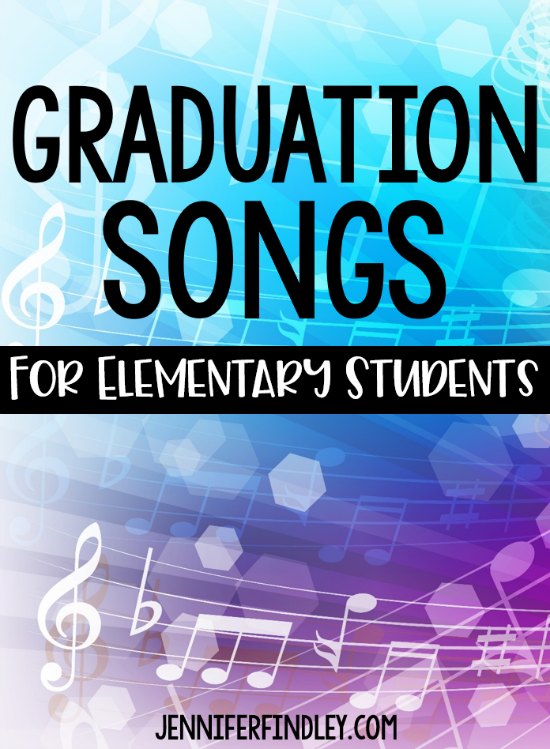 Note: As with any videos or songs posted on my website, I recommend you preview these graduation songs prior to showing them or playing them for your students to ensure they are a good fit and appropriate.
20 Graduation Songs for Elementary Celebrations
1. The Climb by Miley Cyrus

2. High Hopes by Panic in the Disco

3. Graduation (Friends Forever) by Vitamin C

4. Forever Young by Rod Stewart

5. Have It All by Jason Mraz

6. Try Everything by Shakira

7. I Hope You Dance by LeeAnn Womack

8. My Wish by Rascall Flats

9. Million Dreams by Pink

10. Hall of Fame by The Script

11. 5 More Minutes by Scotty McCreery

12. Little Wonders by Rob Thomas

13. Rise Up by Andra Day

14. Count on Me by Bruno Mars

15. Humble and Kind by Tim McGraw

16. Soaring by High School Musical Cast

17. This Is Me by The Greatest Showman Cast

18. Compass by Lady Antebellum

19. Tomorrow by Tevin Jones and Quincy Jones

20. Grow Young by Brynn Cartelli

What are some of your favorite graduation songs? Tell us in the comments!
Want More End of the Year Activities for Grades 4-5?
End of the Year Literacy Activities and Ideas
End of Year Read Alouds with FREE Pirntables
End of the Year Math Activities and Ideas
FREE End of the Year Writing Prompts
FREE End of the Year Reflection Questions
End of Year Activities to Prepare Students for the Next Grade Level