Guided reading has always been a staple in my reading instruction. But, as much as I love guided reading, it is so easy (like scary easy) to have a jumbled mess of lesson plans, running records, and other random forms in piles upon piles at my guided reading table. To combat this, I streamlined my guided reading binder into a super functional organizational tool with all the forms that I need right at my fingertips. In this post, I will share the forms I use and how I keep them all organized so I can quickly get to what I need. All of these forms are free and available for download so make sure and snag all the forms at the end of the post, after reading how to use them.
All student data and information shown on the forms is fabricated to protect the confidentiality of my students.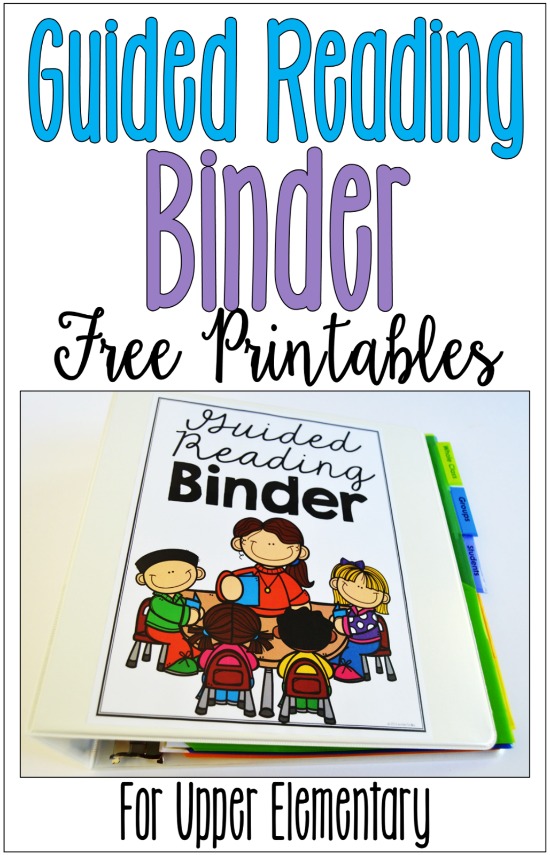 I have five sections in my guided reading binder: whole class section, groups section, individual student section, blank forms section, and a resources section.
Whole Class Section
This section is where I keep all of the information for all of my students.
At-a-Glance Levels and Student Information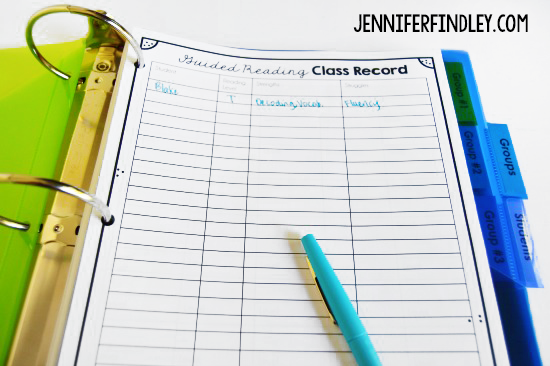 This form allows me to see how all of my students are doing in a single glance. I use this form to help me group my students and determine my focus for my guided reading lessons.
On the form, I list the students' names, their guided reading levels, their strengths as a reader, and their struggles. I complete a new updated form each quarter.
Grouping Form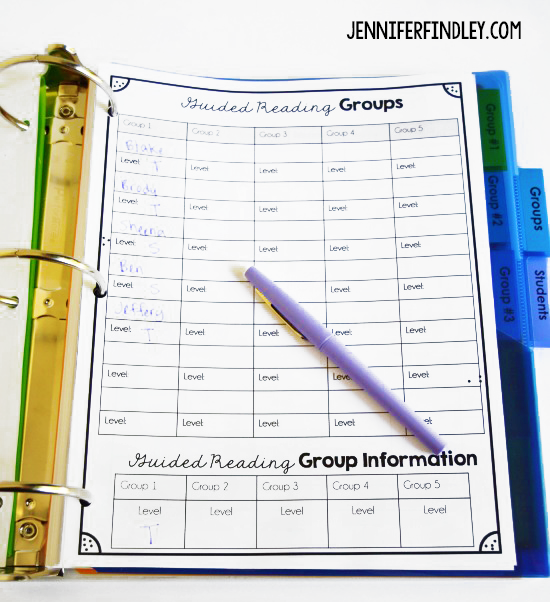 I use this form to group my students. I write students' names under the group and each students specific level. In a perfect world, you would be able to have a group of students all reading at the same level. But, we know that just isn't the case. After I have grouped my students (by looking at their levels and also looking at their strengths and struggles), I determine an overall instructional level for my group instruction.
As you can see from the example, I use Fountas and Pinnell leveling. However, this form can also be used if you are using lexile ranges.
Guided Reading Group Rotation Chart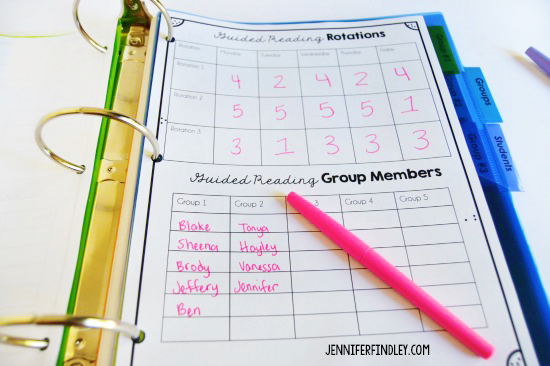 In this section, I also keep my rotation chart and my group members form. I have included a few different forms in the download for you to use based on your needs. On this form, I keep track of which groups I meet with on which days. I try to meet with my below level readers four times a week, my grade level readers three times a week, and my above grade level readers two times a week.
Groups Section
I further divide my groups section into tabs for each group.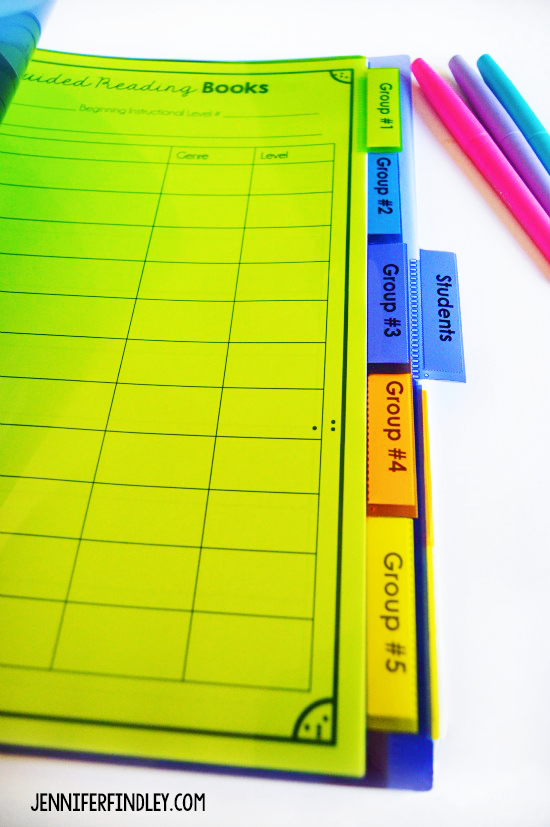 In each group tab, I keep the following:
List of Books Read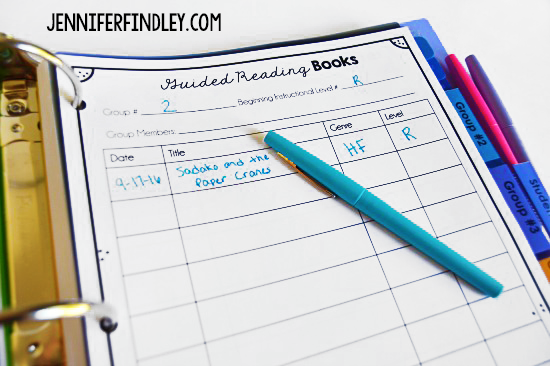 I keep a running list of each book that the group reads, the level of the book, and the genre. This helps ensure that I am exposing the students to a variety of genres, and that we are progressing through the levels.
Guided Reading Group Notes Form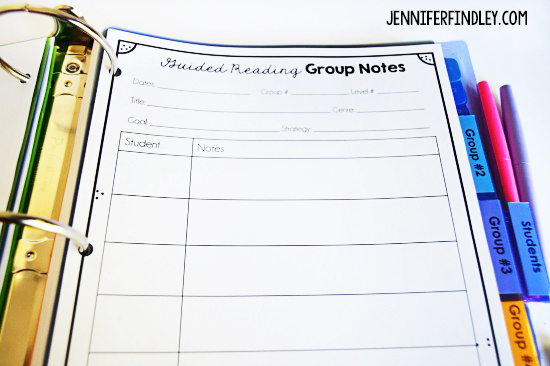 In this section, I also keep my guided reading group notes form. I have tried a few different ways of the years, but this is by far the most efficient and simple way to make sure I am keeping track of my students' reading progress. You can read more about how I use this guided reading form by clicking here.
Lesson Plans
My individual group lesson plans are also kept in this section.
Individual Students Section
Next in my binder is my individual students section. I also have this section further divided up into tabs by individual student.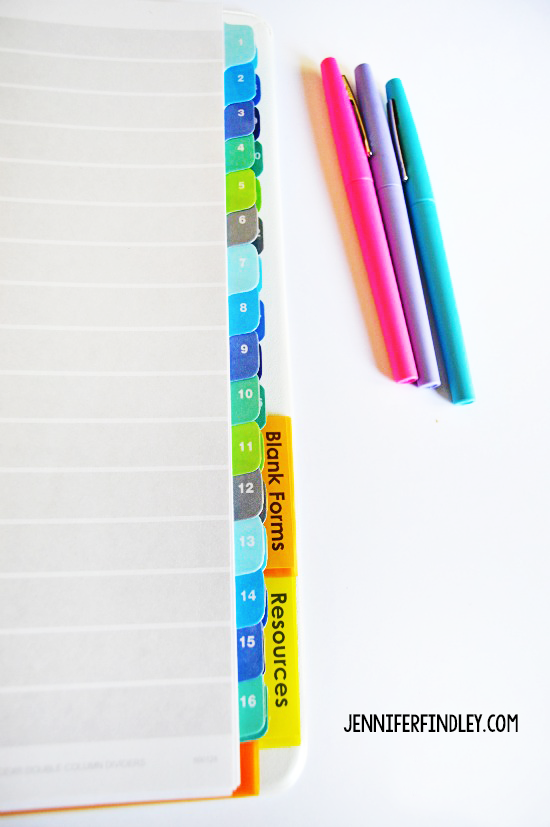 I keep the following forms and data in this section:
Benchmarking Forms
I use Fountas and Pinnell Benchmarking Kits to benchmark my students. I benchmark all of my students at the beginning of the year and then my struggling readers at Christmas and in the spring. I move my groups up in levels in between benchmarking sessions, but these formal benchmarks are still super valuable and important data to have.
Running Records and Running Records Graph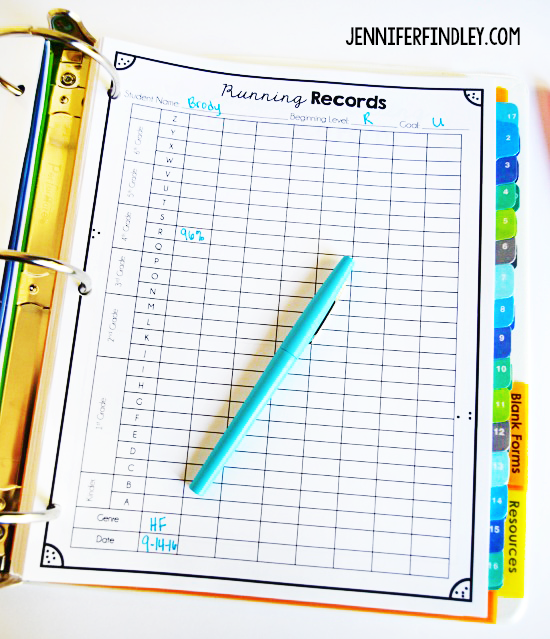 Running records are how I determine if my students are ready to move up a level. I complete running records biweekly on my struggling students and once a month on the rest of my students. I simply copy a page from the guided reading book we are reading and complete the running record on that page. I access their accuracy and complete a quick comprehension check. I keep copies of their running records in this section as well as the graph shown. The graph helps me track the data from the running records to see if my instruction is effective.
Independent Conference Forms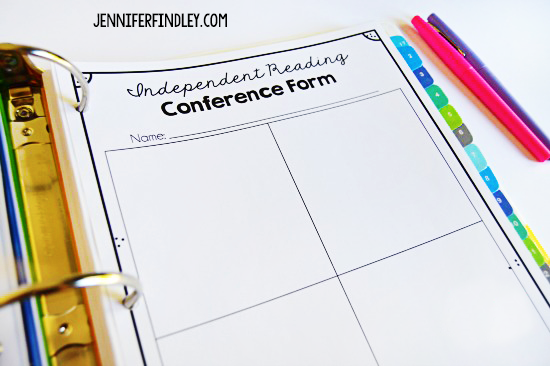 Independent conferences are one of my favorite ways to connect with my students as readers. I keep my conference forms in this section of my binder. You can read more about how to get started with independent reading conferences by clicking HERE.
Blank Forms Section
This section is pretty self-explanatory. I keep blank copies of all the forms mentioned above in this section of my guided reading binder.
Resources Section
In this section of my guided reading binder, I keep resources that we use on a regular basis. These resources may include:
Decoding Tips
Graphic Organizers
Questioning Guides
What if You Use Lexile Levels/Ranges?
As I mentioned above, I use Fountas and Pinnell levels, but I know a lot of schools do lexile ranges. All forms that mention a students level have two forms: one for reading level and one for lexile level.
This binder is definitely one of the most important resources for guided reading. It allows me to track my students' progress and reflect on their goals. To see my other must-have guided reading materials, click here to read a detailed post of all of my favorite guided reading supplies and how I use them.
To read more about how I teach reading, click HERE to read a detailed post that breaks down the different aspects of my reading instruction.
And finally, to download all the forms shown on this post, click on the image below.


See the tabs and binder size I used below (these are amazon affiliate links):
Do you have a guided reading binder that you use? What are your go-to forms? Let me know in the comments.
Save
Save
Save
Save
Save
Save
Save
Save
Save
Save
Save
Save
Save
Save
Save