Teaching reading in 5th grade is one of the best parts of teaching 5th grade. The standards and text level are more rigorous than in primary grades, but the students are much more independent. The books the students read are much more entertaining and interesting to read as a teacher. The discussions can be quite meaningful and deep as well.
I have always taught reading using a workshop model that promotes students reading a lot of books (and a lot that they choose) and a variety of text. I try to teach reading in a way that promotes discussion and enjoyment of reading as well as provides the students with the skills to be successful readers (and writers). This post will breakdown how I teach reading in 5th grade.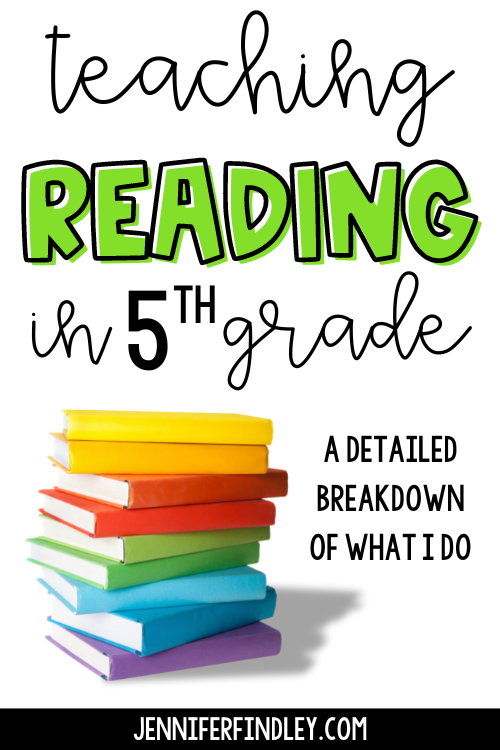 Mini Lesson
Time Frame: 20 Minutes
Materials Needed: Mentor Texts, Standards Based Passages, Anchor Charts, Post-It Notes or Reader's Notebooks
Mini Lesson with a Mentor Text
I start each reading block with a mini lesson via some type of read aloud. I begin the lesson with an anchor chart that lists our reading skill or strategy for the day. It may say something like: Good readers identify a character's traits using details from the text so they can fully understand the character. Before I begin the read aloud, we go over the reading skill statement and any vocabulary that the students need to know.
Then I provide the students with a focus for our reading. An example focus would be: We have two characters in our book today. The two characters have distinct personalities and character traits. Their names are Bibel and Marcel. As we read and discuss, I want you to look for details from the book that help you identify the characters' traits.
Sometimes, I have sentence stems written on the chart to help the students when we get ready to discuss the skill or strategy. For example: _______ is _________. I know because in the story ____________.
Here is an example of  chart for the mini lesson that the examples I used came from.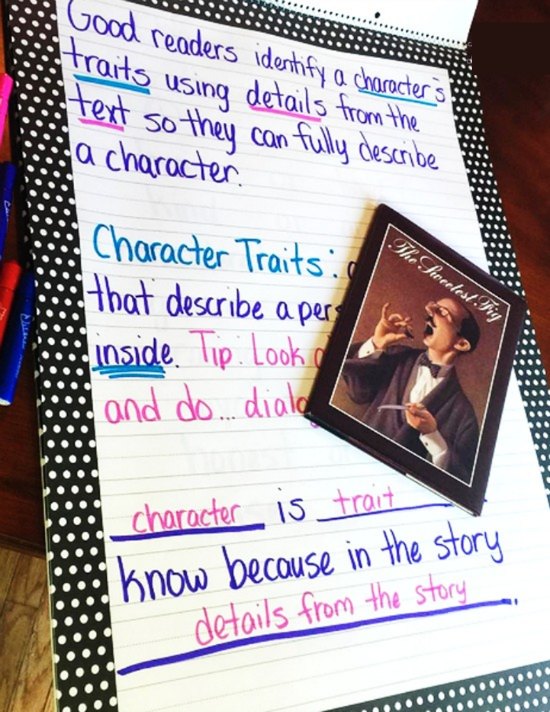 After reading and discussing the read aloud, the students are ready to apply the same skill or focus to their own reading. I tell the students: When you are reading your book today, I want you to determine at least one character trait that describes your character. I want you to support that trait with details from the story. They record their responses either on a post-it note or in their reader's notebook. We will come back to this during our closing and sharing time.
If I am teaching the same skill for the entire week (which I usually do- for more information about my reading pacing, click here), I follow this format:
Monday: Mentor text read aloud
Tuesday: Mentor text read aloud
Wednesday: Practice the skill with a common passage
Thursday: Practice the skill with a common passage
Friday: On Friday, I use my reading mini-lesson time to assess my students on the skill that I taught that week.
Click here to see the mentor texts that I recommend for the skills I teach (and some fun holiday ones that help me spiral review reading skills).
After the mentor text introductory lessons (either after Monday or Tuesday depending on how complex the skill is or how well my students do with the skill), I give an exit slip that has the students defining, explaining, or describing the skill. The results of this lets me know if the students are ready to begin independently applying the skill to independent reading or grade level passages. Click here or on the image below to read more about these specific exit slips and grab them for free!
Mini Lesson with a Common Passage
As much as I would love to use mentor texts all of the time with my students, I have found that my students greatly benefit when we read passages that are specifically written for the standard or skill. To do this, I use passages from my Reading Supplemental Resources on TpT. I follow a similar sequence with reading passages as I do with mentor texts. The only difference is that the students have the passage in front of them and are able to read along and highlight/underline/annotate the text as I read.  After reading, we often discuss the skill or strategy as it relates to the specific passage.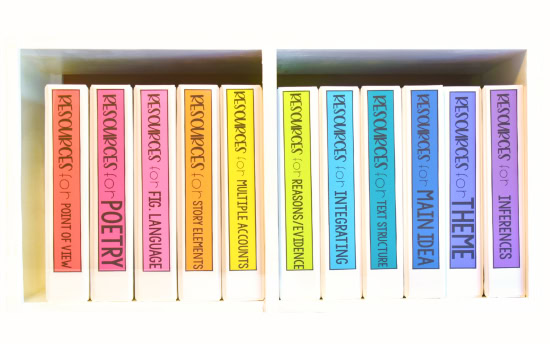 After discussing it, the students start writing down their thoughts. If we do not have time to finish writing during our mini lesson time, we move into guided reading groups and they continue writing their thoughts down independently. Sometimes I assign a new question or response for the same passage that I want them to complete during reading. If we are going to use the same passage for a few different tasks, I will have them glue it into their notebook.
These passages and organizer come from my Main Idea Reading Unit.
Click here to read a blog post that shows how I used mentor texts and passages while teaching Comparing and Contrasting Story Elements.
Guided Reading Groups
Time Frame: 60 minutes
Materials Needed: Guided Reading Sets of Books, Copies of Magazines, Copies of Passages, Reading Centers
I have never taught with a basal or reading textbook. I have always taught reading through guided reading groups. My students are grouped into groups of 4-6 students each, based on their levels (as determined using Fountas and Pinnell Benchmarking). In the 60 minutes that I have, I am able to teach 3 very focused 20 minute groups. I usually have about 5-6 groups of students, depending on class size. I meet with my below grade level reading groups four days a week. My on-grade level and above-grade level groups meet with me 2-3 days a week.
When I meet with my guided reading groups, we read books, magazines, or passages depending on the strategy/skill we are focusing on. I follow these basic steps with each guided reading lesson:
Review previous day's reading or introduce a new book.
Go over 3-4 tricky vocabulary words.
Set a focus for today's reading. (This could be a specific question or a reading strategy that I want them to use in their reading in addition to their normal reading strategies.). I also assign the pages I want the students to read.
Check in each the students while they are reading and listen to them read. I also ask comprehension questions during this check-in. Click here to grab the form I use to record my notes from guided reading groups.
I try to time it so we end our assigned pages a few minutes before the group is finished to discuss the focus skill or strategy. Sometimes, I assign a writing task for them to complete and sometimes I assign more pages for the students to read before our next meeting.
That gives you the gist of what a guided reading group looks like. I plan to write a more detailed post about guided reading and what it looks like in my classroom in the next month or so, so keep an eye out for that post.
What do the other students do while I am teaching guided reading groups?
This varies from year to year depending on my students and their reading behaviors. To read more about what the other students do, check out this post with ELEVEN reading center/station ideas that I have used in the past.
Looking for ready-to-use reading sets for your small groups?
Closing/Share
Time Frame: 10 minutes
Materials Needed: Any completed work that was assigned during the mini-lesson.
This part of my reading block is really important. When reading groups are over, we come back together as a class and discuss the skill that we learned during the mini-lesson and how the students were able to apply it to their own reading. We share our thoughts that the students wrote down based on my focus question – see mini lesson section  with partners. Then I usually have a couple of student share their ideas with the class, if time allows. This part of the lesson helps them stay accountability and ensures they are applying the skill to their reading. If the students had some type of extension activity to complete (from as passage or read aloud), we also discuss it at this time and/or turn it in for me to check.
Assessing in Reading
I do  a lot of authentic assessment during reading mini-lessons and guided reading groups on the strategies and behaviors my students use or need work on. To assess the reading standards, I use reading exit slips.
I prefer to use reading exit slips (versus long, formal assessments) because:
They are quick and don't take up as much instruction time.
They provide a good snapshot of how the student is doing with a specific skill.
I have two exit slips per skills so I can assess, continue teaching or re-teach, and then assess again.
Click here to read more about how I use exit slips during reading instruction and grab some free ones.
If Your Reading Time is Limited…
I am very blessed to have 90 minutes dedicated just to reading, separate from my writing instruction and grammar/word study (which you can read about by clicking here). I have never had to teach with a huge restriction on my reading time. If I did, I would probably follow this sequence of instruction:
Note: These are suggestions based on a 45 minute reading block.
Monday: Teach a whole group lesson of that week's reading skill for about 20-30 minutes. I would then  have the students complete independent practice of that skill for the rest of the time. While the students are doing independent practice, I would either monitor the whole class's progress or pull a small group of students who are struggling.
Tuesday-Wednesday: Pull two 20-minute small groups while the other students read or complete reading centers. I would also give the students a task that takes them about 10-15 minutes that reviews the week's skill. I would also review or incorporate the skill in my small group instruction. In the last five minutes of class, I would do a quick review of the skill by going over the task the students completed.
Thursday – Based on how the students are progressing with the skill, I would either continue the Tuesday-Wednesday sequence (if the class is doing well with the skill) or repeat the Monday sequence (if the class is struggling).
Friday – Assess the reading skill for 15-20 minutes. Pull a small group after the assessment to re-teach (I have the students turn in their assessments when they are finished so I can quickly glance at them and know who needs re-teaching). The other students would work on reading centers or literature circles while I re-teach.
Click here to read about some must-have reading professional developments book that I highly recommend for upper elementary reading teachers.
There you have it. That is a quick run-down of how I teach reading in 5th grade and some suggestions for those of you who do not have more time. Let me know what questions you have in the comments.
Shop This Post
4th and 5th Grade Reading Resources
Everything you need to teach key reading skills for 4th and 5th grade! This is a bundle of 16 of my reading resources for 4th and 5th grade reading and literacy skills.