Can we be real about something for a minute? My first year teaching, I rarely did word problems. As a first year teacher, I wanted my students to succeed in math. But, I didn't really feel confident about what to do when they struggled with a problem. So, yes, we did word problems, but they were not a huge or integral part of my daily instruction.
Thankfully, for my students, I have since embraced using word problems on a daily basis. One way that I do this is through our problem of the day when I pose a cognitively demanding task for my students to solve (read more about that here). Another recent strategy that I have embraced is using word problems consistently and regularly in our interactive math notebooks.
On this post, I want to share a few examples of the word problems we use in our interactive math notebooks. I also want to share a link to some FREE ones to try them out yourself, so make sure you grab those.
Implementing Interactive Math Word Problems Into Math Instruction
Since I use a word problems to introduce every new math concept (read more about the division word problem I used to explore the skill of division here) and I use word problems in my math centers and throughout my daily instruction, I am now regularly using word problems throughout my curriculum.
One particular set of math word problems that I use is perfect for all of these purposes. This set of math word problems works well for this because I have one for each standard. So, depending on the standard (its complexity or my students' skill level with the concept), I can use these problems to introduce a standard, practice a standard, or even assess a standard.
Even though these word problems are pretty versatile, depending on the needs of the students (and a teacher's teaching style), I tend to be pretty consistent with how I use them.
Here is what I typically do. I introduce a skill with a pretty simple word problem (simplified language, friendly numbers, etc). This introductory word problem is typically written on an anchor chart and the students are given a copy. This way we can analyze the word problem together (underline, circle, etc).
Then we use these interactive math notebook word problems to practice the skill with a grade-level word problem throughout instruction on the skill. We complete the word problems together and then they are stored in our math interactive notebook to anchor the students' understanding. The students then refer back the word problem in their notebooks as needed as they are solving similar word problems during independent work, homework, or math centers (Read more about what I typically include in my math centers by clicking here).
So, want to take a look at the resource that I am referring to and grab those freebies? Then, keep reading…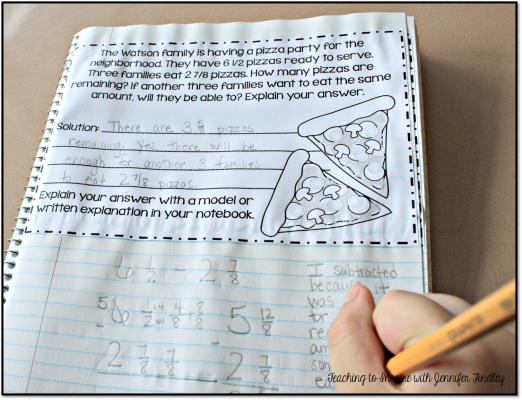 This particular resource contains different world problems or tasks for the students to solve and "interact" (show their work) with in a math interactive notebook. You can use a spiral notebook or a composition notebook (I recommended printing the tasks at 80% to 90%, depending on the notebook you are using).
As I mentioned above, each of the word problems is aligned to a common core standard and labeled with that standard. (These word problems also work really with my other math interactive notebook resource, which are also common core aligned. You can check out that resource here).
Another reason I love using these particular problems is their simplicity.  The student cut and glue the word problem paper (most 2 to a page) to their notebook. They write the answer or solution on the word problem paper and then show their work, explain their thinking or prove their answer underneath the word problem on their notebook paper. Super easy, but super meaningful and important practice.
Here are some more examples from different standards: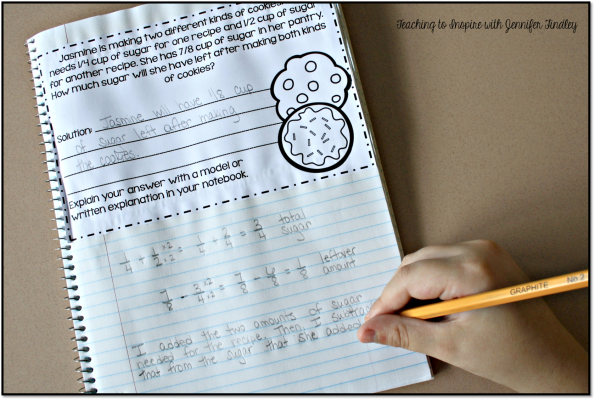 As you can see from the examples, the students use algorithms, models or written explanations depending on the problem (and the standard). The students can also color the graphic after they complete the word problem. My students (well most of them, anyway) really love this part. 5th graders don't get too many opportunities to color so they love when do!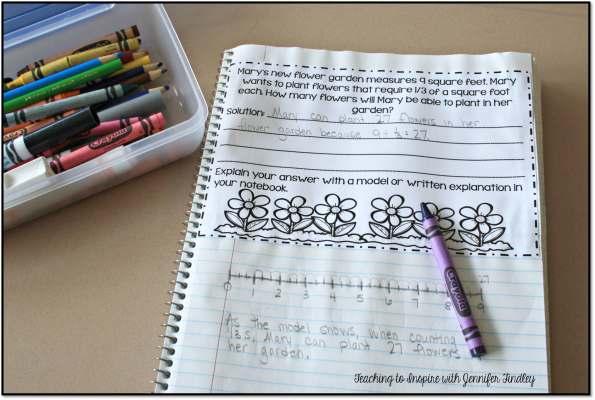 The simplicity of this resource really helps me make sure I am regularly including word problems into my math instruction. Because the word problems are stored in the students' math notebooks, I can also ensure these particular word problems are used as anchors or mentor examples for the students.
Need similar resources to help you add some word problems into your math instruction on a regular basis and in an meaningful way?
Click here to see 4th grade or here to see 5th grade.
I also have some that are skill-focused (versus aligned to the common core standards). Click here to see Multiplication and Division, here to see Decimals, and here to see Fractions. I created these additional skill-focused sets so my students could be exposed to even more word problems for the major grade level skills.
Want to try some of these interactive notebook word problems for FREE? Click here to download 5 interactive notebook word problems that are multi-step problems with whole number operations.
How do you consistently include word problems in your math instruction? I would love to hear your thoughts in the comments. I am always looking for more ideas.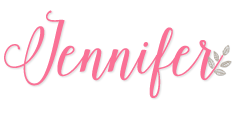 Save
Save
Save
Save
Save
Save
Save
Save
Save
Save
Save
Save
Save
Save
Save
Save
Save
Save