Adding seasonal activities to your day to day plans can keep students engaged and interested in what they're learning. Science experiments are no different! If you are looking for a great science activity to do with your upper elementary students this fall, this salt crystal experiment with leaves is one you don't want to miss. Keep reading for a full list of materials and FREE printables to go along with the experiment!
Want to see more science activities and resources?
Leaf Salt Crystal Experiment Materials Needed: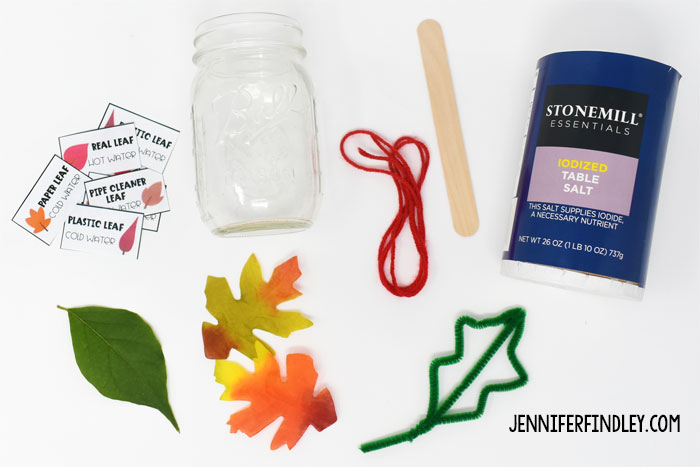 mason jars
spoons
wooden craft sticks
leaves (real, plastic, paper, or pipe cleaner shaped will do)
string
salt (about 1 cup per mason jar)
hot water (about 1.5 cups per mason jar)
optional: cold water (about 1.5 cups per mason jar)
printable pack including the mason jar labels
Leaf Salt Crystal Experiment Directions
Gather your materials and decide how many crystal leaves you'd like to make and what type. We found that it works equally well on all materials.
Cut out and attach the labels to your mason jars.
Tie a string around each leaf and attach the other end of the string to a wooden craft stick. The stick will rest across the top of the mason jar and allow the leaf to dangle in the salt water. If you not able to tie the string around the leave, you can punch a hole using a hole-puncher. 
Next, you'll need to create a supersaturated solution of hot water and salt. Using boiled water from an electrical tea kettle is most convenient in a classroom setting. You'll need about 1.5 cups to fill up a mason jar.
Fill up your labeled mason jars with hot water. Then begin pouring and stirring your salt into the jars. It takes about 1 cup of salt to make a supersaturated solution. Keep adding salt and stirring until the salt will no longer dissolve.
We also chose to create one jar full of cold water to show that you can only create a supersaturated solution using hot water. Since the salt never dissolved in the cold water, no crystals formed on the leaf.
Carefully lower your leaf into the water, resting the stick across the opening. Place your experiments on a shelf out of the way and do not disturb them for at least a couple of days. 
Crystals will begin to form after about 24 hours but you should leave them alone for at least three days.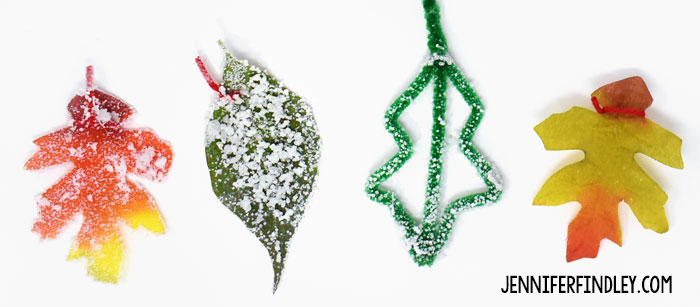 The Science Behind the Leaf Salt Crystal Experiment
Loading all that salt into the water creates a solution that is bursting and is so full of salt particles that it simply cannot hold anymore. Unlike in cold water where the molecules are very close together, the molecules in warm water move apart and there is more room to add salt.
The salt particles in the solution will cling to the leaf and as the water evaporates, more and more salt particles to cling to each other.
After the Experiment Reading Activity
Adding reading and writing to a science experiment or activity allows you to enhance your students' understanding and get more mileage from the activity.
For this activity, the students will read a short text that describes the science behind it (similar to what is explained above for the teacher's reference). The students will use the details they learned in the text to explain what happened during the science experiment. They will also answer four comprehension questions using details from the text.
The questions your students will answer include:
What are the two factors that this experiment relies on?
Why is the mixture in this experiment called supersaturated?
Why should you use hot water and not cold water?
Where do the crystals come from?
After reading the passage and answering the questions, you can invite your students to share their responses and have a classroom discussion.
How Can I Get the Free Printable Pack?
Click here or on the image below to download the leaf salt crystal experiment printable pack.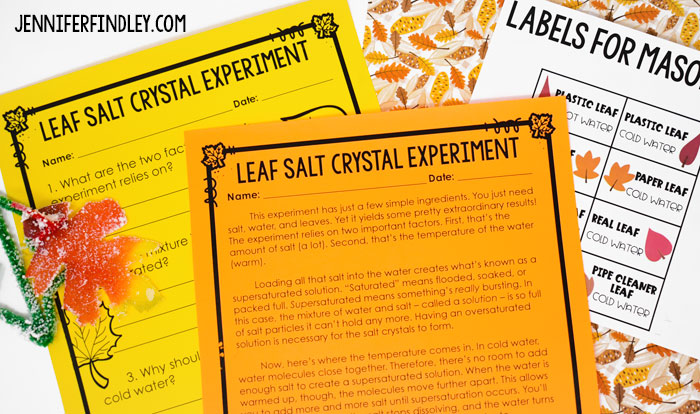 What are your favorite science activities? Let me know in the comments! I am always looking for new science experiments that my students will love.
If you want more resources and even freebies for science, click here to check out my other posts, such as apple oxidation, erosion with grass, dissolving Peeps, gingerbread cookies and candy hearts, creating avalanches and frost, states of matter with chocolate, experiments with growing plants and flowers (including a seed race), and much more.