Pinterest is full of well-designed and authentic bulletin boards for literacy, but very few for math. In fact, when I am planning my classroom, my mind goes straight to literacy instead of math. Once I realized I was doing that, I actively worked to change and add in more relevant and meaningful math bulletin boards in my classroom.
This post shares SIX low prep, but super meaningful math bulletin boards that you can use in your classroom. Hint: The students are doing the majority of the work on these!
Math Word Wall
Math word walls can be very powerful instructional tools. Here is why:
1.) They keep math concepts and terms fresh and "in the mind" of students all year.
2.) They are fabulous resources for students to use when writing in math class.
2.) They can be great transition fillers to review.
Want to make it even more meaningful? Have the students create the words for the word wall. If you have a large unit with lots of vocabulary words, divide them up among pairs or small groups. If you just have a few, assign specific words to your class and then let them select (or you) the ones that are the most helpful to go on the word wall.
Problem Solving Bulletin Board
Another bulletin board idea that I love is having a problem solving board titled "We Are Problem Solvers" or something similar. On this board (or wall space), you could display problem solving strategies that you teach AND examples of student work that used that strategy. Not only will this board serve as a reminder of what you have taught but the examples will also serve as mentors for the students.
Click here to read about the specific problem solving strategy that I teach and that my students "love."
Writing About Math Bulletin Board
I have noticed a huge shift over the year with a push for more writing across the curriculum. To meet this need, you could have a writing about math bulletin board or wall space that shares strategies for writing (sentence stems and mentor examples). And of course, you could also display great examples of writing in math by your students. You could title the board "We Write in Math" and add to it throughout the year.
You could use the following for mentor examples:
current student examples
past student examples (I like to save really good examples and use them year after year)
released examples from the state
teacher created models
Here are some example sentence stems:
First I … Next I…. Finally I….
I added/subtracted/multiplied/divided because the problem said….
To begin with, I…
I know my answer is correct because….
Need some help getting your students writing in math? Check out this blog post for several ideas to support your students' writing in math class.
"We Use Math Vocabulary" Board
Another option is to have a math vocabulary board with examples of student work that use math vocabulary.  This is similar idea to the above board but with a heavy focus on students using academic vocabulary. I love this math bulletin board idea because my students often struggle putting in academic vocabulary in their explanations. Having a focus on it would show the importance and celebrate when students use academic vocabulary in their work. This could be near your math word wall or even an extension of it.
Show What You Know Board
I also dedicate one of my bulletin boards (or sometimes wall space, depending on my classroom) to the math concept we just learned. I keep it very simple (for me), but also quite rigorous for the students.  The students create posters to show what they know about a math skill or concept.
I use printables from this my 5th Grade Math Bulletin Board Printables, which includes a printable for every 5th grade math standard. I love using these because the students have to show what they know in a variety of ways, one of which usually requires explaining in writing. Also, I let the students decorate them when they are finished. They love decorating them and it makes them pop when we hang them up.
If you would like to see these 5th Grade Math Bulletin Board Posters in my TeachersPayTeachers store, click here.
Math in Real Life Bulletin Board
A final option, and one of my favorites is to create a "math is real life" board were students bring in or sketch examples of math they see in real life titled "We Use Math in Real Life." Or another option is to title it "Math is Everywhere" as shown in this example from Middle School Math Man (click on the picture to head over to his blog post to read more about this board idea).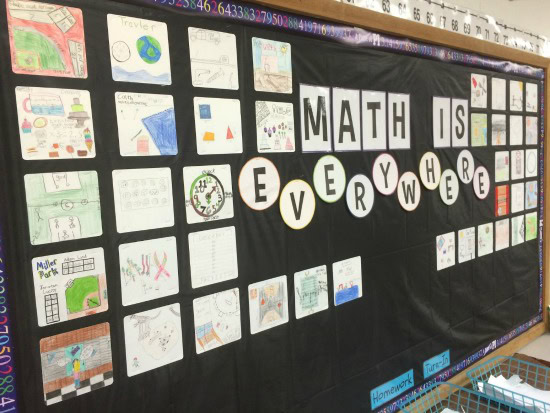 ---
There you have it! My favorite math bulletin board ideas for math. Click here to grab headers for each bulletin board idea shown.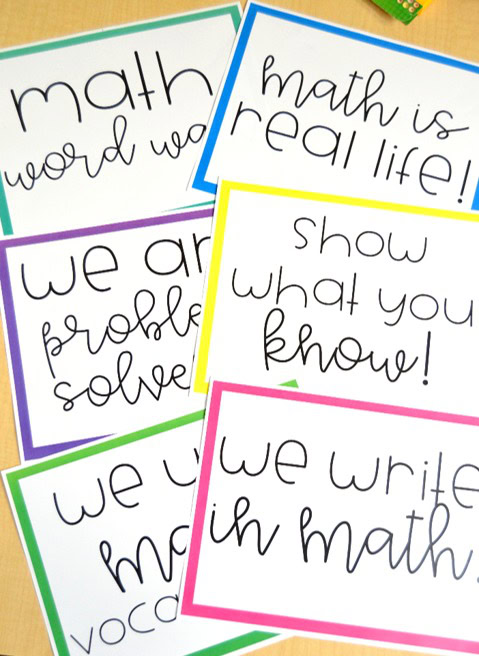 Do you use any of these math bulletin boards or any others not listed here? Share in the comments!