It's almost Mother's Day, and if your students are anything like mine, they will definitely want to celebrate their moms or the mother figures in their lives. I also really love mixing writing and other ELA activities to help celebrate Mother's Day in meaningful ways that also help support my students' learning. Here are my favorite activities that also make great Mother's Day gift ideas (as well as a few favorite craft ideas that you may want to have your students make).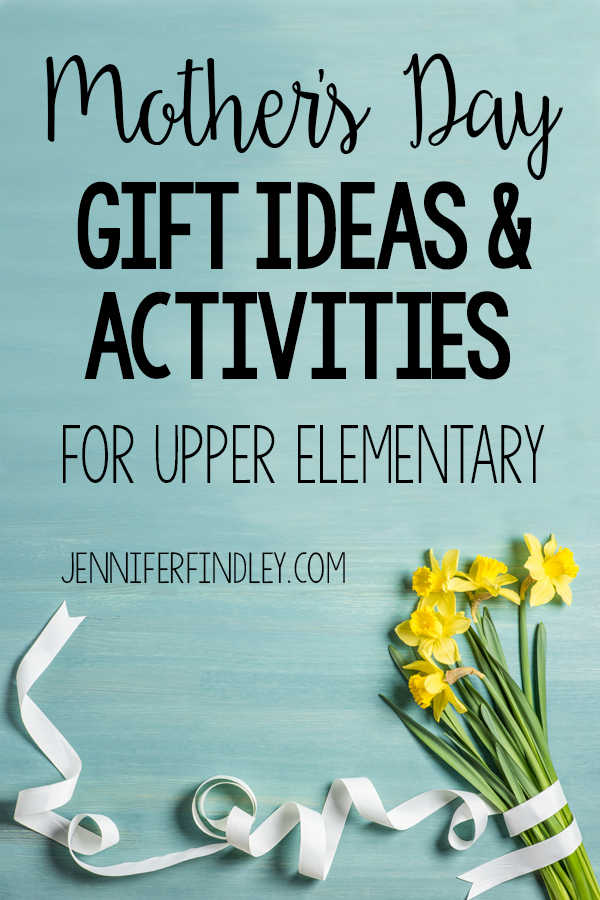 Acrostic Poem
One simple idea is to have your students create acrostic poems for their mother. The students could write their mother or guardian's first name vertically down the side of a page. Each letter of the name will start a line with something nice about the student's mom. Words can include adjectives to describe their parent, loving phrases, or moments they have shared. Another alternative is writing an acrostic poem with the word "MOTHER" as the start of the poem.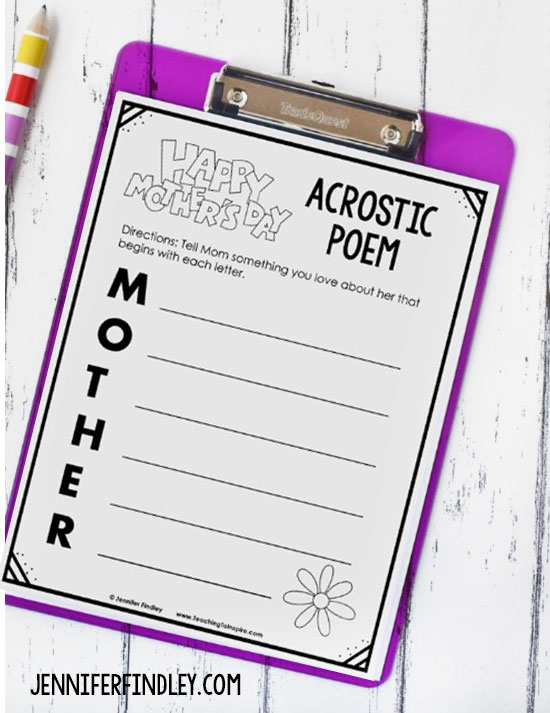 Click here to grab a free printable using the MOTHER acrostic poem version.
Adjective "Mother" Poem
This is a fun spin on the acrostic poem. For this activity and Mother's Day gift idea, the students choose from adjectives to create adjective poems that describe their mothers. However, they must choose the adjectives carefully so each word has the letters to spell out mother. The students will then arrange the words so the "mother" is lined up, underline or highlight the letters in "mother" and then decorate the paper.
Click here to grab some ready-made adjectives that you can use for this unique Mother's Day gift idea.
Top 10 Lists
My students love making lists! You can have your students generate a Top 10 list of things they love about their mom. Other top 10 ideas could be Top 10 Moments with Mom, Top 10 Things My Mom Does Best, Top 10 Reasons My Mom is the Best, or Top 10 Things I Love About My Mom. As a class, you could even brainstorm a list of Top 10 categories and have students choose their favorites.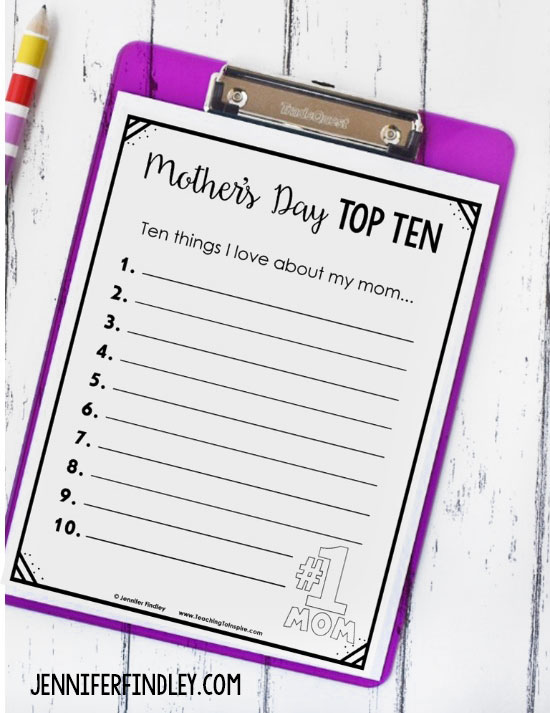 Click here to grab a few Top 10 printables to have your students make for their mothers.
Coupon Books
One of my go-to Mother's Day gift ideas is definitely coupon books. My students absolutely love making these each year. For this activity, the students cut coupons, color the graphics, and then make a mini booklet for their moms or loved ones (both versions are included in the resource). Most of the coupons are pre-made but there are a few generic ones that the students can fill in with their own ideas.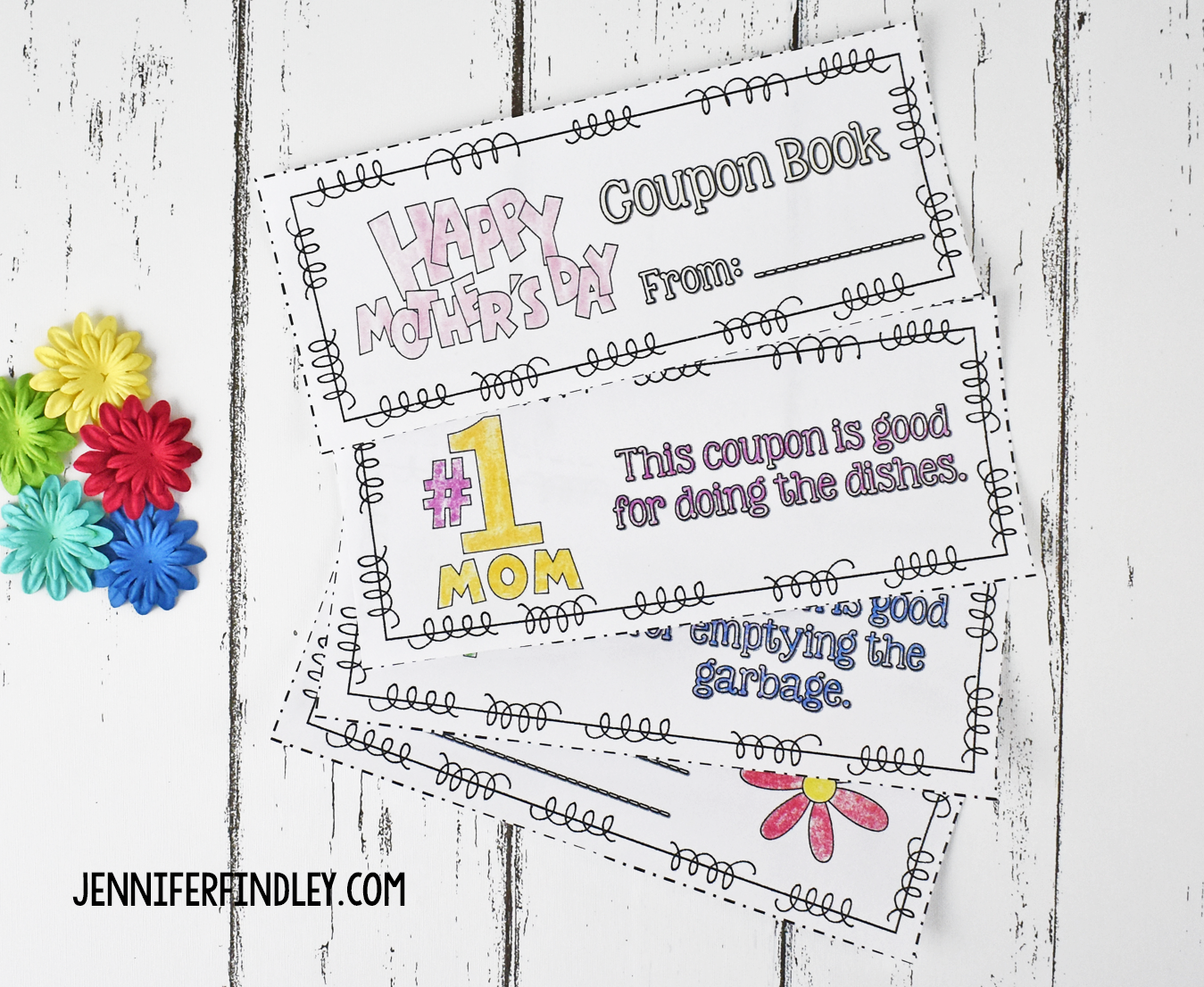 Click here to purchase the ready-made templates to have your students create their own Mother's Day gift coupon books.
The resource linked above also includes printables that I let my students choose from to create printable notes for their mothers as well. Here are two of the printables included in the resource.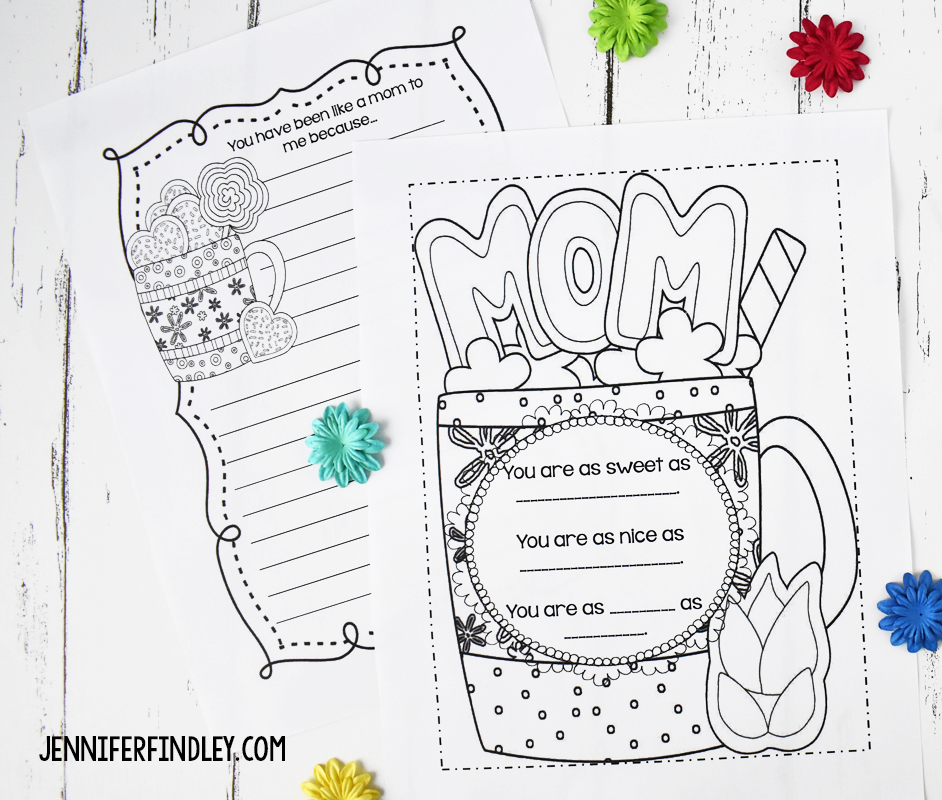 Photo Inspiration
Have your students bring in a photo of them with their moms or important women in their lives. Use the photo for inspiration for your students to write heartfelt letters to their mothers. You can use this as an opportunity to review general letter-writing rules regarding salutations (Dear. . .,) and closings (Love. . .,), but ultimately, let them share their own personal reflections and feelings with their mothers.
Mother's Day Coloring Page
Most of the time, I can't decide which pages I want to have my students complete so I typically print them all and allow them to choose a few that they really want to make for their mothers. We then combine the pages to make a booklet of letters, poems, and other printables to honor the students' moms. This Mother's Day coloring page makes a great cover page for our booklets. You can use the page as is and just staple the pages together or have the students trim the picture and place it on construction paper for a more sturdy cover.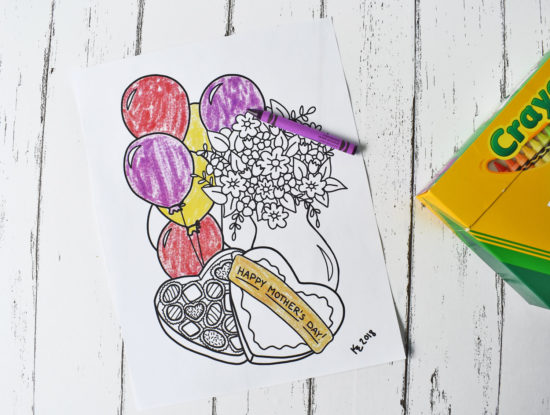 Click here to grab the coloring page (created by Kelsi Eldridge for my blog).
Mother's Day Craft Ideas
Here are some simple craft ideas if you want to have your students make their moms a craft gift. Click on the name of each craft to see the full post with more details.
You Are My Sunshine" Noodle Card – Made from curly noodles, yellow paint, and cardstock, this card will brighten mom's day.
Pom Pom Flower Magnet – Made from a photo of the student, pom poms, cardstock, and popsicle sticks, this adorable flower craft becomes a magnet for mom's refrigerator. 
Spoon Flowers – Made from Styrofoam cups, tissue paper, and plastic spoons, this flower pot craft will be a keepsake that moms will love.
Cupcake Liner Card – Made from cupcake liners, buttons, and cardstock, this colorful card is as delightful as a bouquet of real flowers. 
"I Love You This Much" Card – Made from paper and your student's hand tracings, this unique card will be treasured by mom forever as a memory of her child's small hands.
Your students will love honoring the moms in their lives with these Mother's Day gift ideas and activities (and their moms will cherish the gifts). Do you have a favorite Mother's Day gift or activity? Let us know in the comments.