Using videos to explain science concepts and topics is a great way to reinforce what you are teaching and mix up your instruction. This post will share a collection of videos for teaching plant and animal cells. As with all videos, I recommend you preview them before showing them to your students. 🙂
1. Bill Nye the Science Guy – Cells
Running Time: 22:56
Kids and adults of all ages love Bill Nye the Science Guy. Quirky and fast-paced, this video is full of experiments and explains cells in a way that will keep a student's attention all the way through.
2. The Cell – an intro for kids
Running Time: 6:50
A helpful slideshow created and narrated by Dr. Larry Sanger, the co-founder of Wikipedia. Kids will enjoy seeing the comparison of a human hair and a red blood cell. The video is not exciting but would be great for a independently assigned video, especially because of the text on the screen.
3. Animals Cells Structure & Functions
Running Time:  4:17

See the inside of a cell through this animated cartoon video narrated by a 3D animal cell.
4. Parts of the Cell Rap
video running time:  3:08
"Cells, cells, they're made of organelles. Try to pull a fast one, the cytoplasm gels." This very catchy rap was created by a middle school science teacher to teach about the different parts of a cell.
5. The Plant Cell Clique
video running time:  2:50
"I'm the #1 OG, which is short for "Organelle". So let's meet the fam-i-ly!" Another very catchy rap, created by Sung Science and DreamWorksTV.
6. Good Thinking! — What's the "Matter" with Cells and Atoms?
video running time:  8:37
This Smithsonian Science animation is a cute story of a science teacher who is cleaning and organizing her classroom and lab. We learn about the difference between cells and atoms.
7. The Wacky History of Cell Theory
video running time:  6:11
A delightful TED-Ed video that teaches the weird and wacky history that brought together the 3 parts of the cell theory: all organisms are made up of one or more cells, the cell is the basic unit of structure, and all cells develop from other cells.
8. The Cell Song
video running time: 3:09
"I went into a cell, to get out of the rain. And there was the gatekeeper, the cell membrane." Writer Glenn Wolkenfeld wrote this fun, country music song that explains each cell part. The second half of the song explains plant cells.
Need more resources for teaching plant and animal cells?
Click here or on the image to grab FREE plant and animal cells posters and vocabulary cards.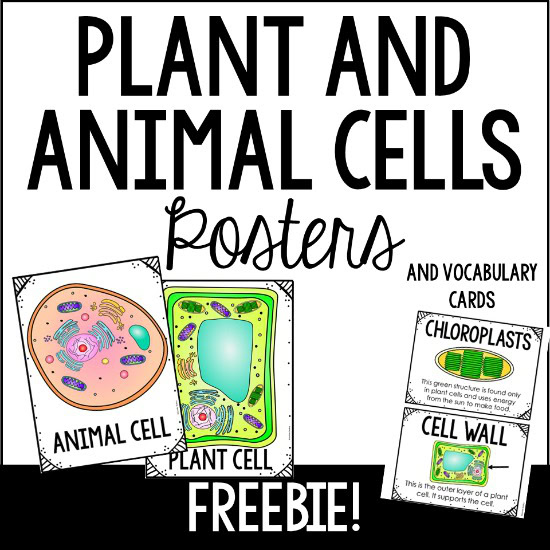 Click here or on the image to see my plant and animal cell supplemental resource pack. It is a perfect supplement to the videos on this post.