Tell your students you are going to study poetry, and you'll have varied reactions. Some kids will remember the rhymes of their early childhood days with excitement. Others will groan at the thought of cheesy "love poems." However, you can teach poetry in a way that even the most resistant student will find something to love about this genre. Here are some poetry activities for upper elementary that I think your students will love.
Put it to music.
I always start out a poetry unit by surveying my students: "Who likes poetry?" Many kids will not raise their hands or have some grumblings of how poetry is cheesy or weird. Immediately after, I'll ask my students, "Who likes music?" Inevitably, every hand will go up. Music is poetry.
Start your poetry exploration by bringing out a few popular songs. Talk about terms like "speaker" (the voice of the poem), "lyric poetry" (a poem that shows emotion), and various poetic devices like rhyme, similes, metaphors, and theme. Connecting those concepts to music before reading traditional poems allows your students to make connections from pop culture to literature and instantly engages them.
Have a poetry reading.
Dim the lights, wear black, and transform your classroom into a poetry slam. Have your students recite their own original works or poems they have read in class. Consider providing small treats and "tea" (water will do the trick). After each student presents their poem, the class can "snap" their fingers to show their appreciation, a tradition in many amateur poetry readings or "slams."
Before the poetry slam, you can model poetry readings by reciting some of your own original poems or popular poems you teach in class. This not only helps your kids with speaking standards, but it also teaches them the difference in fluency when reading a poem as opposed to other genres.
Use poetry centers.
I love incorporating poetry throughout the year in reading stations and reading centers. There are two ways I do this.
1. Poetry Reading Game Style Centers
My students love anything that involves a bit of a game. So, I created poetry centers that the students could "play" with dice. For the centers, the students read a poem and then roll two dice to answer text-dependent questions about the poem. Click here to see the Poetry Centers in my TeachersPayTeachers store. There are 10 centers, so you can do one a month to have your students reading poems and completing engaging poetry activities all year. Another option is to do a couple a week during the month of April (poetry month) or during your poetry unit.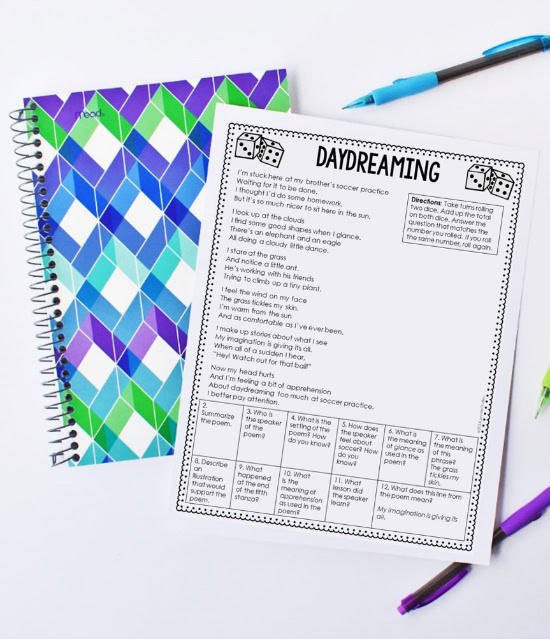 2. Poetry Response Center
For my other go-to poetry reading center, I place poems or poetry books in a reading center, have the students read a poem or two, and respond in writing to the poem. I use poetry response task cards to guide the students' responses. Click here to grab the poetry task cards and recording booklet for FREE!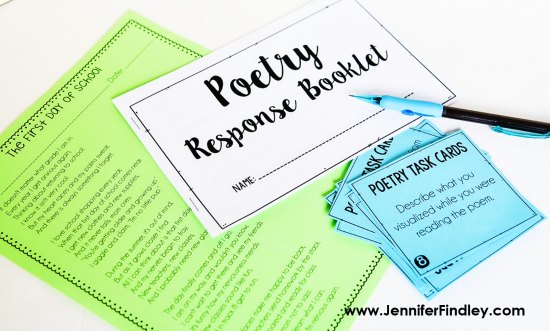 The printed poem shown in this picture can be found in my Holiday Reading Bundle, which contains an informational text, a fiction text, and a poem for each holiday or season represented.
Shop This Post
Poetry Activities with Google Slides
Are you looking for poetry activities to help your students understand and analyze poems? And you need the poems included to save you time and energy? This set of poetry activities and resources is just what you need!
Explore different types of poetry.
Many students come to 4th and 5th grade with the assumption that all poems rhyme and follow the same type of format. I love teaching my students about some of the different types of poems. Some of these "new to them" poetry types really resonate with students that previously didn't enjoy poetry.
To introduce my students to the different types of poetry, I use this poetry booklet. It covers eight different types of poems, and each page contains a definition of the type and an example. The students can use the back of each page to try their hand at writing the type of poetry shown.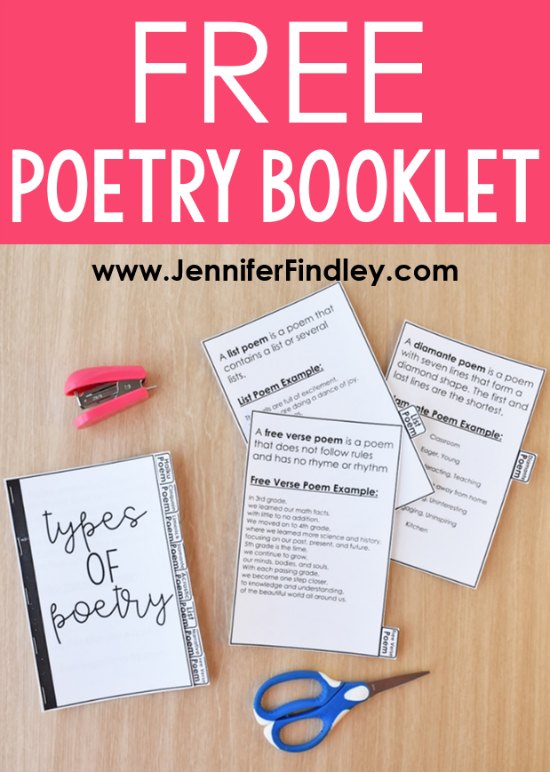 The booklet also includes a digital Google Slides version with clickable tabs to navigate through the booklet!
To grab this poetry booklet for free, simply join my email list using the form below and the poetry booklet will be sent right to you (current email list members can use this same form to sign up, you won't be added to my list twice).
Have students create Blackout and Found Poems.
I love having students be creative and unique with poetry. Two of my favorite activities are Blackout Poems and Found Poems.
Blackout Poems: These are poems the students create with a page from old, recycled books or even printed text. The students black out the majority of the words on the page to create a new poem with the still-visible words.
Found Poems: For these poems, the students cut out words and phrases from magazines and compile them to create a unique poem.
To read more about these types and see examples click here or on the image above to see a post from EBCamps.
Poetry Bingo!
Poetry term Bingo is one of my favorite activities to play with my students. Have a call sheet with a list of terms, definitions, and examples. Each sheet will have a definition or example. You can read off the term, and your students will mark where they find the corresponding definition or example related to the word. This is a great way to review upper elementary poetry terms. It's so much fun; your students won't even realize they're reviewing!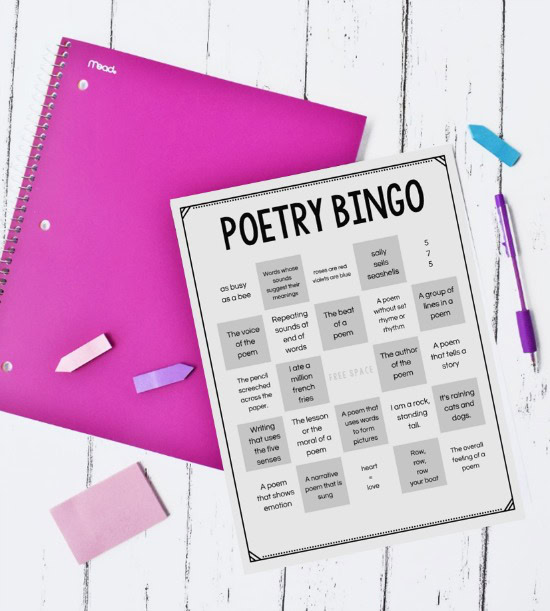 Click here to grab a FREE set of Bingo boards and calling cards to review poetry terms.
Implement seasonal or holiday poems throughout the year.
Another way (besides regular poetry reading centers) to incorporate poetry all year is through seasonal or holiday poems. I use my holiday reading comprehension packs, which contain a poem for each of the major holidays and seasons represented. The resource also includes a variety of printable activities to go with each poem, which really help my students' poetry comprehension. You can also find holiday poems online here.
Explore poems online.
Speaking of online poems, give your kids the reins and let them explore poems from poetry websites just for kids. One of my favorites is poetry4kids.com. I introduce the site by finding a poem to have the students listen to (either I read it or they listen online). The students will then read the poem aloud on their own for fluency and to increase their comprehension. They'll pair up and discuss the poems before moving on to analysis. After the initial introduction, it's fantastic to allow the kids to explore independently or in pairs. The students can also write about the poems they read or create their own poems modeled after the form and structure of the poems.
Poetry Read Alouds
Students love being read to, and poems are great to read throughout the year when you are between books or when you have a few minutes to spare. Here are some recommended poetry books and poets for upper elementary students:
The Crossover by Kwame Alexander
Love that Dog by Sharon Creech
Poems by Bard Bagert, Jack Prelutsky, and Shel Silverstein
****
Poetry is not a scary thing (for teachers or for students) when you use engaging, relevant activities to make it fun for your 4th and 5th grade students. Try some of these poetry activities for upper elementary, and your kids will be reading and creating like old school poets!