Read alouds are definitely the backbone of my reading instruction. But finding engaging nonfiction read alouds can sometimes be tricky. I have spent the last few years collecting the best nonfiction read alouds to use with upper elementary students. This post will share the read alouds I use when introducing and teaching main idea.
This post includes Amazon affiliate links if you wish to purchase the books mentioned on this post.
Main Idea Mentor Texts
Strange and Wonderful Series
Pretty much any of the Strange and Wonderful series by Laurence Pringle are great for teaching main idea. The entire book focuses on one overall topic (the animal) and then the book is filled with paragraphs that have distinct main ideas. I also love how the author uses the text details and the illustrations to help convey the main idea to the students.
Here are some of my favorites in this series:
Bats! Strange and Wonderful by Laurence Pringle
Snakes! Strange and wonderful by Laurence Pringle
Scorpions! Strange and Wonderful by Laurence Pringle
An Egg is Quiet is amazing for introducing main idea or for focusing on stated main idea. It is a very quick read and would be perfect as a quick introduction. The book has two page spreads with the main idea clearly stated on the two pages. The pages are filled with illustrations and text to support the main idea.
This mentor text for main idea is perfect for introducing or re-teaching the skill. Each two page spread in the book focuses on a different woman in history and how she persisted. The students can use the frame _________ showed persistence through _______ to write the main idea. It is a perfect way to scaffold summing up the details into one phrase to write the main idea.
This is a high-interest read aloud for my students. When I read it, I choose to read about just a few of the animals and then I hook them into reading the rest. Each two page spread is devoted to a specific military animal and many of the paragraphs on the two-page spread are perfect for main idea. Some are definitely better than others, so I like to pre-read this one and flag the specific paragraphs that have clear main ideas for the students to identify. This is also a good read aloud for working with multiple main ideas within one page or section.
I use this particular read aloud to teach the students about headings, how they connect to the main idea, and how the headings can be used to support the students as they determine the main idea.
Animals Nobody Loves is another great read aloud for stated main idea. A lot of the paragraphs have stated main ideas via topic sentences. This would be a great follow up if you use The Quiet Egg. Again, I recommend flagging specific paragraphs beforehand to stop and discuss with the students. This is also a good read aloud for having the students find multiple main ideas within a page.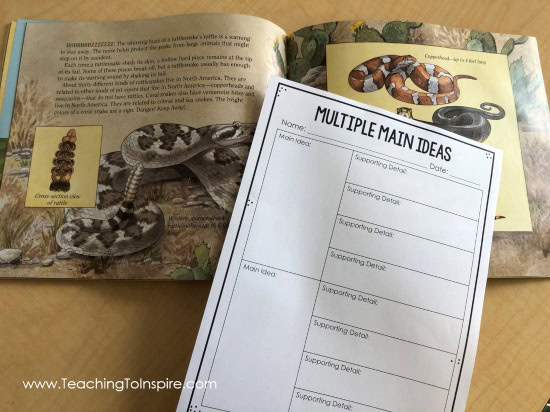 Tips for Teaching Main Idea
Now, that I have shared my go-to mentor texts for teaching main idea, here are some more tips:
1. Read the entire book or parts of the book but only choose specific paragraphs to find the main idea of
2. Teach main idea in a variety of ways. Read more details about the three ways I teach main idea here.
3. Teach the different ways that the author can demonstrate the main idea (stated, implied through details, etc).
4. Integrate the skill into writing. I do this with as many skills as I can, but I really hit it hard with main idea. Once they start making the connection between writing and reading with main idea, their informational comprehension and ability to determine the author's main idea will greatly improve.
I do this by explicitly asking the students questions like:
What is your main idea in writing this?
What do you really want the reader to understand?
What detail will you include to help the reader understand your main idea?
Additional Resources for Teaching Main Idea
I use a lot of read alouds and mentor texts but my students also need to have copies of texts so they can annotate, underline, and work with the details to find the main idea. I use passages from my Main Idea Supplemental Resource to provide this practice. The resource includes two different sets of passages. The first set includes paragraph-length texts that I use in the beginning of my instruction. The second set includes lengthier passages that allows my students to practice finding multiple main ideas of text. This resource also includes graphic organizers, posters, task cards, and more. Click here or on the image below to see the Main Idea Teaching Resources in my TpT store.
I hope you can find a few new read alouds for teaching main idea from my list. Do you have any favorite main idea mentor texts? Let me know in the comments!
More Read Aloud Blog Posts:
Read Alouds for Teaching Story Elements
Read Alouds for Teaching Inferring
Read Alouds for Teaching Theme
Read Alouds for Teaching Point of View
Read Alouds in Upper Elementary
Planning Read Alouds in Upper Elementary