Informational text structures is one of my favorite nonfiction reading units to teach. Once students start to see how information is organized in a text it really helps their comprehension and understanding of the text and it also helps them become stronger informational text writers. On this post, I will share my favorite read alouds for teaching text structure as well as share other tips and strategies.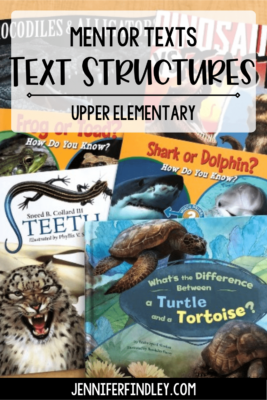 Before we dive into the read alouds for each text structure, I will point out that I don't read all of these books to my students. I usually read one of each and then may read one more for any text structures the students are struggling to identify or understand. I use the other books in reading centers with graphic organizers and teaching posters as review. You can read more about that in the tips section that immediately follows the read aloud recommendations.
You can click on each read aloud to see it on Amazon (affiliate links are included if you choose to use the links provided).
Read Alouds for Chronological Order
Looking at Glass Through the Ages by Bruce Koscielniak
Trapped by the Ice by Michael McCurdy
Tricky Vic The Impossibly True Story of the Man Who Sold the Eiffel Tower by Greg Pizzoli
Read Alouds for Description
Amazon Affiliate links are included if you wish to purchase the books listed in this post through the links provided.
What the Moon is Like by Franklyn Branley
Your Fantastic Elastic Brain by JoAnn Deak
Ant Cities by Arthur Dorros
Read Alouds for Cause and Effect
Milk: From Cow to Carton by Aliki
What Happens to a Hamburger by Paul Showers
Flash, Crash, Rumble, and Roll by Franklyn M. Branley
Oil Spill by Melvin Berger
Aliens from Earth: When Animals and Plants Invade Other Ecosystems by Mary Batten
Read Alouds for Problem and Solution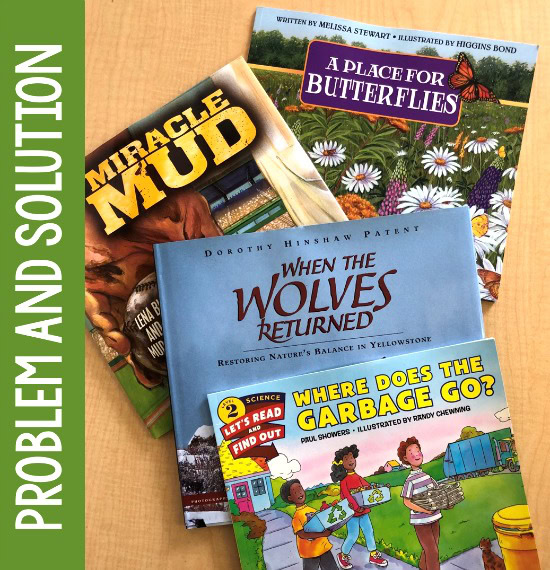 Where Does the Garbage Go? by Paul Showers
When the Wolves Returned: Restoring Nature's Balance in Yellowstone by Dorothy Hinshaw Patent
Miracle Mud by David A. Kelly
A Place for Butterflies by Melissa Stewart
Read Alouds for Compare and Contrast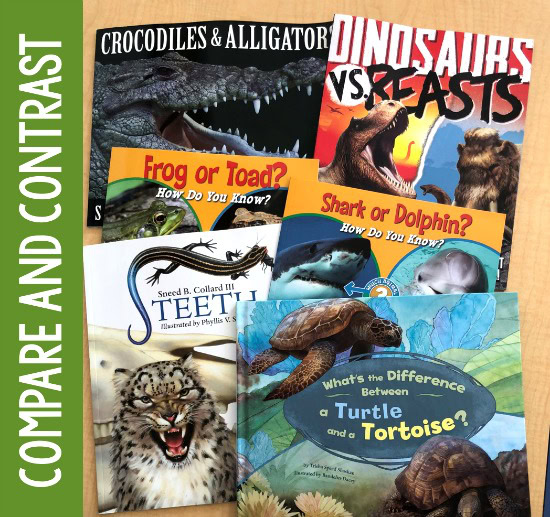 Teeth by Sneed B. Collard III
Shark or Dolphin? How Do You Know? By Melissa Stewart (Frog and Toad, too)
What's the Difference Between a Turtle and a Tortoise? By Trisha Speed Shaskan
Dinosaurs vs Beasts by Lee Martin
Crocodiles and Alligators by Seymour Simon
Using Movie Clips to Teach Text Structures
Movie clips also make excellent mentors and examples to introduce students to the different text structures. To read more about how to use movie clips while teaching text structures and get links to movie clips for each text structure, head over to Literacy for Big Kids by clicking here.
Tips for Teaching Informational Text Structures
1. Use books and specific text structure organizers to really dive in and teach the characteristics of each type. As I mentioned above, I don't read every one of these read alouds (because…time). I do like to place a few of the books in a reading center with a reminder poster and a graphic organizer for them to complete while reading the book. The poster and organizer shown are part of my Text Structure Teaching Resource which you can see in my TpT store by clicking here.
2. If needed, start with short texts versus the read alouds. Sometimes, I like to frontload each type with instruction using short texts before we dive into the read aloud. It really depends on your students but sometimes seeing the text structure beforehand in a shorter format helps them understand the structure before moving into the lengthy read alouds.  The passage and poster shown are also included in my Text Structure Teaching Resource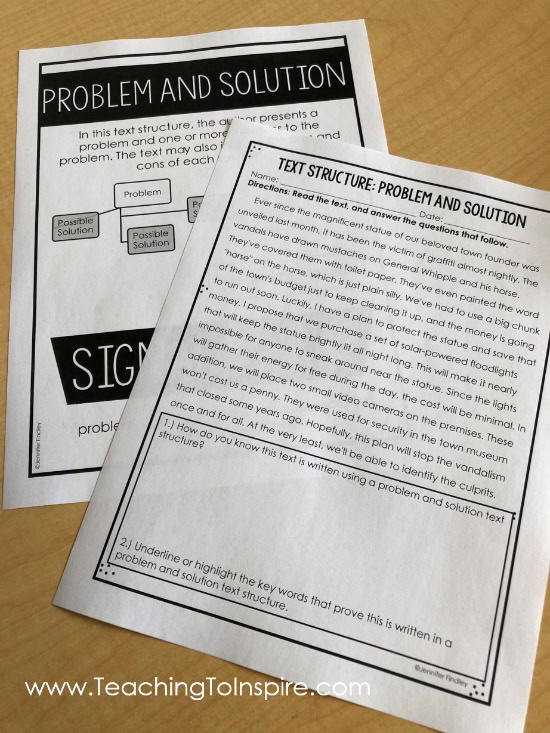 3. Take the instruction a step further by exploring how the same overall topic can be presented in different text structures. My text structure teaching resource includes a set of passages just for this purpose. Each passage has an overall topic of pollution but each is written in a different text structure. It is a great way to teach the students how the focus of the text influences the text structure the author chooses to use.
4. Integrate text structures into writing instruction. I always teach my informational writing unit while I am teaching nonfiction reading skills so I can integrate the two. During and after text structure instruction, we do a lot of writing in different text structures.
5. Have students complete a "hunt" for text structures as they read their independent reading books, guided reading books, and even science and social studies books. Click here to grab two free printables for a Text Structure Hunt (the one shown below and one other).
6. Connect to science and social studies textbook or article reading. Prompt the students to notice the text structure used as they are reading and learning about science and social studies topics. You can even do a text structure hunt while reading in science and social studies.
7. Teach the definition of the text structure, the keywords typically used, and the purpose of the text structure. Teaching the purpose of the text structure will help the students identify the text structure and also prove that the text structure they identified is correct. Click here to grab both of these Text Structure posters for FREE to help you do this. I print these for the students to keep in their reading notebooks and refer to as needed.
Additional Resources for Teaching Text Structures
In the above section, I shared different ways to introduce and teach text structures. All of the resources I mentioned and use can be found in my Text Structures Teaching Resources. Click here or on the image below to see my Text Structures Teaching Resource in my TpT store.
Do you have any favorite read alouds for introducing or teaching text structure? Let me know in the comments. I am always looking for new read alouds.
Want more recommended read alouds? Click on the links below to check out my other read aloud posts.
Read Alouds for Teaching Story Elements
Read Alouds for Teaching Inferring
Read Alouds for Teaching Theme
Read Alouds for Teaching Point of View
Read Alouds in Upper Elementary