One of the things I do every year that really makes a difference in my students' learning is having them use notebooks to store notes, examples, work, and basically house all of the learning they have done that year. Having these notebooks makes it so easy to spiral content because the students have a ready-made resource to refer back to. On this post, I will share how I set up reading notebooks and share several free printables to help you get yours set up.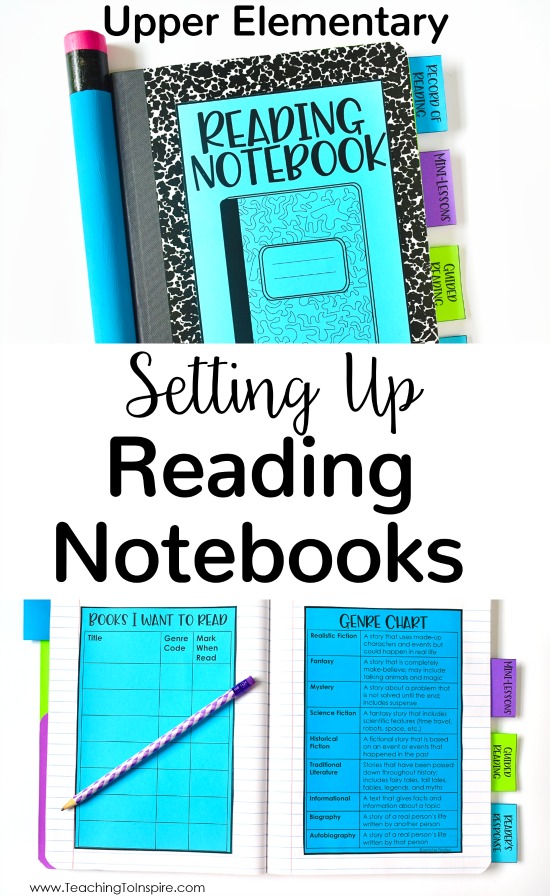 About the Reading Notebooks
My students' reading notebooks are divided into four main sections:
Record of Reading
Mini-Lessons
Guided Reading
Reader's Response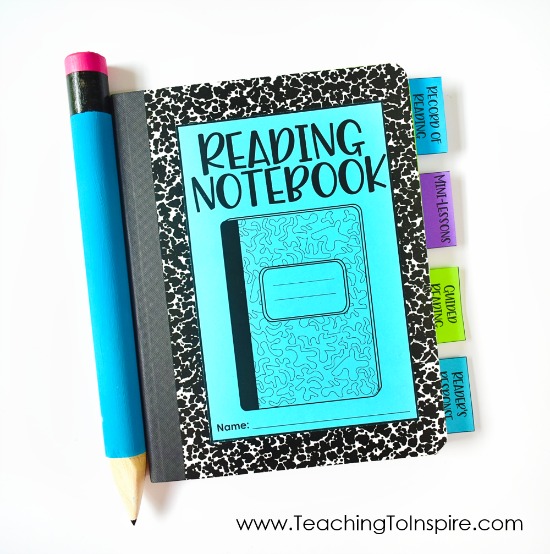 There is an unlabeled section at the beginning of our notebooks where we do a few activities to learn more about ourselves as readers. My students complete a printable that describes themselves as readers and a printable where they record reading goals they have for the year. We love gluing these in our reading notebooks so we can add to and reflect on them throughout the year. *Missing word has been corrected on the Me as a Reader Page*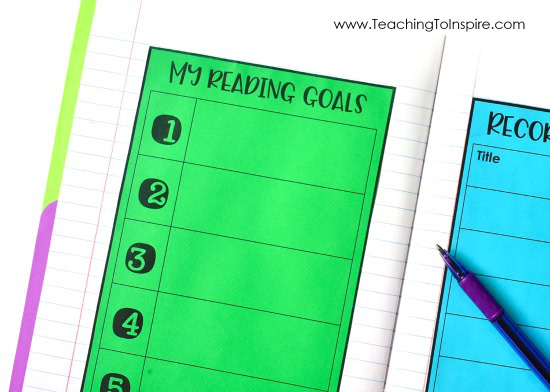 The next few sections will dive into each of the above and give you details about how I set each section up and what my students put in each section.
Record of Reading
This section is pretty simple to explain but is something I have to hold many of my students accountable to adding to throughout the year. In this section, students keep their record of reading charts and a chart of books the students want to read. I also give them a genre chart to glue to this section to correctly record the genre of each book they read. These forms are available in the free download at the end of this post.
Mini-Lessons
The next section is where we store all of our learning from the reading mini-lessons. I keep this very simple and use a short text and anchor chart/teaching poster for each standard. Keeping it simple allows us to focus on the reading without taking up too much time with the cutting and gluing. Here are a few examples.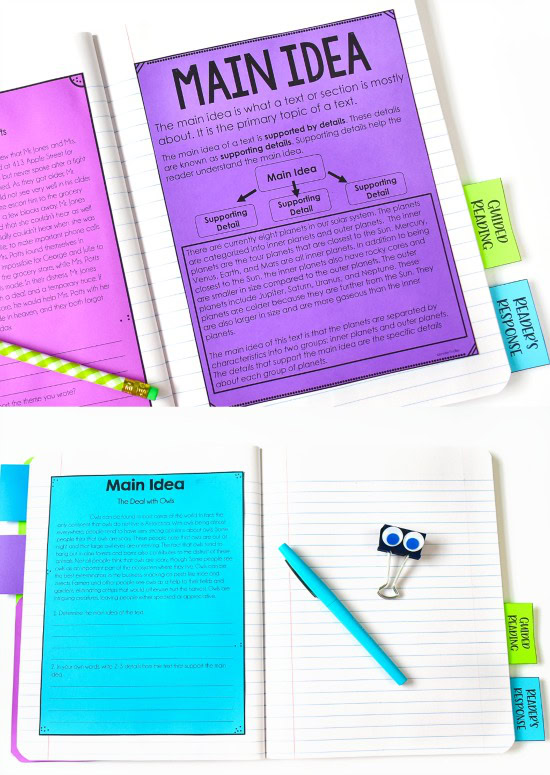 The students refer back to this section of their reading notebooks all year during reading centers, independent reading, and guided reading. This section also gets tons of use during test prep when we are reviewing all of the skills we have learned.
To help students keep track of the skills they have learned, we use a table of contents or checklists of our major skills (available in the free download at the end of this post).
Guided Reading
This section is for when we write about the books or skills we are learning during guided reading. I also like to make this section reflective by having the students reflect on what they learned in our groups using these reflection slips (available in the free download at the end of this post).
Reader's Response
The final section of our reading notebooks is for reader's response. This is where the students store all of their writing about reading that they do during independent reading.
I mix this up throughout the year and do a lot of different reader's response activities, including these interactive notebook templates, one per skill. I love using these because it lets the students directly apply what we learned in the lesson to their independent reading. Although, for some of the skills I do have to give them a short to read to ensure they can apply the skill.
Click here to check out more Write About Reading Ideas.
Free Printables to Set Up Your Reading Notebooks
Click here or on the image shown to grab the following reading notebook printables for free: covers, tabs, me as a reader, my reading goals, record of reading, books I want to read printable, genre poster, mini-lesson table of contents, reflection slips, and reading skills checklists for 4th and 5th grade literature and informational skills.
Want the specific reading content resources I use?
Click here to purchase the bundle that includes the resources featured in the mini-lesson section (texts and anchor charts for each skill) and the interactive notebook templates shown in the Reader's Response section.
What do you include in your reading notebooks? Let us know in the comments!