One of the toughest things about teaching fifth grade is definitely the word problems. By fifth grade, a lot of students have become so dependent on using key words that they no longer even read for meaning when they're solving word problems. However, as fifth grade teachers know, key words only take the students so far.
I have read many articles and blog posts that are adamant against teaching key words, but many of them do not offer an alternative. About three years ago, I created a strategy for teaching my students to solve word problems that does not rely on key words, and I want to share it with you today.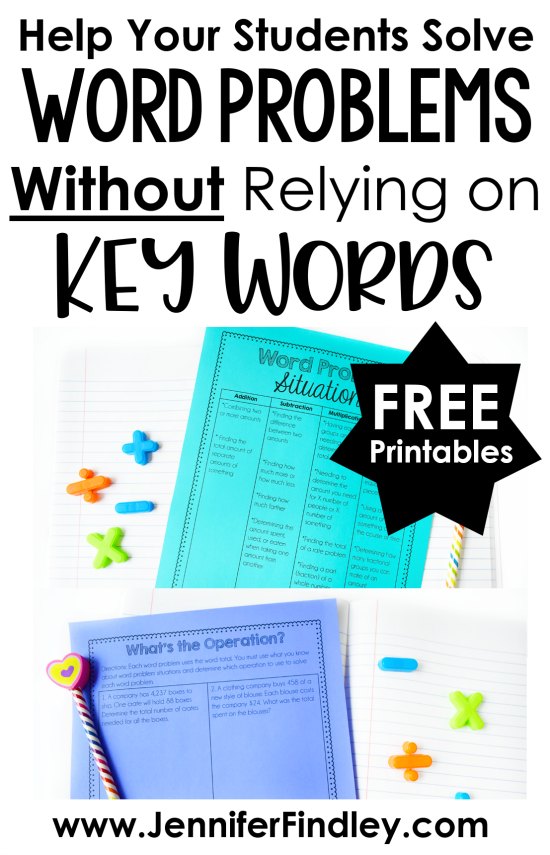 What to Teach Instead of Key Words – Teach Situations
I really want my students to understand what the problem is asking them to do. Keeping this in mind, I teach word problems in terms of what the situation of the word problem is versus what key word is in the word problem.
Before I taught this strategy, many of my students read word problems in order to find the key words. They did not read to understand what the problem was really telling them or asking them.
To combat this, I teach them to think of word problems more as situations. When a student looks at a word problem from a situation standpoint, they are reading for meaning and really understanding what operation is required to solve the problem.
Introductory Lesson to Stop Relying on Key Words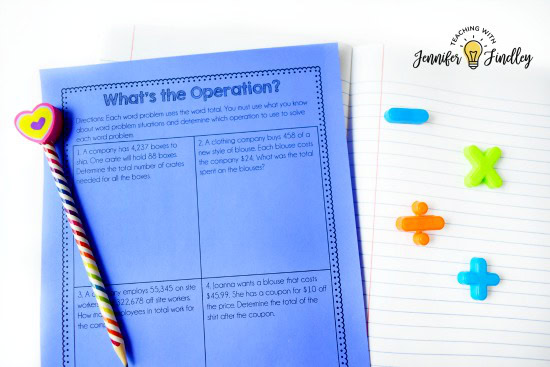 To get students to stop relying on key words and think of situations instead, I do an introductory lesson involving four word problems (shown above).
Each of the word problems use the word total. However, the word problems each require a different operation.
When discussing the word problems, we always have a big discussion about how each of the word problems uses total but they are not all adding or even multiplying. This really gets the students to understand that key words alone cannot always be relied upon.
During this lesson, I stress the importance of really understanding the situation that the word problem is describing to figure out which operation to use. A link to download the printable of the four word problems I use will be available at the end of this post.
Solving Word Problems by Focusing on Situations
After teaching the lesson involving the four word problems, I move right into discussing different situations and how those situations can be translated through a word problem.
As a class, we discuss different situations and determine which operation would be used to solve the word problems that involve that situation.
Together, we create an anchor chart of different situations under the operation that would be used to solve the situation. We add to this anchor chart as the year progresses and the students are exposed to more word problems with varying situations (For example: taking part of a part when multiplying fractions).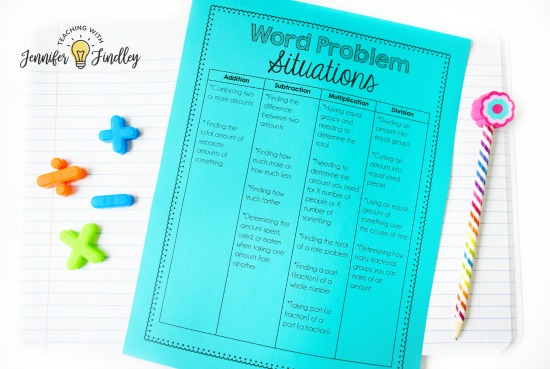 I use the printable chart above to help me generate a list of situations to discuss with students. Many of the fraction situations I don't introduce until later on in the year once we start fractions.
Speaking of fractions, when we really start digging into multiplication and division of fractions, I always have to revisit the idea of using situations to help solve word problems versus key words. The fifth grade level fraction word problems are really tricky and many of my students revert back to key words because they are overwhelmed. At this point, I typically give students the printable version of the chart for them to refer to on a daily basis as they solve word problems.
Moving away from key words and having students think about operations in terms of situations instead has made a huge difference in the way my students think about and solve word problems.
When they are solving a tricky word problem, I always remind them to revisit the situation chart and see which situation matches the word problem. This gets them away from relying solely on key words and builds their confidence with word problems. It also helps them be more successful when solving multi-part word problems. To read more about how I teach multi-part word problems, click here.
Download the FREE Word Problems without Key Words Printables Here!
You can download the word problems and the printable chart by clicking here on the image below.

What do you think of this strategy? Do you think this is something your students would benefit from being introduced to? Let me know in the comments.
P.S. If you are in need of word problems, click here to see the sets I have in my TeachersPayTeachers store.