Planning for a substitute teacher can be pretty time-consuming. Add in a negative report from a substitute and substitute days can quickly become frustrating. This post will share my top substitute tips so you can rest easy that your students (and the substitute) are having a productive day in your absence.
Post expectations for how to behave for a substitute teacher as a reminder.
Ideally, we want our students to behave for a planned or unplanned substitute with no reminders. However, in the real world, some students need that reminder of how to behave when there is a substitute teacher. Because of this, I like to be very explicit with my expectations for their behavior on sub days by posting a reminder or anchor chart. Here is an example chart that Mrs. Terhune of Teaching with Terhune uses:
Having a substitute rules anchor chart lets the students know that there is no question about how you expect them to behave. This also helps the substitute because he or she can refer to these expectations as needed.
Don't want to create an anchor chart? Write a few reminder rules on the board or write them in your sub directions for your substitute teacher to write on the board and go over.
Include student expectations, rules, and important procedures in your substitute teacher plans.
Here are the most important (in my opinion) procedures to include:
Bathroom procedures
What will the students do when they entire the room first thing in the morning (set the stage for success right from the beginning)
How will you get the students' attention
Recess procedures
Lunch procedures
Hallway procedures
Dismissal procedures
This form and lots more free substitute planning forms are linked at the bottom of this post.
Provide positive reinforcement for a substitute teacher to give to students.
We all know that most students may act up a bit for a substitute. I like to leave my substitute with a few treats or positive reinforcers to hand out to students as he or she wishes. These can be:
Caught being good cards (to be turned in at your return for a small prize or non-monetary reward)
Stickers
Small piece of candy
Points (Individual, Team, or Whole Class)
Tickets (to be raffled for a prize at your return)
Let your students know ahead of time, if possible.
Whenever I know I am going to be absent, I always let my students know ahead of time. I remind them of my behavior expectations and how they are representing the school. I also like to go over the assignments and the work that they will be completing. This helps ensure the quality of work I get is higher. I can also answer any specific questions about the assignments or guide students to any notes or anchor charts that may help them if they get stuck.
Write a general message of encouragement to your entire class.
In a perfect world, you could write notes to all of your students. However, if you are like me, you probably don't have the time.  A nice message on the board will work just fine. If the absence is unexpected, have a partner teacher write a message for you.
Make a plan for challenging behaviors.
Most students I have had will behave pretty well for substitutes. However, I have had some students with very challenging behaviors that I had to take into account when I was going to be absent.
Here are some ideas:
Speak to them ahead of time and encourage them to be a leader.
Give them a specific job as a helper to keep them productively busy.
For extremely challenging students, send them to another class for the day. However, if you do this, I recommend talking to the student beforehand and phrasing it positively.
Include student helpers in your substitute plans.
I always like to include student helpers in my substitute plans. I also let my students know that I am putting helpers in there, so they know why the substitute is asking specific students. Being a student helper for a substitute could even be a reward for students to earn or spend their classroom $ or class dojo points on.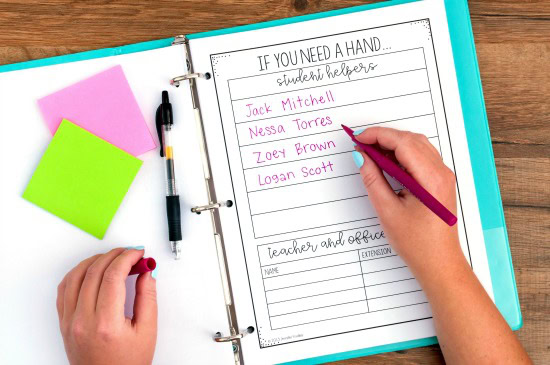 This form and lots more free substitute planning forms are linked at the bottom of this post.
Let times guide your plans (versus subjects).
This may not work for you, but I have found much greater success when I write my lesson plans in time increments versus subjects. This also allows me to be a bit more fluid with my times and have longer science or social studies time than normal. I like to have longer science and social studies time on substitute days because my schedule is always short on those and my students LOVE the chance to dive in deeper with topics we have learned about.
Include skills that are review skills in your substitute teacher plans.
This one has always been really important for me to remember on substitute days. If I give skills that my students are still working to master, I often get sloppy work with careless errors and sometimes even complete printables with all of the problems solved wrong.
I think this is specifically important in math. Since many substitute teachers are only familiar with the "traditional ways" of doing math, giving math work that the students will need help on can confuse them or cause them to be taught a rote algorithm that they are not ready for.
To help me have student work readily available for substitute days, I created emergency sub plans that focused on specific skills. I made two days per skill and each day included everything I would need for my substitute lessons in math.
Have low-prep extension activities ready to go for early finishers.
Why is it that students can take #allday to get work done with you are there but are super speedy when it comes to substitute days? (And then you have those students who barely get half a page completed). I always like to leave my substitute with some low-prep activities for early finishers.
Here is an example of one I use for my math lessons. This is a choice board from my emergency substitute plans. These are super low-prep and perfect to provide more meaningful practice to those early finishers.
Add in engaging elements in the students' work.
Confession: Most of my students LOVE to color but we rarely have time for it in the normal day-to-day instruction. Substitute days are perfect for this. I like to give my students self-checking printables that they can color in to check their answers. The quality of work is improved because the students can self-assess. And my students love these so they are much more engaged with the work.
This specific Color By Quotient printable can be found in my 4th Grade Substitute Plans for Division.
The activity pictured below is included in my Emergency Literacy Substitute Plans. Students complete the vocabulary activity by color-coding the sentences based on which vocabulary word fits in the blank.
Other engaging elements you can include:
Have the students draw quick sketches of their reading before writing.
Allow the students to complete their work on marker boards.
Working with partners and then sharing with the class.
Plan a mixture of whole group and independent activities.
Even though I typically only include review materials in my plans, I do try to include a mixture of whole group and independent activities in my plans. This helps the students interact with the substitute teacher, which in turn helps their behavior. If they are doing independent work all day, they may get off-task or misbehave more so than if the day consisted of a variety of activities.
Organizing substitute materials and extra supplies.
I keep a substitute tub for my substitute materials. In my tub, I store the following:
Binder or file folder with key information—see below for FREE forms that I use!
Pencil pouch with supplies for the substitute
Extra pencils #justincase
Extra class sets of printables (These are typically class sets that I add to the tub that we wound up not using them in class.)
At least one set of emergency plans (To see all of the emergency substitute plans I have available, click here.)
Partner up with a teacher to be a helper.
I always partner up with a grade level teacher to support any substitutes I have and that my teacher partner has. This partner teacher is a go-to for my substitute teacher if they have questions about lesson plans, any serious behavior problems, or if there is a drill or emergency at the school.
➡️➡️Download the free forms to record substitute information.
Need some free (simple but purposeful) forms to help you be prepared and organized? No sign-up is needed, just click the links to download.
Click here to download my go-to forms in PDF form.
Click here to grab a semi-editable Google Slides version. Click Use Template to copy it to your drive and enter your details.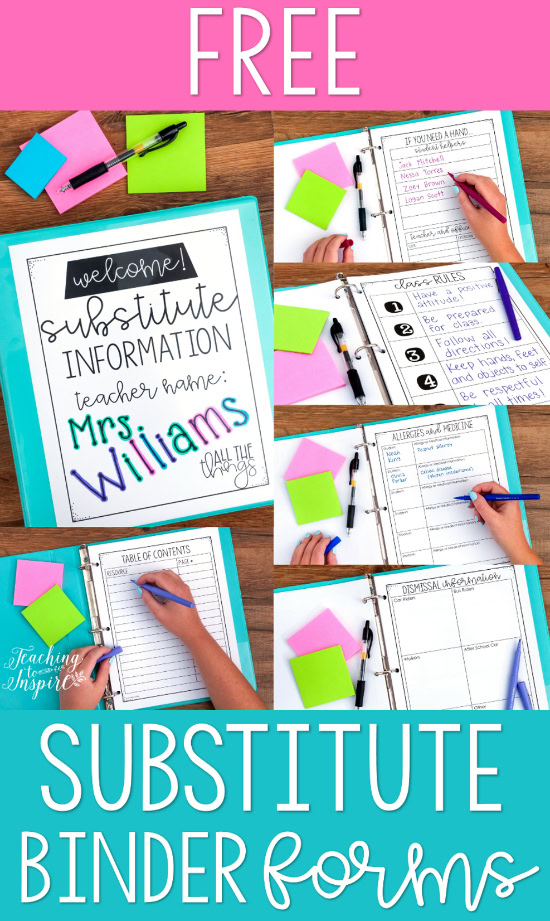 Need Sub Plans for Literacy?
Click on the image shown to have a free set of literacy sub plans sent straight to your email!
Want MORE Literacy Sub Plans? Check out these from my TPT store!
Need Sub Plans for Math?