Empathy is very important for students and adults to have. I strongly believe that empathy is one of the most important "soft skills" that teachers can cultivate and grow in children. The ability to have empathy for others saves a lot of conflict and negative feelings from both sides…the person receiving empathy and the person giving empathy. Because I feel so strongly about this, I wanted to put together a set of free resources for teaching empathy (and perspective) that were age appropriate and relevant to students in grades 4-5.
Teaching Empathy and Perspective
A few things to remember in regards to teaching empathy (from my experience):
1. Students naturally fall on a spectrum in regards to having empathy. Some have a lot of empathy naturally, some can cultivate it fairly quickly with some modeling, and some need a bit more work to really learn how to show empathy and why it is important.
2. Teaching empathy is not a one and done deal. It is something that should be explored organically all throughout the year.
Here are some ways to do this:
Model empathy for students and collegues
Read-alouds are an excellent way to model how to show empathy toward characters who have different experiences than our own
Encourage empathy among students when they have disagreements with their classmates. There are so many opportunities that naturally arise throughout the year to model and encourage empathy. Once you start to look for them and notice, you will see them everywhere. And it doesn't have to be a huge thing. It can be a very simple 1-2 minute conversation.
Free Resources for Teaching Empathy and Perspective
To help you introduce and teach the concept of empathy, I have a set of free instructional materials that you can use. This section will go through each empathy activity and then a link to download the activities can be found in the section titled: Download the FREE Empathy and Perspective Activities Here
About the Empathy and Perspective Activities
1. What is Empathy? Text
This text introduces the students to the concept of empathy and prepares them for the situations that they will analyze.
2. Was Empathy Shown? Scenarios
For this empathy activity, the students will read short scenarios and determine if empathy was shown toward the main character. If it was shown, they will highlight or underline it. If it was not shown, they will discuss some ways that it could have been shown. There are 10 of these in all.
3. Paired Perspective Activities
This next of set of activities is where it all comes together. The students read a story written using a 3rd person point of view that describes a negative situation involving a character. However, the narrator does not reveal any details about the character's life or experiences.
Then, the students read a 1st person point of view story from the perspective of that character. The 1st person point of view story reveals important details that will help the students have empathy for that character.
This is so important for showing students the importance of listening, asking questions, not assuming, and just really trying to see someone else's perspective. There are four paired activities in all.
Printable and Digital Versions
To make these usable no matter what school looks like or how you are providing instruction, the activities are included in a printable and digital format.
The digital format has a few different versions for the situations and stories. You will find the ones shown above and then a version with only the stories. This is great for in-class discussions. You can display the situations or stories via an interactive whiteboard and then facilitate a discussion with the students.
Ideas for Using the FREE Empathy and Perspective Activities
I highly recommend you use these activities as a whole group activity or as an independent/small group activity that then transitions to a whole group discussion. I do not recommend these be assigned as independent activities without that powerful discussion piece.
These can be used at any point in the year and in any capacity but here are two recommendations if you need ideas for how to incorporate this into your instruction:
Beginning of the Year – Use these empathy activities to set the stage for the rest of the year. Then continue to model and point of empathy through read alouds and interactions with students.
Morning Meetings/ Friday Meetings – These are excellent activities to use for morning meetings or Friday class meetings.
Who Can Use These Empathy and Perspective Activities?
Anyone who works directly with students.
To be more specific, here are some school staff members who may really benefit from the use of these materials with their students.
Classroom Teachers
Guidance Counselors
Support Teachers Who Pull Out for Instruction (and still want to set the tone and build a community of learners)
Download the FREE Empathy and Perspective Activities Here
Click here or on the image shown to download the free empathy activities. The download will open up as a PDF. The PDF contains the printable versions of the empathy activities as well as links to copy the digital versions to your Google Drive (found on page 3).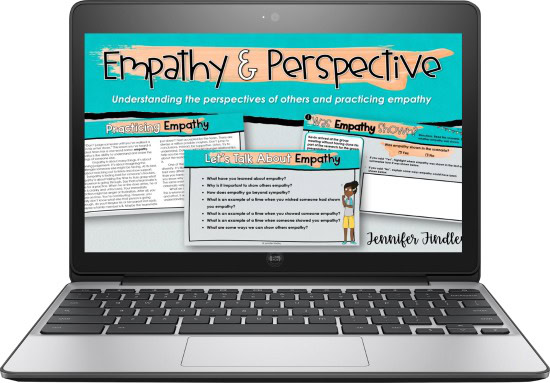 I truly hope this resource is helpful to you and your students.
Need More Digital Activities for Grades 4-5?
Google Form – Self-Grading Reading Activities
Reading Review Activities – These include 13 forms and each form focuses on one specific skill.
Main Idea Differentiated Practice – These are perfect for assigning differentiated reading practice (texts at two levels to your students). 
Text Structure Differentiated Practice – Another option for differentiating your reading practice easily.
Google Slides – Math Activities
4th Grade Digital Math Activities for Whole Number Place Value
5th Grade Digital Math Activities for Decimal Place Value
5th Grade Back to School Math Activities
4th and 5th Grade True or False Math Tasks
Math Choice Boards (Grades 3-5 Available)
5th Grade Math Journal Prompts
Find the Error Math Tasks (Grades 3-5 Available)
Google Slides – Literacy Activities
4th & 5th Grade Reading Review
Color Coding Text Evidence Printables
Reading Intervention Passages with Read Aloud Audio
4th & 5th Grade Reading Flipbooks
Theme Activities – Printable and Digital Versions
Inference Activities – Printable and Digital Versions
Point of View Activities – Printable and Digital Versions