Teaching students to justify their answer in math can be difficult, but thankfully it doesn't have to be. I want to share with you some ideas for teaching students how to justify answers in math, as well as some of my favorite resources for providing much needed practice with math tasks and word problems.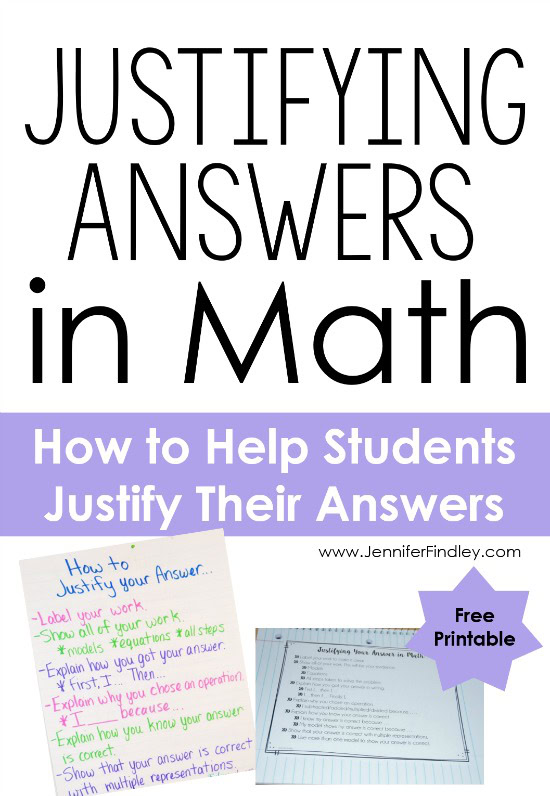 1. Create an anchor chart with clear examples and your expectations for how you want your students to justify their answers.
Any time my students are struggling with something, I like to take a close look at what they are struggling with to see if I can break it down and make it very clear for them. In regard to teaching students how to justify answers, I tried to think of all the ways students could justify their work. Here is the anchor chart that shows some of the ways my students can and have justified their answers in the past. I suggest you have in mind what you are looking for, but have a discussion from the students and get their input as well. The best scenario would be creating the chart together and having the students "help" you come up with the different ways they can justify their answers.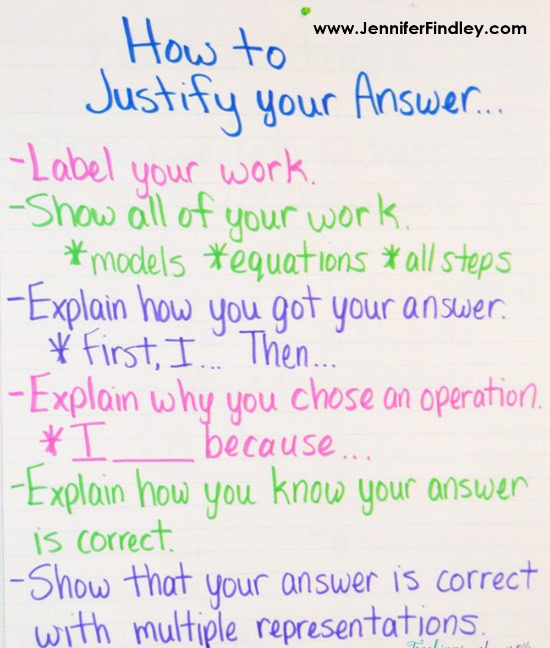 I know the first one on this chart (labeling your work) doesn't technically help justify their answer, but it definitely helps them stay organized and focused. We also talk about how showing all of your work is key to the justification process. For the past two years, I have had more and more students who erase their math work after finding the answer. It blew my mind when I kept seeing them do it over and over, and it took about a month for me to break them of the habit. I always tell them their work is just as important as their answer and their explanation.
Speaking of explaining, I also like to be very deliberate about teaching them how to explain their answer. As you can see from the chart, I show them how to explain how they got their answer, how they chose a particular operation, and how they know their answer is correct.  I like to give students sentence stems whenever I can to help scaffold them as well. And finally, I try to push multiple representations to get the students to justify their answer in a variety of ways.
2. Give the students a reference tool to refer back to when solving math tasks.
After completing this chart with my students, I like to give them a printable version that they can glue in their interactive notebooks and refer back to as they solve math problems and tasks on their own. It particularly helps my students when they have a clear list they can look over to ensure they have justified their work.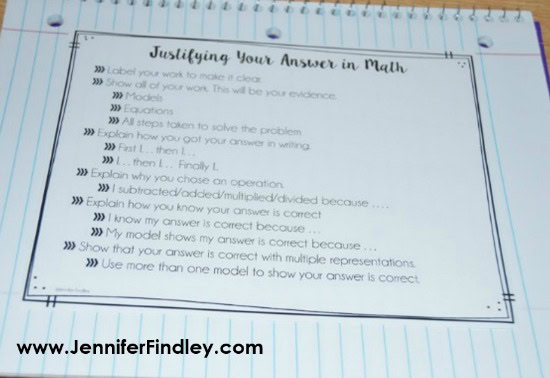 To grab the free printable shown above, click on the image below.
3. Provide multiple opportunities for students to practice justifying their answers.
After you have provided clear expectations for your students to follow, the next step is to provide multiple opportunities for them to practice justifying their answers. If you are looking for resources to use to provide practice for your students, here are a few of my favorites.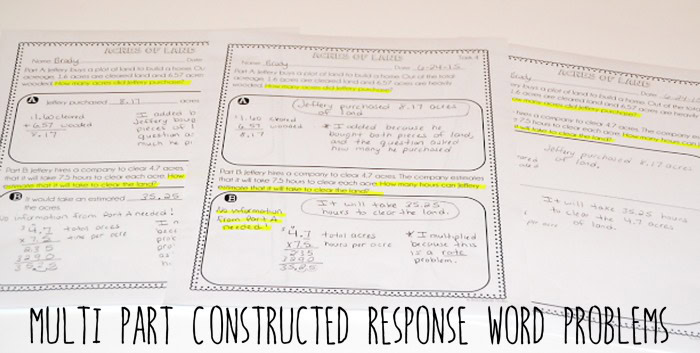 Differentiated Multi Part Constructed Response Math Tasks: This resource focuses on multi part constructed math tasks that are differentiated and separated by skill. The response section of each task (not the tasks itself) is differentiated at three levels to help students organize their answers and justifications effectively.  Click here to grab a freebie to try out on this post or see them in my TpT store by clicking here.
Word Problems for Interactive Math Notebooks: This next one is a student favorite, as well as teacher favorite. My students always love math interactive notebooks. Keeping this in mind, I created a set of interactive math notebook word problems for each of the common core math standards. To read a detailed post about this resource, click here.  The students love these because they get to color in the graphics when they are completed, and they are half page which makes them less threatening. I love them because they are stored in their notebook for students to refer back to throughout the year. Click here to see the fourth grade version. Check out the fifth grade version by clicking here.
Constructed Response Math Tasks: I also use standards based constructed response math tasks on a regular basis throughout the year so my students have lots of opportunity to practice justifying and explaining their answers. By doing these throughout the year (about once every two weeks or so), my students become pros at this. The state test at the end of the year is just an extension of all the work they have been doing throughout the year. I typically use these as more of an assessment than the other two examples of resources I shared above. Click on the grade level you want to see in my TeachersPayTeachers store to see more. Also, there are freebies in the previews of each grade level so you can try these out with your students!
How do you help your students become proficient with solving word problems and justifying their answers?