When we moved to the Common Core standards this year, volume was a new skill for my 5th graders. Also, since there were three standards that addressed some aspect of volume, it was assessed more frequently than the other standards. I knew I needed to find or create some quality and engaging resources for teaching volume. This post shares my go-to activities, video, and resource for teaching volume (including a few free resources).
Introducing Volume: Study Jams Video
When I introduce Volume for the first timel, I always like to start with this Study Jams video on volume. My students always love Study Jams video and this video is great for showing visuals to help the students conceptually understand the concept of volume.
Teaching Volume with Hands-On Volume Activities
After introducing the skill through this video, we do a lot of building prisms and practicing the skill in a hands-on manner. One way that we do this is by building different rectangular prism using linking cubes. Here are some of the activities we do when building prims and calculating volume (by counting the cubes and not using the formula – more about how we transition to the volume formula in the next section):
Moving to the Volume Formula
After a few days of practice building prims and calculating volume, we are ready to move to the volume formula (length x width x height). I do this through an exploratory lesson where the students (at my guidance) use their unit cube prisms to derive the formula. Then, we test it out several times with new prisms before we officially decide that it is an effective and efficient formula for determining volume.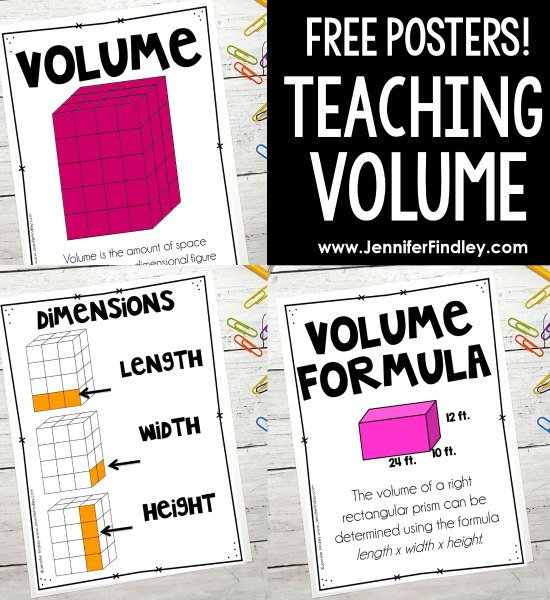 Grab these free posters for introducing and teaching volume by clicking here.
Hands-On Volume Activity Using the Formula
Even though we move to using the formula for calculating volume, we are not done with hands-on activities. One of our favorite activities is measuring actual boxes and then determining the volume of those boxes. This also helps the students check the reasonableness of the volume they calculate, which helps with estimating volume.
For this hands-on volume activity, we ask students and other teachers in the school to bring in boxes and we collect them from year to year. The students use rulers (they choose inches or centimeters) to measure the length, width, and height. Then they use the formula that we derived in the previous lesson to determine the volume.
My Go-To Resource for Teaching Volume
Hands-on activities are very important to ensure students have a conceptual understanding of volume, but we also use paper to pencil practice as well. I use the resources in my Teaching Volume Unit from TPT.
Here are some of the key resources in this Volume Resource:
Volume Practice Printables – The printables have a variety of different volume skills for the students to practice. There are also a few printables that are activities that require the students to build and draw prisms. There is also a printable that has the students solving a performance based task involving cracker boxes with specific dimensions. There are three parts to this task and the students get to design their own cracker and cracker box design.
Volume Math Centers – My favorite part of this resource are the volume math centers. The math centers include a little of everything: building prisms and calculating the volume of the prisms, spinning dimensions and then calculating volume, and then task cards that review a variety of volume skills.
Additive Volume – One of the trickiest skills for the volume standards is additive volume. This resource includes a math task that is perfect for introducing the skill and then a separate printable for continued practice. Additive volume practice problems are also included in the task cards, exit slips, and assessments.
Volume Assessments – The biggest key to success with this unit (besides all the hands-on practice) is regular formative assessment to see how the students are progressing. Since this is a new skill for 5th graders, it is important that we build a strong foundation and conceptual understanding without misconceptions or errors in thinking. In order to regularly monitor my students' progress, this resource includes a variety of exit slips that address all the skills and get progressively more difficult. A two-page post assessment is also included that can be used as  a summative assessment.
If you are interested in more printables, math centers, and assessments to help you teach volume, click here or on the image below to purchase the unit from my TeachersPayTeachers store.
Do you have any great ideas or resources for teaching volume? Let us know in the comments!