Word walls for upper elementary? Try a morphology wall! Morphology walls are a great tool for teaching and reviewing prefixes, suffixes, bases, and roots. By using a "Morphology Wall" in your classroom, you can help your students better understand how words are put together and how to use that knowledge to determine the meaning of unknown words.
This post will share what a morphology wall is, benefits to having one, tips for setting up and using one, strategies for making it interactive, and free posters to create your own wall!
💡Want to read more about the power of morphology instruction? Click here to read all about teaching morphology in grades 4-5!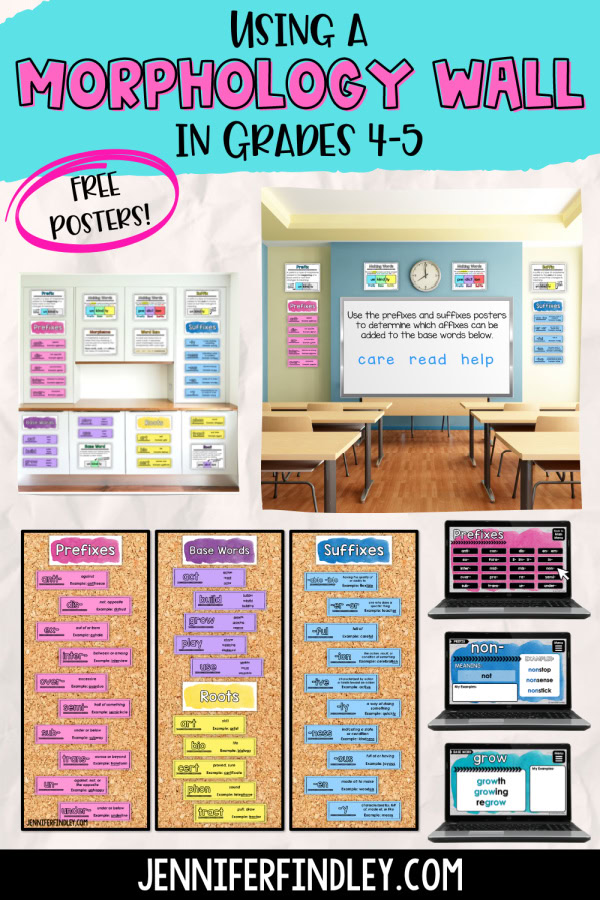 What is a Morphology Wall?
A morphology wall is a collection of morphemes (prefixes, suffixes, bases, and roots) displayed and referenced to help your students learn about the power of morphology and the structure of words (and how they relate). The morphemes (the smallest meaningful unit of a word) are arranged in groups based on their function in words, such as root words, prefixes, and suffixes.
This can be a whole class display (using wall space, bulletin boards, markerboard space, or even cabinets) or students can have personal morphology walls – super easy to do with digital resources (more about this in the section about having limited space).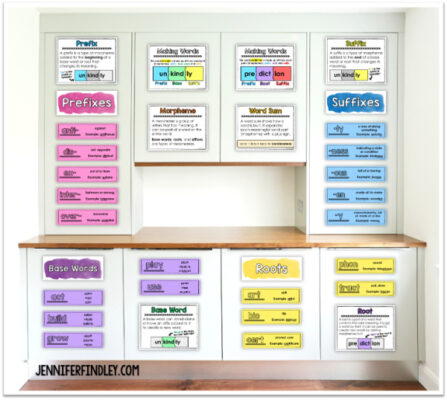 You can use teacher-created posters with given examples, or you can have your wall be co-created with students adding in example words.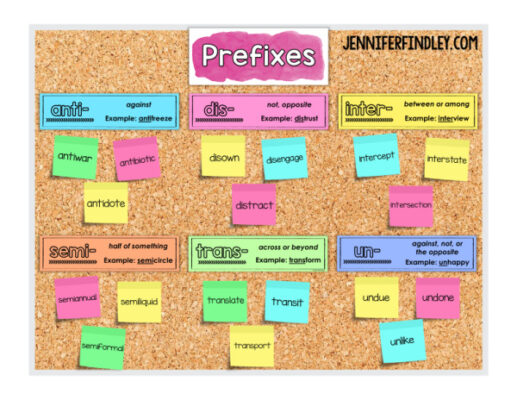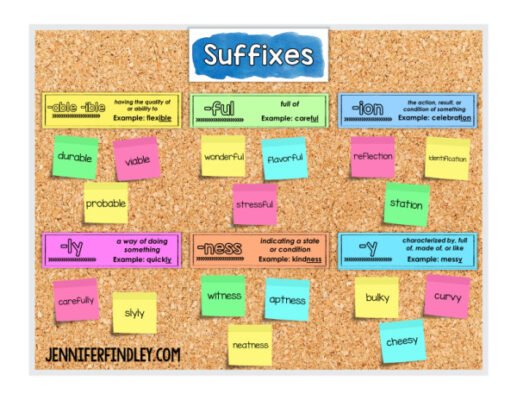 Benefits of Having a Morphology Wall
Here are some benefits to having and using a morphology wall:
It can help students to better understand how word parts are combined to form words.
It can help students to see how the meaning of a word can be changed by adding or removing certain word parts (prefixes and suffixes).
It can help students see the connection between known words/word parts and use that connection to determine the meaning of unknown words.
It can provide students with a reference tool that they can use when they encounter unknown words in their reading.
You can use the wall to continually review and practice morphemes (word parts- prefixes, suffixes, bases, and roots) all year long.
Tips for Using a Morphology Wall in Grades 4-5
Here are my three top tips for using a morphology wall effectively with your students.
Tip #1 – Build the wall gradually throughout the year.
Introduce focus word parts (prefixes, suffixes, and roots) gradually throughout the year. After introducing and teaching them, add them to the morphology wall. Continue to add to the wall and build it out throughout the year.
Tip #2 – Build a regular routine that uses the prefixes, suffixes, bases, and roots on the wall.
Use the wall regularly as part of a daily or weekly routine. You can do this by asking students a question of the day or giving a task that requires the use of the morphology wall to answer the question or complete the task.
✨More questions and activity ideas in the next section about making the wall interactive.
Tip #3 – Encourage students to use the wall while they are reading.
Encourage students to use the wall to figure out the meaning of unknown words when they come across them in their reading. You will definitely need to model this for them. Also encourage students to take note of words that use the morphemes from the wall in their independent or assigned readings. They can even collect these words in a morphology notebook or journal.
Making a Morphology Wall Interactive
In order for the morphology wall to be effective, it needs to be interactive and used regularly. Here are some ideas:
Use It As a "Evolving, Living" Wall
As you introduce/review/teach morphemes (prefixes, suffixes, roots), add them to the wall. Continue to add to the wall throughout the year with more advanced morphemes.
Have Students Identify Affixes or Roots Based on Given Meaning
Regularly review the meaning of affixes and roots from the wall by having students identify which affix or root matches a specific meaning.
You can do this by saying: I am thinking of a morpheme that can be added to the beginning of a word. What type of morpheme am I? (prefix). My meaning is wrong or bad. What morpheme am I? (mis-)
Have Students Practice Using Affixes from the Wall for Specific Purposes
Affixes have specific functions/meanings that are important for students to know and be aware of. But, it is a lot to learn and requires repetition and continual review. The morphology wall is a perfect tool for this.
Ask students questions like:
What suffix from the wall could I add to a verb to change it to a noun that shows a person who does that action? (-er, -or)
Which suffix would I add to a word to show that something is made of a certain material? (-en)
Which prefix could I add to a word to show that something has been done before? (pre-)
Which affixes could be added to a given base word? 
Create Word Sums or Morphology Word Matrices 
Give students a base or root (or use a base/root of the week) and have the students use the base/root and affixes from the morphology wall to create word sums or word matrices.
Tip: When you begin word sums or word matrices, uses bases to begin with to scaffold students' understanding. Bases are morphemes that can stand alone as complete words without affixes. Examples: friend, care, build, use, love, care
💡Click here to read a detailed post about word matrix activities AND grab free teaching posters to help you introduce matrixes to your students.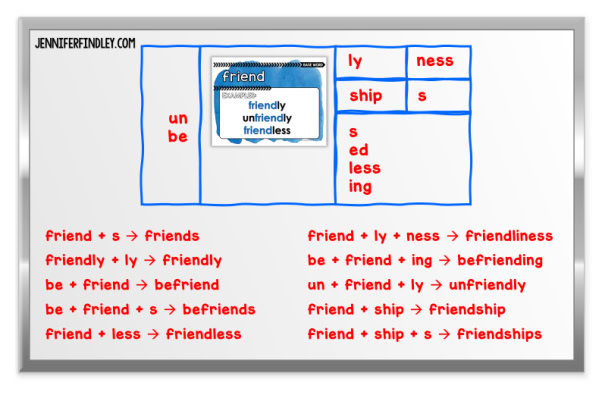 Have Students Generate Words (and Use Them in Contexts) from Word Parts on the Wall 
This is similar to creating word sums or a morphology word matrix, but it can be used to zone in on a specific affix (versus bases/roots that word sums and matrices usually focus on)
Example tasks to give students:
Choose a prefix from the wall. Make a list of 5 words that use that prefix. Choose one to use in sentence. You can allow for student choice or use the focus morphemes for this activity.
Assign students an affix. Have them generate as many words as possible with that affix in a specific amount of time.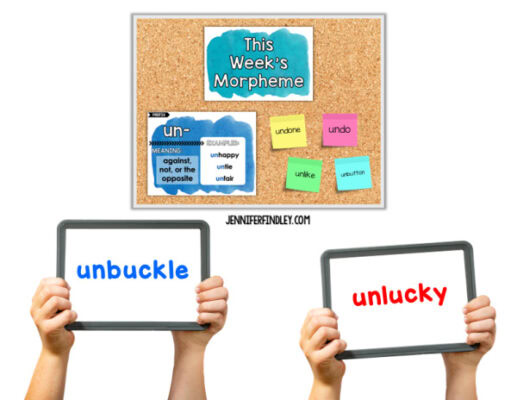 Use the Morphology Wall to Analyze and Breakdown Multi-Morphemic Words
When students come across words that have prefixes and/or suffixes, the wall can be used to break those words down into their individual morphemes. This task is similar to creating word sums, but you are starting with a completed word that is found authentically in student text.
Example: Use the morphology wall to break the word "construction" into its individual morphemes. Write the meaning of each. Then write the meaning of the word.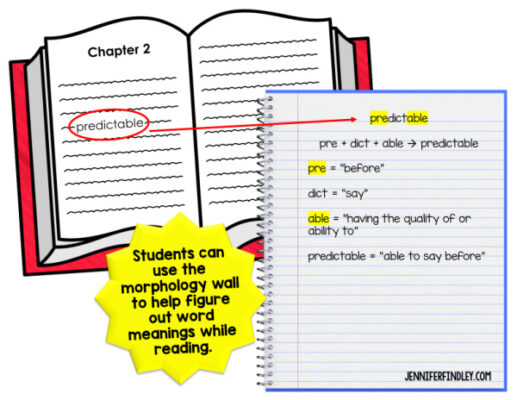 Making a Morphology Wall with Limited Space
If you are an intervention teacher who rotates classes/students or you just have limited space in your classroom, here are some ideas for creating a wall with limited space:
1. Use a digital morphology wall using Google Slides. You can still have this be interactive by having students access their digital "wall" when you are doing any of the activities described in the above section.
2. Another option is to create a portable morphology wall on a trifold using smaller versions of the morpheme posters.
3. You can have a rotating morphology wall where you only post the morphemes you are focusing on and then you have students refer to a digital reference or morphology notebook that has the entire collection.
Get FREE Prefix, Suffix, and Roots Posters Here to Make Your Own Morphology Wall!
Get all of the prefix, suffix, base, and root posters shown on this post by entering your email in the form below! They posters will be sent to your inbox in a PDF file with digital access links included in the PDF file.
Want Activities and Resources for Teaching Prefixes, Suffixes, and Roots?
If you need morphology resources and activities, I recommend these. You can use the "Of the Day" resources to teach your target morphemes and then use the morphology warmups to continually review and apply morphology skills throughout the year.
\