Holidays are a great time to implement STEM activities. This post will share a fun Valentine STEM and reading activity involving Cupid's bow and arrow. I am obsessed with adding in the reading component to STEM activities to integrate literacy so this will share a reading passage to activate students prior knowledge and get them excited before the activity.
For this activity, I like to begin by reading a bit about the history of Cupid and the significance of his bow and arrow. After reading and getting your students engaged in the topic, it's time to move in to the creating part where the students engineer their own bow and arrow.
Depending on your students' levels and their experience with engineering challenges, you can create a plan together or simply use the directions in this post for creating a mini workable bow and arrow like Cupid's.
How to Make a Mini Cupid's Bow and Arrows
Materials:
A bowl of warm water
Wooden craft sticks
Dental floss
Cotton swabs
Pen or pencil
Nail clippers
Directions:
Soak the wooden sticks in a bowl of warm water for at least an hour. The warm water will soften the sticks up enough so that they are bendable.
Remove the wooden sticks from the water and thoroughly dry them off with a paper towel.
Using a pen or pencil, draw small notch marks on both ends of the wooden stick.
The easiest way to cut away the notch marks is with a pair of nail clippers. Carefully clip four notches into the wooden craft stick.
Gently form the wooden stick into a slight curve as shown in the photo. When you begin to tie the floss around the ends, the curve will increase.
Provide plenty of floss to each student so that knots can easily be formed. Tightly wrap and tie floss around both ends of the wooden stick, as shown in the photo.
Decorate the outside of the bow with paper, stickers, or markers.
To make the arrows, cut the ends off one end of a cotton swab.
And if you are more visual like me, here are the steps above in pictures.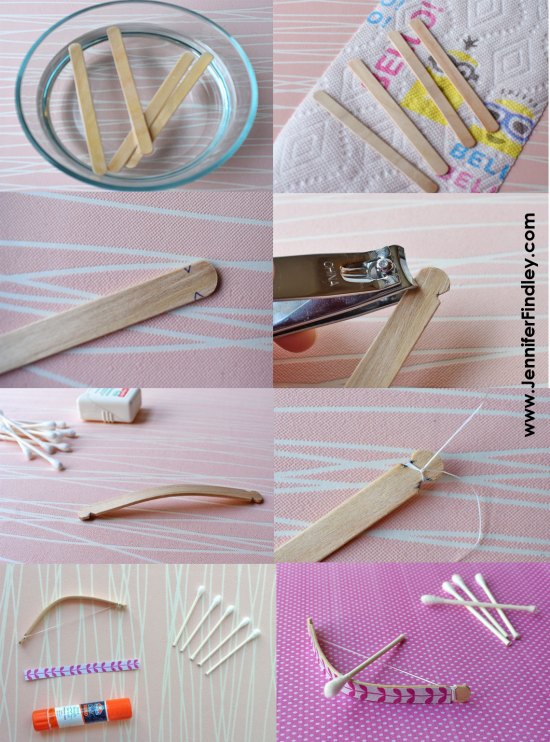 Tips:
1. The reading aspect of the activity can be done whole group and then the actual creating of the bow and arrow can be done in small groups with the teacher.
2. You can also ask students to bring in supplies as these are affordable and/or household items.
3. If you have a Valentine's Day party, this activity would be perfect before, during, or after the party.
Extension Activities
Once your students have created their workable bow and arrow, they can then practice shooting it, measuring the distance, and doing a bit of math. A free printable is included in the download for them to record their math.
Other extension activities:
The students can write a how-to essay explaining to a peer how they created the bow and arrow. They can use the directions page included in the free download as a scaffold.
The students could record the steps they take to create the bow and arrow using a tablet or laptop and then write a script to accompany the video.
FREE Printables for Valentine STEM Activity
Click here or on the image to download the reading passage and printables to use for this Valentine's Day STEM activity.
Want More Valentine's Day Resources Activities?
Valentine's Day Activities and Ideas for Upper Elementary –> Roundup of my best ideas and resources, including more freebies.
Valentine's Day Math Centers for 4th Grade
Valentine's Day Math Centers for 5th Grade
Valentine's Day Reading Comprehension Activities
Valentine's Day Writing Prompts
I hope your students enjoy this Valentine's Day themed STEM and reading activity. It is truly one of my favorite activities for engaging my students during the holiday but still incorporating important learning experiences. Let me know in the comments if this is an activity you might try with your students.
This post was created in collaboration with A Stults.