Valentine's Day is one of the best holidays for candy science activities. I typically do the candy hearts in various types of liquids, but a lot of times, by 5th grade, students have done that before, and we do similar science activities for dissolving candy pumpkins and dissolving candy canes in various types of liquid. One of my new go-to Valentine's Day science activities is determining how the temperature of water affects candy hearts (and using scientific text to back up student predictions).
Whenever I do science experiments with my students, I have learned that they get more out of the activity if they have prior knowledge or background information. For this activity, most of my students can predict that the warmer the water, the faster the candy hearts will dissolve. However, I also like to include some scientific reading to require the students to use text evidence to support their predictions and/or to explain their conclusions. We do this by reading a quick reading passage about solutions (available in the free download at the end of this post).
After reading the passage and building background, the students answer three quick questions that connect the reading passage with the science activity.
The students also make predictions based on their background knowledge and what they read in the text. For me, the aspect of using the text is key in helping students make strong predictions. This helps the students learn to make educated predictions that they can back up with details or evidence.
Once we have the text read and our predictions made, we are ready to move into the science experiment.
Valentine's Day Science Dissolving Candy Hearts
Materials:
4 clear bowls
Water of varying temperatures (Examples: boiling – 212 degrees, warm – 100 degrees, room temperature – 65 degrees, just above freezing – 40 degrees)
A thermometer
Candy Conversation Hearts
A timer
Printable table cards
Procedures:
Pour your water of varying temperatures into each of the four bowls.
Label each bowl of water with its printable card.
Make your predictions. What will happen when you add candy hearts into each bowl? Will they dissolve? Will the writing wear off? Will the temperature of the water have any effect?
Add a few candy hearts into each bowl.
Set your timer for 10 minutes and check on the candy. Record your observations.
Set your timer for another 10 minutes and check on the candy. Record your observations.
Write your conclusion. Were your predictions correct? What can you conclude from your observations?
Valentine's Day Science Extension Activities
After the students have completed their conclusion on the recording sheet, there are also a few extension activities you can have the students do.
Have the students write cause and effect statements or paragraphs based on the results of the experiment.
Have the students plan another science experiment that could be done in class with candy hearts.
Use more candy hearts to complete a math printable, which you can find for free on this blog post —> Valentine's Day Activities for Upper Elementary
Download the Valentine's Day Science Printables
Click here or on the image to download the reading passage and recording sheets to complete this activity with your students.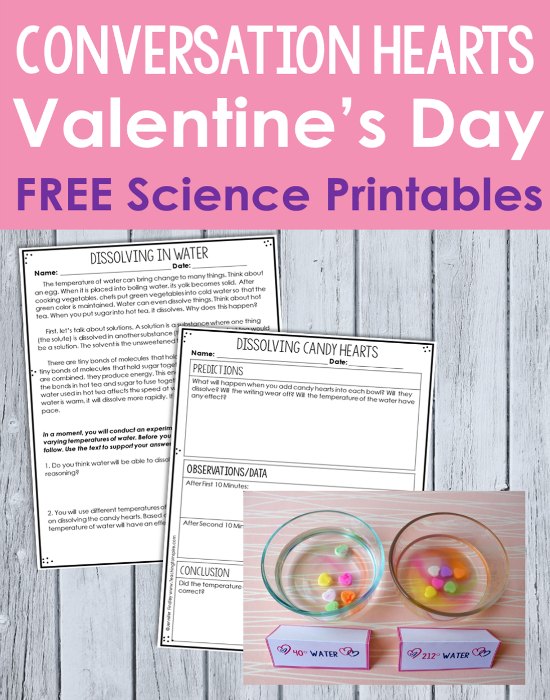 Want More Valentine's Day Resources Activities?
Valentine's Day Activities and Ideas for Upper Elementary –> Round-up of my best ideas and resources, including more freebies
Valentine's Day Math Centers for 4th Grade
Valentine's Day Math Centers for 5th Grade
Valentine's Day Reading Comprehension Activities
Valentine's Day Writing Prompts
I hope you and your students enjoy this Valentine's Day science activity! Make sure you download the printables above to integrate reading to get even more bang for your buck with this activity. Happy teaching!
This post was created in collaboration with A Stults.