Everyone knows how important it is to have clear procedures in the classroom. So, what happens if you spend the first month of school teaching procedures, practicing them, and modeling them, but your students don't follow them? Maybe it's just a few students; maybe it's just a small section of procedures that the students don't follow. Or maybe the majority of your class is failing to follow the procedures.
What do you do?
I want to share with you some of the strategies that I use after I have taught procedures to ensure they are being followed. I definitely amp up these strategies after a holiday, a long break from school, or when a new student arrives.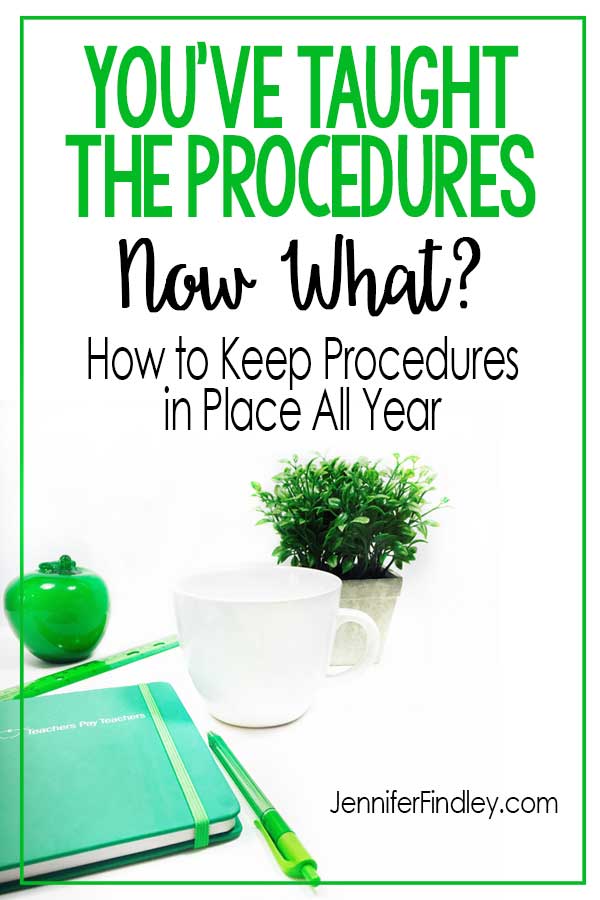 The 3 "R"s – Review, Reinforce, and Remodel
Reviewing Procedures
The 3Rs, review, reinforce, and remodel, are so important for ensuring the procedures are followed all year by all your students. Reviewing the procedures when students are not following them is very important. All it takes is a few seconds of your day to review any important procedures before the students start an activity. Giving them this quick review will make the instruction or activity flow so much easier.
This can even be done before important transitions or transitions that could cause problems. For example, I typically give my students a quick reminder when we are lined up by the doorway and about to walk into the classroom. I quickly remind them to walk in silently, go straight to their seats, and begin whatever activity they're supposed to be doing at the time. I know this sounds redundant, and you may get tired of hearing yourself repeat the same things over and over, but it really does work.
Think about all the transitions and all the movement that happens in a regular classroom day. Students need to be prepared for those movements and those transitions and they need to know exactly what is expected of them. The consistent reminders and review of the procedures really make a difference.
Reinforcing Behavior
Another key strategy for making procedures stick with your students is to give positive reinforcement when students are following procedures correctly. Students love positive reinforcement, and as a teacher I always like to give positive reinforcement.
When you see students who are following procedures that some students are struggling with, give positive reinforcement to those students who are following the procedures. The positive reinforcement could be as simple as saying "Blake, thank you for following our morning procedures so well. " It doesn't have to be something tangible that the students can hold in their hands. Verbal reinforcement is the best kind, in my opinion, to reinforce those procedures that you want to see the students following.
For some procedures, you may review and reinforce and then still have students failing to follow them. I would definitely take a few minutes to look carefully at the procedure and make sure there is nothing keeping the students from following the procedure. If there is, it is definitely okay to change a procedure. However, if you want to keep the current procedure, you may want to try some explicit remodeling of the procedure.
Remodeling Procedures
Remodeling a procedure goes right along with reviewing the procedures, but it works better with more detailed, specific procedures.  You can remodel a procedure for the students yourself, or you could have a group of students remodel the procedures. You could go even further by having students model the correct way, as well as the incorrect way. When you remodel a procedure, make sure you have a discussion about why the procedure is needed. If students understand the purpose of a procedure, they are more likely to follow it.
Logical Consequences
The final strategy I want to share with you today to make sure that your students are following procedures all year is to have logical consequences when students don't follow the procedures. The easiest logical consequence is to have students repeat the procedure correctly, with verbal or visual cues while they repeat it. When I do this, I make sure to let them know they are missing something that they really don't want to be missing just because they're not following a classroom procedure.
In some cases, you may need to even take away some of their free time or recess time to continue practicing whatever procedures they have been failing to do correctly. I only have to do this once or twice per year because the students quickly realize they need to follow the procedure so they don't have to continue practicing it. My friend Nicole Shelby at Teaching with Blonde Ambition calls this "positive practice", and I love that term. It helps students realize that the procedures and practicing the procedures are ultimately for their benefit and to help their learning.
Another quick strategy I want to share goes along with logical consequences. Before I even give my students a consequence for not following procedures, I always like to redirect them with verbal reminders. If a student is not following procedures, I will simply say to them "Remember the procedures" or "Follow the procedures, please." Nine times out of ten, giving that reminder will be enough, and consequences will not be needed.
Before issuing consequences, it is always a good idea to make sure there is nothing in the way of the students following the procedures you have put into place. As I mentioned earlier, you may want to spend some time taking a look at the condition or the activities that happen during the time that the student are not following the procedures. Maybe the procedure needs to be changed or altered, or maybe a completely new procedure needs to take place.
Those are my strategies for keeping classroom procedures fresh in my students' minds all year and making sure they follow them. How do you make sure your students follow procedures after teaching them?
*Styled stock photo from Violet Tinder Studios.
Save
Save