Winter time in the classroom, specifically December to March, can be quite stressful as upper elementary teachers finish pacing guides, start test prep, and some even administer state tests this early. It is CRAZY! However, I always like to bring some winter fun into my classroom through seasonal activities that are specifically for 4th and 5th grade students. I want to share some of my favorite winter activities for upper elementary with you today.

This post contains  Amazon affiliate links if you decide you want to purchase any of the books mentioned in this post.
Winter Literacy Activities
The Story of Snow Read Aloud with FREE Task Cards
The Story of Snow: The Science of Winter's Wonder is one of my favorite winter read alouds. The illustrations and pictures throughout the book are really engaging. For my students down in the South, snow is such a wonder to them. They love learning about it and this book does not disappoint. The book does a great job of weaving lots of facts and details in a story like format that is engaging as a read aloud.
I have recently started creating task cards to accompany my read alouds and then placing the book and the task cards in a literacy center. You can grab some that I completed for Eve Bunting's The Wall on this post. I also created a set of 18 task cards to go along with this book. The questions cover a variety of key informational text skills and the student will love looking back through the book to find the answers. Click here to grab the downloadable task cards for free.
Winter Themed Figurative Language Activity with Digital
This standards-aligned figurative language resource is available in digital AND printable, plus you'll have the option of printing in color or ink-saving black and white. Students will review metaphors, similes, personifications, and hyperboles by sorting snowball buckets into groups based on what figurative language is being described or used in the sentence.
A Warm Winter Tail Read Aloud and Science Connection
A Warm Winter Tail
is another cute read aloud for winter time. A first glance, this seems more like a primary based book but I love it for my fifth graders, too. It is told from the "point of view" of various woodland creatures as they question about how humans stay warm in the winter. Each animal assumes that humans stay warm in a similar manner as they do. It is a fun book to reinforce perspective and how someone's experiences affect how they view situations.
Another thing I love about this book is the two page nonfiction fun facts section included in the back of the book. This is an excellent way to practice paired texts skills. Here are some ideas to use this book:
Place the book in a center after reading it aloud and have students read the fun facts section (shown below). Then, have them integrate information from this section and the main book to write about how animals adapt in the winter time.
Read aloud the main book and the fun facts section. Discuss similarities and differences in both the information presented and how it is presented. Students could write compare and contrast essays from this discussion.
The final aspect of this book that I love is the natural tie in to how other types of animals adapt in the winter. This is a perfect time to complete a super engaging "blubber" science experiment to have the students explore how Artic animals stay warm in the winter. Click here to read more about this experiment.
Winter Themed Reading Passages
My students also enjoy reading more about winter themes in addition to the read alouds and other articles we read. I love using my winter passages and text dependent activities from my Winter Reading Comprehension Resource. This resource includes 11 texts (fiction, nonfiction, poetry, and a play). The students love the poem because it is written from the point of view of a snowflake.
My students also love these passages and activities because the printable activities are varied and don't require them to simply answer a bunch of comprehension questions>>>which are important but can get boring really quickly if the students have to answer pages and pages of questions. This pack includes themed graphic organizers, context clues printables, and other text-specific printables in addition to the text dependent questions. To see these passages and activities in my store, click here.
FREE Winter Writing Prompt – Trapped in a Snow Globe!
Trapped in a Snow Globe is definitely one of my students' top 5 writing prompts.
This writing activity really pushes their creativity and imagination and they love it! We do a lot of talking and sharing ideas for this one (using the free planning page as a guide) and that just makes it that much more engaging (and get's some of their winter energy out!). Click here or on the image to grab the printable AND digital versions of this winter writing activity!
Winter Themed Science Activities
Winter Science Demonstration: Creating Avalanches
Nothing is scarier in the mountains than a snowy avalanche in the winter. Avalanches are deadly and dangerous, and can cause damage to animals, people, and vegetation. Learn how and why avalanches occur in this simple winter avalanche science experiment. This activity includes a free reading text with comprehension questions.

Winter Science Activity: Creating Frost
Your students will love this particular winter science activity that has them creating frost. Even if a child has made frost in a can before, they will love repeating the experiment for the novelty factor. The free printables and reading passage included in this post will make this classic winter science activity engaging, rigorous, and relevant to 4th and 5th graders.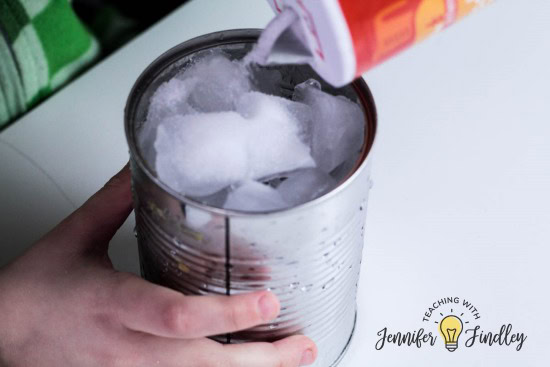 Winter Snow Science Activity: Expanding Snowman
Building snowmen is a popular winter activity for children. But with one simple twist, you can transform snowman building into a fun snow science activity for your students. Your students will have a lot of fun making the expanding snowman science experiment and learning about chemistry at the same time. This activity includes a free reading packet.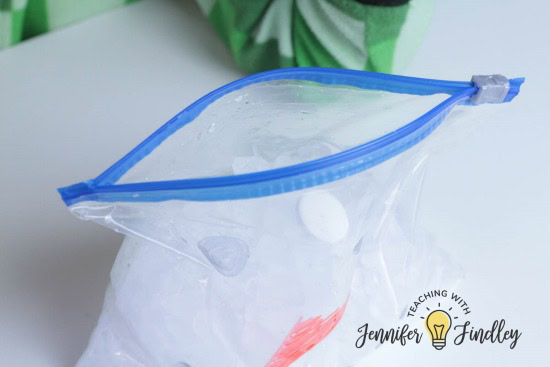 Winter Themed Math Activities
Winter Themed Math Centers and Activities
Winter time is the perfect time to mix things up in our math centers. I usually keep my centers pretty consistent (click here to read more about my math centers), but I always like to mix things up with seasonal and holiday centers. Winter is no exception, and I love using my math centers from my Winter Math Centers resource for some engaging themed math review. The picture below shows just a few of the 5th grade centers I have in my store that are winter themed. I also have updated 4th grade math centers available in my store. Click here to see all of my winter themed math resources, including some grade level specific winter math center packs.
FREE Winter Math "Craftivity"
Speaking of themed bulletin boards, this fun winter themed freebie is perfect for that. The students build their snowmen by choosing from two pages of accessories. They use their chosen accessories to complete the math printable included.

The completed snowman and math printable make an excellent bulletin board display. If you don't want to use the printable, you could even just have the students write their total on an index card and staple it with their completed snowman. The resource now includes a digital version as well!. Click here to download a copy of this winter math activity for free.
Winter Brain Break Idea – Charades
Winter-themed charades are a fun way to get some physical activity (hello inside recess) or for having a quick brain break. Split your class into two teams. Have the teams take turns choosing a card and acting it out for their team members to guess or for the other team to guess. Click here to grab some simple winter charade cards.
Winter Break Packet Ideas with FREE Printables
Sending home a winter break packet is definitely dependent on the teacher and the families they serve. However, if you are interested in sending a winter break packet home, click here or on the image below to see what I include in mine and grab some free printables.
There you have it! My favorite winter activities for upper elementary students. What are some of your favorite winter activities or read alouds? I would love to hear your ideas.