Over the summer, I made math toolkits with tons of math charts and resources to help my students during math centers. I knew I wanted something similar for writing and I finally have it ready to share with you. These writing toolkits are full of FREE writing resources and charts that will help your students become independent and confident writers.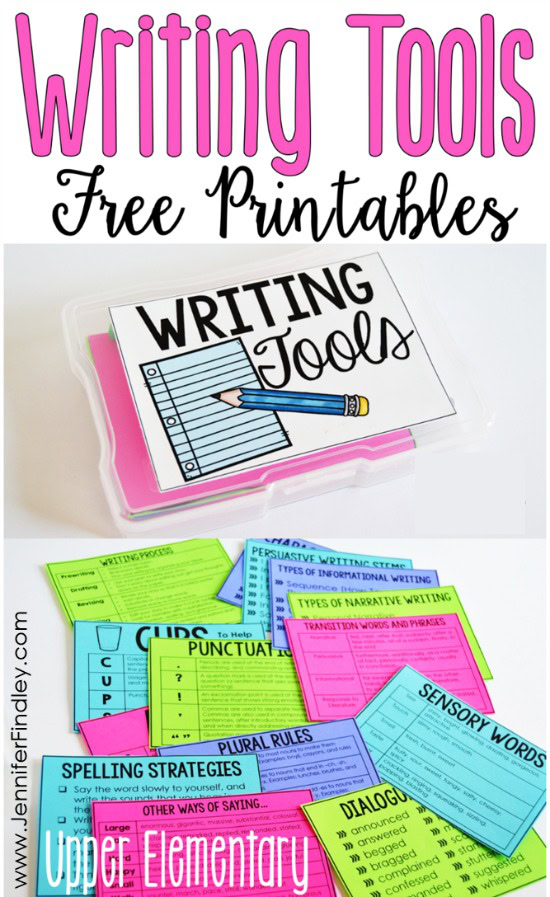 This post includes affiliate links if you wish to purchase the storage containers mentioned in this post.
Writing Supplies
Probably one of my students' favorites writing resources are our editing and revising pens. We use purple and green pens for this step in the writing process and they fit perfectly in our writing toolkits. The purple pens are for revising drafts and the green pens are for editing drafts. I have included a blank version in the free download if you want to use different colored pens.
I have my students use two different color pens for two reasons:
1.) I want them to understand that revising and editing serve different purposes.
2.) Also, I want to be able to easily SEE that the students revised and edited their writing.
Writing Charts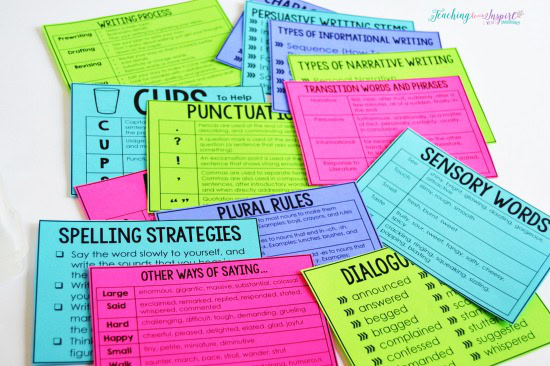 These charts are a huge help for my students' writing. The charts are super versatile and can be used in several different ways, depending on how and when you want your students to use the writing resources:
Hole punch them in place them on rings. Place the rings in storage containers, put them in cubbies, or even hang them from a bulletin board.
Simply place the charts in the writing toolkits.
Use the charts as interactive notebook charts and have the students glue them into their notebooks after you teach a mini lesson on the skill.
The writing charts included in this free download include charts for revising and editing, a chart for the writing process, grammar reminders, and much more! You can pick and choose which ones you want to use with your students and only print those pages.
Storage Options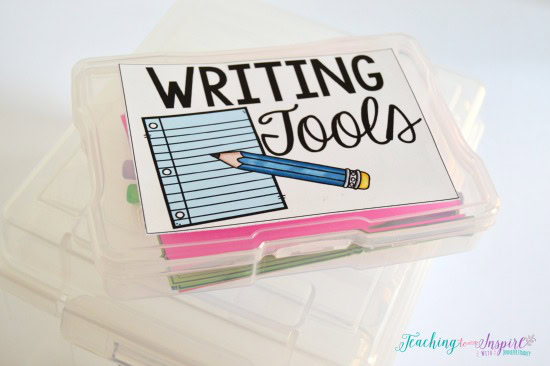 As I mentioned in the above section, these writing resources can be stored a couple of different ways. You can store them in the small photo containers like I have (click HERE to see these containers on Amazon) and place them at the writing station or center (if you have a separate area).
The writing resources could also be placed on rings at a writing center. If you have your students seated in groups or tables, you could put these writing resources on a ring and have one available for each table/group.
Another option is to simply have all these writing resources in the students' writing notebooks.
How Will I Use the Writing Toolkits?
Each year, it seems I do things differently depending on my students, their needs, and their levels. The great thing about these writing charts is their versatility. I can use them in writing centers, in my small group writing table, or I can have several sets made for the students to use during independent writing.
Click on the image below to download these writing resources to make your own writing toolkits!


Don't forget to click HERE to grab the math toolkit freebies as well!
Let me know in the comments if you think you will try these out this year.
Save
Save
Save
Save
Save
Save
Save
Save
Save
Save
Save
Save
Save
Save
Save
Save