Last year, I shared my 5th grade math pacing guide and several requested an ELA one. On this post, I will share a printable download of my 5th Grade ELA pacing guide using the common core state standards. The post will also include some general information and rationale behind my specific pacing decisions. This guide includes how I pace reading standards, language standards, and writing standards.
Keep in mind as you view the guide and read the post, this is just a guide and sometimes we need to spend longer on some standards and sometimes my students' interest and engagement takes us in a slightly different path. However, this is the literacy pacing that I generally start with and follow through, with some adjustments as needed.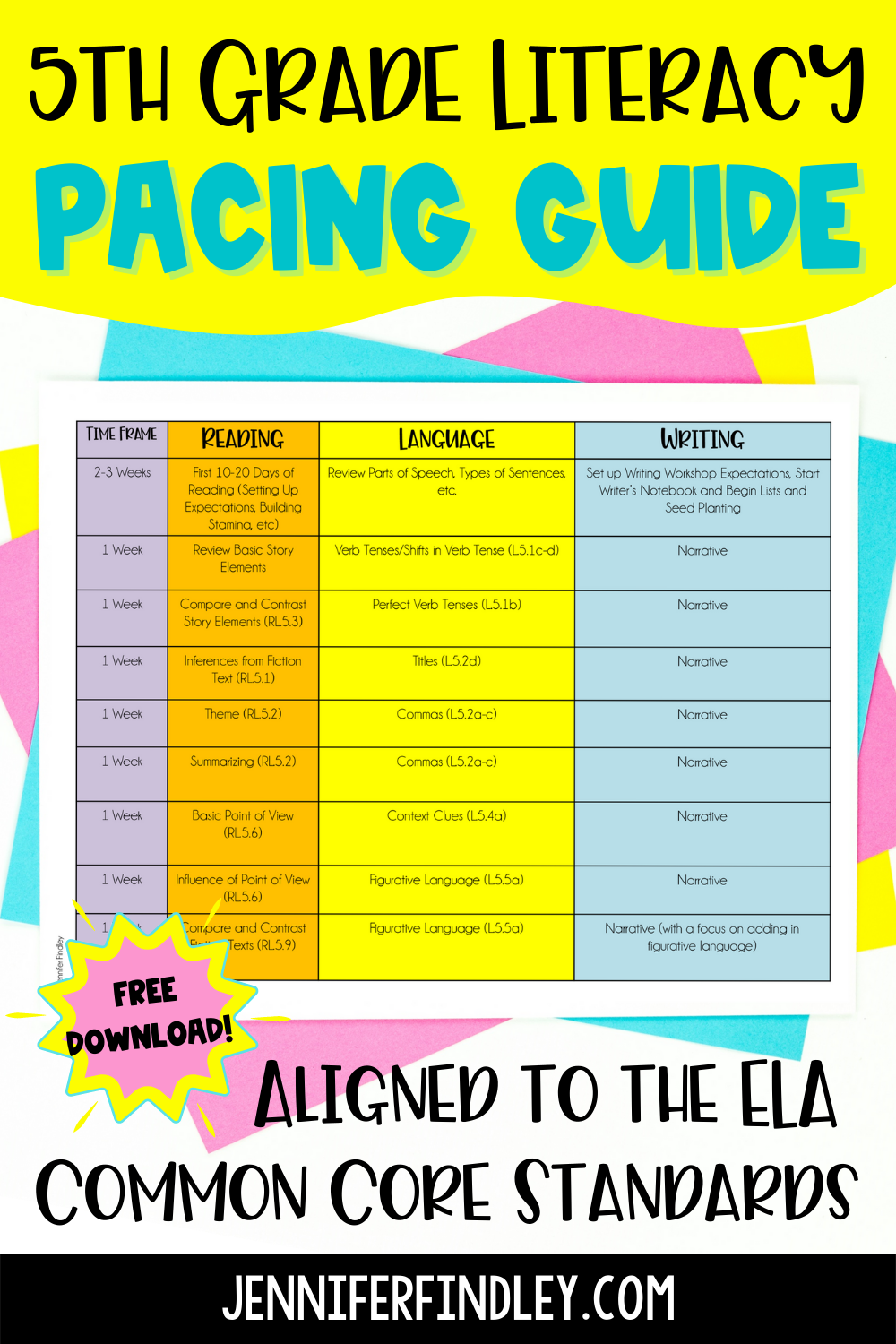 Before I get into the pacing guide, I want to briefly explain my rationale and provide some general information that may help the pacing guide make more sense.
Language/Grammar Rationale and General Information
When I pace my language standards, I always begin with a review of key skills from 4th grade that my students need a refresher on. Then, we dive into our 5th grade language skills.
I chunk skills together that are related, and I prefer to mix difficult and easy skills. I also always teach figurative language near the end of my narrative writing unit. This way, we can spend at least two weeks adding some really descriptive figurative language into existing stories and new stories.
One thing that may be surprising is that I have never taught with a grammar or language textbook, and I only take about 15 minutes a day (15 on most days but I usually spend 30 minutes the first time a new skill is introduced) to teach, practice, and review my grammar standards.
I do this using language resources that I created that specifically cover the standards. Using the resources, we spend the first day learning about the skill and gluing posters and completed interactive notebook elements into our language notebook. Then we complete our daily review which is about 4-6 questions specifically aligned to the standard. The next days we continue our review and use practice printables from the pack for homework. Finally, we complete a quick assessment on Friday.
—> Click here to see the language resource packs that I use that contain everything you need to teach, practice, and assess the standards.
What about grammar skills needed for writing? I typically teach my students' specific grammar needs in writing workshop. I find that the 5th grade language standards are often very advanced for my students. So, I implement grammar mini-lessons that fit their needs during my writing workshop block.
Reading Rationale and General Information
As you can tell from the pacing guide, I group my standards by literature and informational standards, beginning with the literature standards. I also try (as best I can) to align my literature standards with narrative writing and informational standards with persuasive and informational writing. This helps align my literacy instruction and make integration a breeze. Typically my reading mini-lesson (30 minutes long) looks like this:
Monday: Introduce the reading skill with an anchor chart and mentor text that aligns with the skill.
Tuesday: Review the skill. Continue reading the mentor text (or read a new one) and practicing the skill.
Wednesday: Introduce the skill in the format of a passage using my Reading Interactive Notebook.
Thursday: Practice the skill with a passage that is both engaging and aligned to what they will on the state assessment (this keeps me from having to drill and kill for test prep. I weave this practice in regularly.) I use passages and other activities from my reading units which can you see in my TpT store by clicking here.
Friday: Assess and reteach. I teach reading through guided reading, but on Fridays, I pull groups for reteaching and pause our guided reading groups.
Note that the above breakdown is only for our 30 minute mini-lessons. For the rest of the block (60 minutes remaining), I pull three guided reading groups. In the guided reading groups. we work on highly targeted skills based on what each group needs, but I also try to cycle through previously learned reading skills as well.
Click here to read a more detailed post about how I teach reading in 5th grade.
Writing Rationale
As I mentioned above, I try to align my reading standards with the writing genre that best aligns with them. For example, I always teach the standards involving reasons and evidence to support main points in conjunction with persuasive writing and text structure while teaching informational writing.
As far as instruction, I teach primarily through Writer's Workshops with mentor texts. Because I align my reading standards closely with my writing genres, I am often able to use the same mentor texts for writing instruction used in reading instruction (click here to read a post about a persuasive lesson using a mentor text).
We spend the first few weeks of school setting up our Writer's Workshop and brainstorming seeds (or topics) that we will use the rest of the year in our writing. Sometimes I do give the students a prompt (often text-based), but a lot of our writing topics are chosen from our seed notebooks. Click here, here, and here to read about some of my posts on brainstorming seeds.
Click here to read a detailed post about how I teach writing in 5th grade.
Download the FREE 5th Grade Literacy Pacing Guide Here!
Now, for the pacing guide. Click here or on the image to grab a printable pdf version of the 5th grade ELA pacing guide featured in this post.
There are two versions of the pacing guide included.
Version 1 – Each literacy skill separated with links to relevant blog posts, freebies, and TpT resources.
Version 2 – The literacy skills combined to see the connection between the skills.
Don't forget to check out the math version by clicking here.