One thing that I have discovered teaching 5th graders is that sometimes you need to gamify a task or activity (even in the smallest way) to get student buy-in. For math, I did this easily with my roll and answer math centers and my students really enjoyed the slightly different way of practicing computation skills. For quite some time, I have wanted to create similar roll and answer centers that my students could play in reading. In this post, I will share three roll and answer reading centers for 4th and 5th graders that work perfectly with any texts the students are reading (or texts assigned by you!).
To read more about my math roll and answer centers and grab a few free ones to try, click here.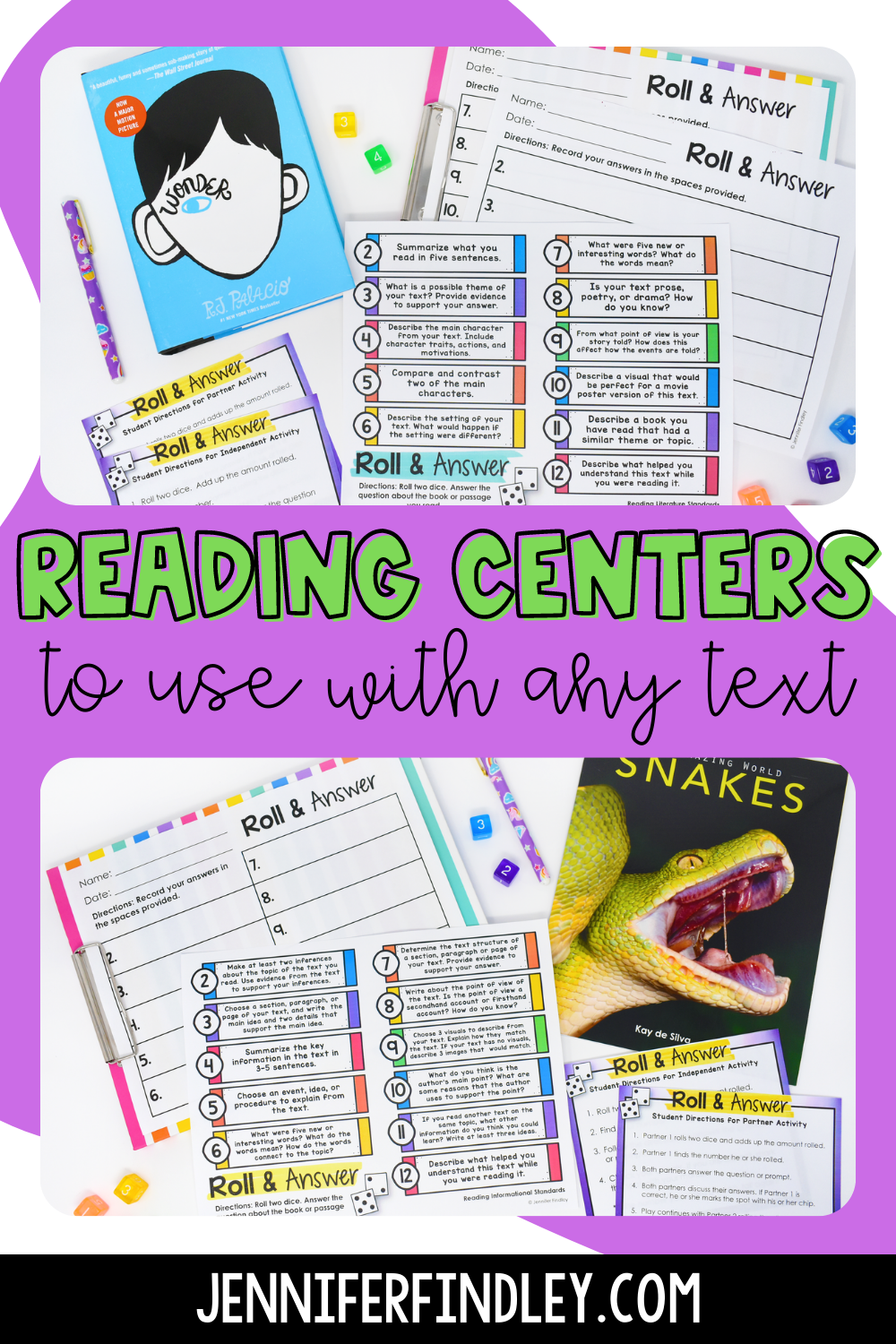 About the Reading Center
Roll and answer centers are one of my favorite go-to centers because they are super easy for the students to learn, play, and they are engaging (you can play them as a BUMP game for even more engagement). Since the directions don't change, the students are able to focus on the skills, instead of learning a new set of directions each time they visit a center. Implementing these centers in reading was so easy since my students were used to these types of activities in math.
This can be a 2, 3, or 4 player "game". The students can even complete this independently. The students roll two dice, add up their number, and then find their roll on the game board. They answer the question and initial their square if they get it correct. You can have your students write or discuss the answers with their partners. Sometimes I even have my students record their answers on whiteboards. These reading roll and answer centers were created to work with any text the students are reading. You can use the reading centers with a book, a passage, or even a magazine article.
These reading centers allow the students to respond to any text (book or passage) that they are reading. The questions are a nice review of the common core standards. Since this reading center does cover a lot of standards/skills, I recommend using this after the majority of your reading standards have been introduced. This roll and answer center would make a perfect addition to your reading instruction after Christmas or right before test prep.
Want more ideas for reading centers that you can use all year? Click here to read about my favorite reading centers to use with 4th and 5th graders (lots of free reading centers included).
There are three different reading centers included in the free download (in the next section): a literature text version, an informational text version, and a paired text version. You can have your students choose the version they need (based on the book or text that they are reading) or you can assign texts and choose the version that best matches the text.
Download the FREE Reading Center Here
Click here or on the image below to download the free set of Roll and Answer reading centers.